There seems to be an animosity between cyclists and motorcyclists, yet a recent British study finds more than 90% of motorcycle riders are also cyclists.
The online study of 2183 Carole Nash Motorbike insurance customers not only shows that 92% of motorcyclists also own a bicycle, but more than half (57%) own more than one bicycle and 27% own three or more.
The survey reveals that road racing bicycles are the most popular bike type for 54% of those polled with the average cost being £1240 ($A2100).
We're not sure what the percentages of Australian motorcyclists are also MAMILS (middle aged men in lycra), but it seems Aussie cyclists and motorcyclists are at odds.
The Australian cyclist lobby has objected to lane filtering and the use of bike lanes by motorcycles while surveys show cyclists who disobey road rules are a pet hate of motorcyclists.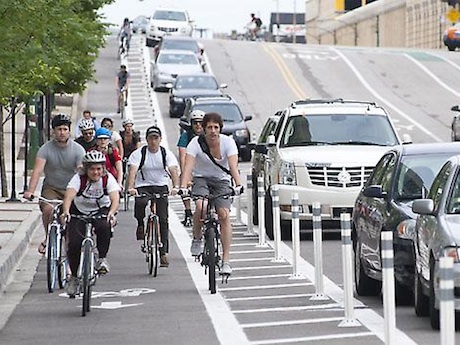 But it seems the two lobbies should be uniting as they may be representing a lot of the same people.
Cyclists and motorcyclists safer
Interestingly, the British poll also reveals that more than half (58%) say being a motorcyclist helps them to be safer on a bicycle. 
Some 94% of motorcyclists surveyed say they have not been in a road traffic accident on their bicycle.
When asked what benefits there are to cycling, the survey respondents answered:
It's an enjoyable way of getting around (61%);

I like the feel of the open road (44%);

It's a cheaper way of getting around (32%);

It's better for the environment (26%); and

It helps to reduce congestion on the road (23%).
Most of those who cycle say it is a hobby (61%) and a quarter (24%) say they use their bike to cycle to and from work.
Do you also own a bicycle? Do you think the cyclists and motorcyclist lobbies should unite? Leave your comments below.