It looks like a modernist version of the postie bike and you wouldn't be far wrong.
The Vietnamese-made Bandit9 Bishop Motorcycle is powered by a Honda SuperSport 90-125cc engine, but has some high-grade components and exclusivity that warrant the relatively high pricetag of $US6400-6800, plus shipping.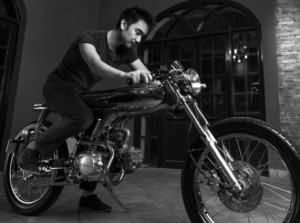 Those components include a high-grade aluminium unibody, a charcoal grey suede seat, LED brake lights in quartz glass and panels made of a choice of walnut, oak, or teak burl. It also features a custom exhaust, muffler, and suspension.
And only nine of the bikes are being made, so you can guarantee you'll be the only postie on the block with one!
Bandit9 is a handcrafted motorcycle customiser based in Ho Chi Minh City, Vietnam, because they believe the Vietnamese bend the rules! Their fleet includes radical customs made from the Chinese Chang Jiang 750 and small-bore Japanese bikes.
If you want something very different, contact "The Bandit Chief" via email or phone: +84.12.6694.1354