Artist and amateur custom bikie builder Steve Campbell says customising motorcycles helps stave off depression.
Steve now has three themed custom bikes in his Brisbane garage/studio – a 1999 Harley 1200 Sportster he calls "Spider", a 250cc Virago named "Lady Luck" and a 1983 Virago 750cc called "Z" which is a homage to film director Quentin Tarantino.
All of the work is done by Steve (except for the paint and the custom exhaust on Lady Luck) in his garage which is also an art studio.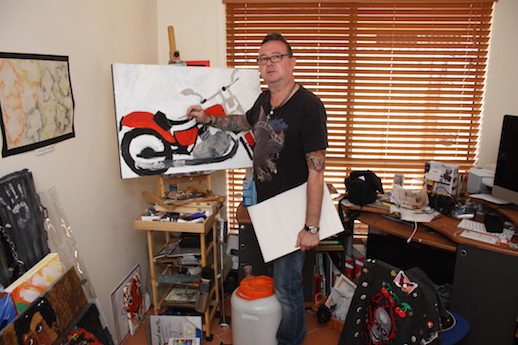 The level of detail is so intricate we can't show it all here. However, you can see all the photos in large format on our Pinterest page.
"I do it to stop from getting depressed," he says. "It gives me something to get up in the morning for."
Steve suffers major back problems and fights off depression after a head-on crash in 2008 involving his HiLux and a Holden Calais.
It took 90 minutes to cut him from the wreck and he emerged with major internal and spinal injuries and severe nerve damage. Yet the plucky Irishman believes he's lucky to be alive.
Multiple operations later, he's still on pain management and has trouble lifting and walking, but that hasn't stopped him.
"I've met so many nice and friendly people by customising and showing my bikes," he says. "It's a pleasure to go out and mingle with people and source parts. People stop me and ask me about my bikes, especially the little red one because I ride it a lot.
"It's basically to stop me from getting depressed again. I go into my garage and just get lost in it."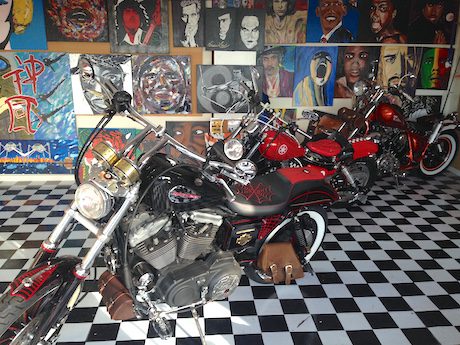 Steve plans to keep the little Virago and the Harley, but hopes to sell the 750 Virago at the end of this year as it's too heavy with his back problems.
Meanwhile, he has more plans for customising his Harley. "Maybe a springer front end and some other bits and pieces."
Steve is also a painter and his creative skills spill over into his bike creations.
Just take a look at the headlight of the 750 Virago: "I spent a couple of months welding and grinding it into position so it appears the headlight has been held with a skeleton hand."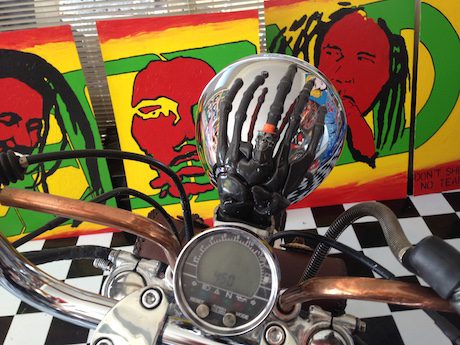 Steve says he got a good deal on the Harley from Heavy Duty Motorcycles at the trade-in price of just $6500. He bought the little Virago for $1300 and the 30-year-old 750 Virago for just $1500 with only 29,000km on the clock.
Who knows what they're worth now!
Steve says Lady Luck is a nod to his luck in surviving the crash, Spider is a homage to the very Australian redneck spider and Z has references to 12 Tarantino films.
The name "Z" is a reference to the bike that Bruce Willis steals in Pulp Fiction from a character called "Z".
"What I like is that I've done all the work myself," says Steve. "No work has been farmed out and it's just really self satisfying when you look at it and say I've done all that."