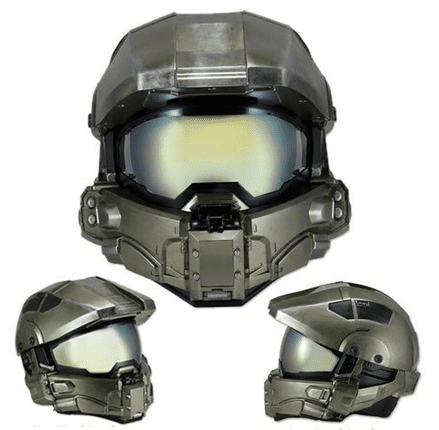 Pre-order your Halo Master Chief  Motorcycle Helmet Limited Edition Replica right now before you are too late.
How to make your own Custom Halo Motorcycle Helmet
By: Tigerpause
So really, like the Iron Man Motorcycle Helmet,  you will combining a novelty helmet from the game Halo  (which there are a lot of options to choose from) with a motorcycle helmet. This could be an old one that does not match your ride anymore, or a just a basic model full face helmet. Either way you want to go, a little creativity and some glue – and you got yourself a winner.
Converting an old motorcycle helmet into a unique custom piece from one of your favorite video games also takes you to an entirely new level of obsessed fanatic.
You are not only showing off your love for all things motorcycles, but combining that with your love for all things Halo – you sir or madam are now at level 10 along with these happy souls.
Halo Motorcycle Helmet Painting Ideas