Don't Bet Against It
We reported on the fact that the first Triumph Factory Custom (TFC) will be a Thruxton R TFC and will come out in January of 2019. In that article, we also mentioned the possibility of the next TFC build being a Rocket III. But could that really be the case? You betcha.
Triumph has a new Rocket III coming out in 2019. It's been a decade since the last model first graced us with its somewhat odd but likable presence, and frankly, it's due for an overhaul. It would be smart for Triumph to get people talking about the new bike with a TFC model.
The TFC model could be a good way for Triumph to generate a buzz around its new power cruiser that will compete directly with the Ducati Diavel.
Image Leaked, Gossip Begins
Numerous outlets reported on an image of the new Rocket III being leaked after a Triumph dealer meeting, and there are some blurry images floating around that show a Rocket III test mule quickly riding across the stage. According to Financial Express, the upcoming Rocket III's triple-cylinder engine will increase to 2,500cc. Horsepower and torque numbers should go up, too.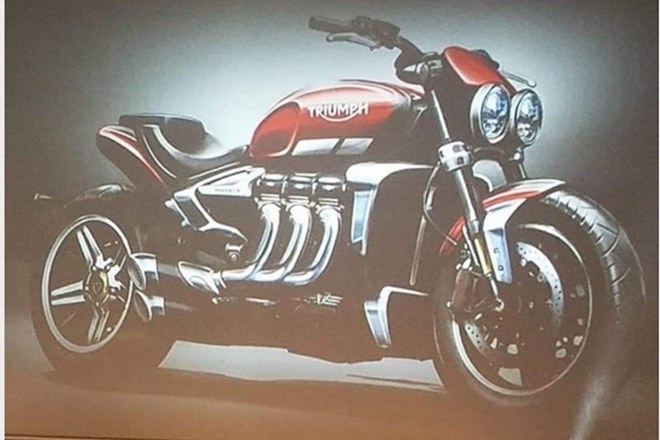 With the current 2,294cc engine making 148 hp and 163 lb-ft of torque, you can bet the new bike to be genuinely quick. Triumph appropriately named it. Triumph has made no mention as to the actual power numbers. You can bet the FTC model will receive a modest bump like the Thruxton R FTC does as well as some other special equipment
The Rocket III was never really the runaway success that Triumph hoped. Harley held too much clout in the cruiser market in 2009.
However, the times, they are a-changing. Harley's future is in trouble. The legendary motorcycle manufacturer can't wrap itself in the American flag and soldier on like it always has. Its turned to electric motorcycles to try to stop the bleeding.
Time will tell if that's a smart move, but it makes me think other manufacturers have an opportunity in the cruiser market that never existed before. Maybe the upcoming Rocket III will captivate audiences like its predecessor never did.