Costco Battery Tender Image Gallery
This is kind of an off-the-wall story about a special Costco Battery Tender.
It's the only 3A Battery Tender Plus charger and maintainer in the Deltran lineup.
This one has a Costco special part number of 022-0202-COS-WH.
(The "COS" is the Deltran Costco designator.)
It works with either 6V or 12V batteries (user switchable).
It's also a fully automatic charger; just "plug 'n' play" and that's one of the Battery Tender features I really like.
And in typical Battery Tender fashion, there are a minimum number of LED indicator lights, with the standard green light for "OK".
The best part? The list price is $39.99 but Costco had a special member sale and I bought this one for $29.99.
In fact, Deltran lists the Costco Special at $74.99, so 30 bucks is a certified screamin' deal.
There's a big "but" though; first of all, you'll have to be a Costco member.
Also, like most of the stuff at Costco, these come into stock and are gone in a flash, so Costco members need to keep a sharp eye and grab one when you can.
I didn't realize how good of a deal this was, so next time I see them on sale, I'm buying a few.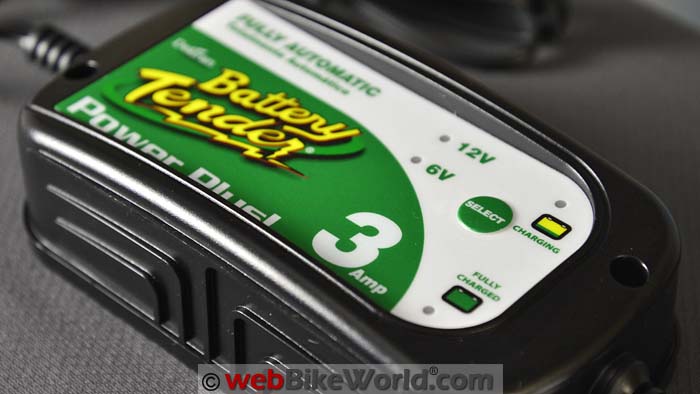 Introduction
Back in the old days, there was the Battery Tender.
But in today's world — with Lithium, LiFePo, AGM, VRLA, Gel — there are dozens of Battery Tenders to choose from.
Those include solar versions, bank chargers, water-resistant chargers and everything from tiny 0.75A to 75.0 Amp chargers.
Add one more: the "Costco Special" Battery Tender. Who knew?
I'm a big Battery Tender fan, for no other reason than they've provided excellent service for me, Burn and Bill over the last 18 years or so.
Back then, lead-acid batteries were the only type and a Battery Tender was the maintenance charger you bought.
I've been running at least 2 of them in the garage for all that time, 24 hours a day, 365 days per year. In all that time, only one failed, after about 9 years of continuous service. The others are still going strong.
The other thing I like about a Battery Tender is the simplicity. Connect it to the bike (I always use an SAE connector (Report), either wired directly or via an adapter port) and it just works.
Red light means bad; green light means good. Simple. I've never experienced any other problems.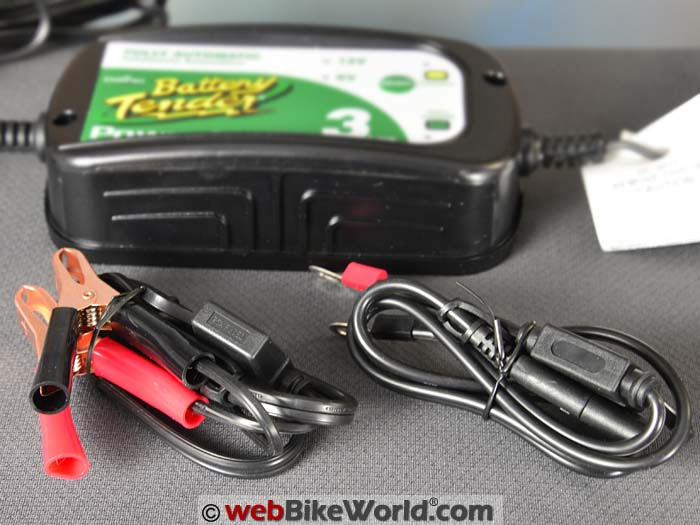 Why Battery Tender?
We've reviewed many other brands and types of battery chargers over the years, most or all of them more complicated and with features I either don't need or didn't use.
The most recent of those reviews was the Noco Genius G750 (review), which I then connected to the 1986 BMW R65, parked for the winter.
Other than the poor design of the Noco charger, which has a built-in plug that takes up 2-3 outlets on the wall — and the fact that you need to buy the separate SAE adapter — it seemed to work fine.
For a couple of weeks anyway…
That was when I noticed the blinking red warning lights appear. I read through the manual but I couldn't find anything wrong, so I disconnected it and let it sit for a few hours, then fired it up again.
Everything looked good again until a week or so passed and then the lights started blinking once more. I repeated the process, then again, and then once more.
Finally, I figured either the Noco charger was defective, too sensitive or there's something about the Westco battery in the BMW that the Noco G750 didn't like.
The Noco G750 just doesn't seem to get along with the BMW's battery, and it may be the fact that the G750 is a 0.75 Amp charger, which could be marginal for a motorcycle battery (although it works with no problems on the newer bikes in the garage).
Just for kicks, I grabbed one of the other Battery Tenders, connected it to the BMW and after a few minutes of green light blinking, the green light came on steady and everything was good again.
That convinced me to start searching for another Battery Tender to add to the collection.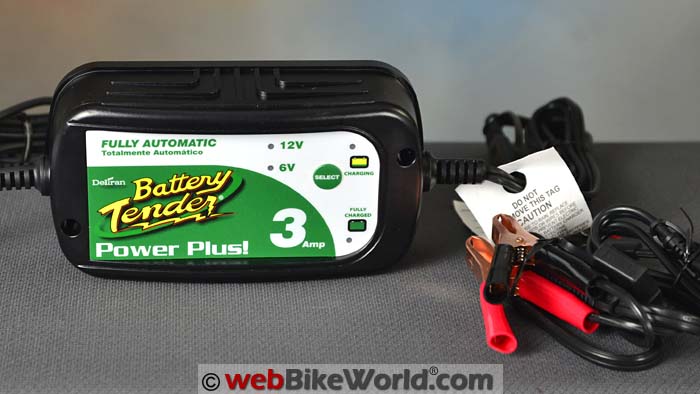 The Costco Battery Tender?
All of that took place around the end of December 2016 and just before the holidays, I received a Costco sale email, featuring a Battery Tender Plus.
Who knew Costco carried Battery Tenders? Not me anyway…
And the sale was way too good to resist: $10.00 off the normal price of $39.99 (Deltran lists it for $74.99) and free shipping. Not bad at all!
(Normally this kind of thing never happens to me. The sale usually ended just before I need to buy whatever it is.)
I took a cruise through the Deltran Battery Tender website and that's when I discovered that this is a special Costco Edition Battery Tender.
At 3.0 Amps, it has very good specs and it includes the standard automatic charging/maintaining features of the other Battery Tenders I've used (the classic Battery Tender Plus in the metal vented box).
The Costco version sits in about the middle of the Battery Tender Plus line and it's user-switchable between 6V and 12V and it has the "complete 4-step charging program (Initialization, Bulk Charge, Absorption Mode, Float Mode).
Deltran says it's "Perfect for all lead-acid, flooded or sealed maintenance free batteries (AGM and gel cell)."
It also has a 5 year warranty and the packaging states that it's "Designed for six-cell lead-acid batteries from 1.2 – 200Ah and three-cell lead-acid batteries from 1.2 – 200Ah."
The box arrived quickly (usually the case with Costco) and after reading the owner's manual just to see if there was anything new and different, I connected it to the SAE adapter cable on the BMW and it's been running fine ever since.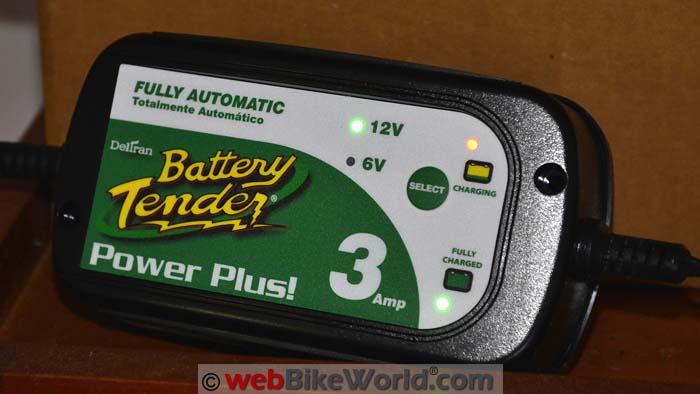 Kit Contents
This one comes in a clear plastic blister pack that's partially sealed. It's not as bad as those "sealed for the apocalypse" types because you can rip it open without a band saw, but the plastic isn't recyclable unfortunately.
It has the Battery Tender Plus type of smaller or mid-sized brick-like Deltran case, which is very rugged.
There's nothing to indicate that it's water-resistant, but really — who's going to splash water on a battery charger plugged into the wall? If you do that, you deserve everything you get.
Otherwise, it's everything I expect from a Battery Tender. Plug it in and it works.
No messing around, no weird "desulfation" routines or other steps that you probably don't need, won't use and only cause problems. It's automatic. Set it and forget it. Perfect.
Conclusion
My only regret is not buying a few of these at the sale price, because as usually happens with Costco, the Costco Special Battery Tender comes and goes in their stock and I haven't seen it that cheap since.
There are very few products that perform for me year after year, day after day like the Battery Tender, so this once more reinforces my belief that there isn't a better charger/maintainer available. I'm completely sold.
Costco currently has a smaller Battery Tender Plus with 1.25A output for $44.99, but that's both a significant downgrade in specs and upgrade in price from the $29.99 I paid for this one.
Even my old standby, the Battery Tender Plus in the metal case (Deltran P/N 021-0128) has just a 1.25A output; it's also currently in stock at Costco for $44.99.
Of course, this is all moot if you're not a Costco member.
There were a few of these Costco Special 3.0A Battery Tenders listed on Amazon.com for $37.99 plus shipping; I think someone bought a bunch at Costco and is reselling them at a profit.
So the moral here is for Costco members to keep on the lookout, because even at $39.99, this Battery Tender is a pretty good bargain.
wBW Motorcycle Battery & Charger Reviews  |  Maintenance & Repair Article
w

BW

 Review: Costco Battery Tender
List Price (2017): $39.99
Made In: Unknown
Colors: Black/green
Sizes: 3A
Review Date: March 2017
Owner Comments and Feedback
---
From "E.P." (May 2017): "I found myself on the web looking for information on batteries. My experience with moto batteries has been good, except for 2 purchased that were not a brand I was familiar with.
Anyway, I saw a little something about smart Battery Tender reviews. I was pleased to see webBikeWorld had reviewed several tenders and the Deltran was a favorite. I own one of them.
I don't know exactly how long I've own my Deltran Battery Tender but, twenty years is conservative. Yes, my old metal case unit still does what it was designed to do. My tender continues to server me well. When it gives up, I'll get another.
I appreciate the work you guys do to keep me informed. Peace and Blessings. Thank You."
---
From "J.C." (March 2017): "Just a shout out to Deltran and great customer service. I had an out of warranty battery tender quit working.
All I had to do was pay to ship it to Deltran, and after they inspected it, they called me for $10 credit card authorization to ship me back a new unit.
No return shipping charge. Excellent customer service!"