Many modern motorcycles have matte or satin paint surfaces rather than high-gloss paintwork which gives them a mean and macho appearance.
However, that low sheen surface can easily look ugly when it is covered in fingermarks, road grime, rain specks and petrol splashes.
They show up more than on a glossy surface.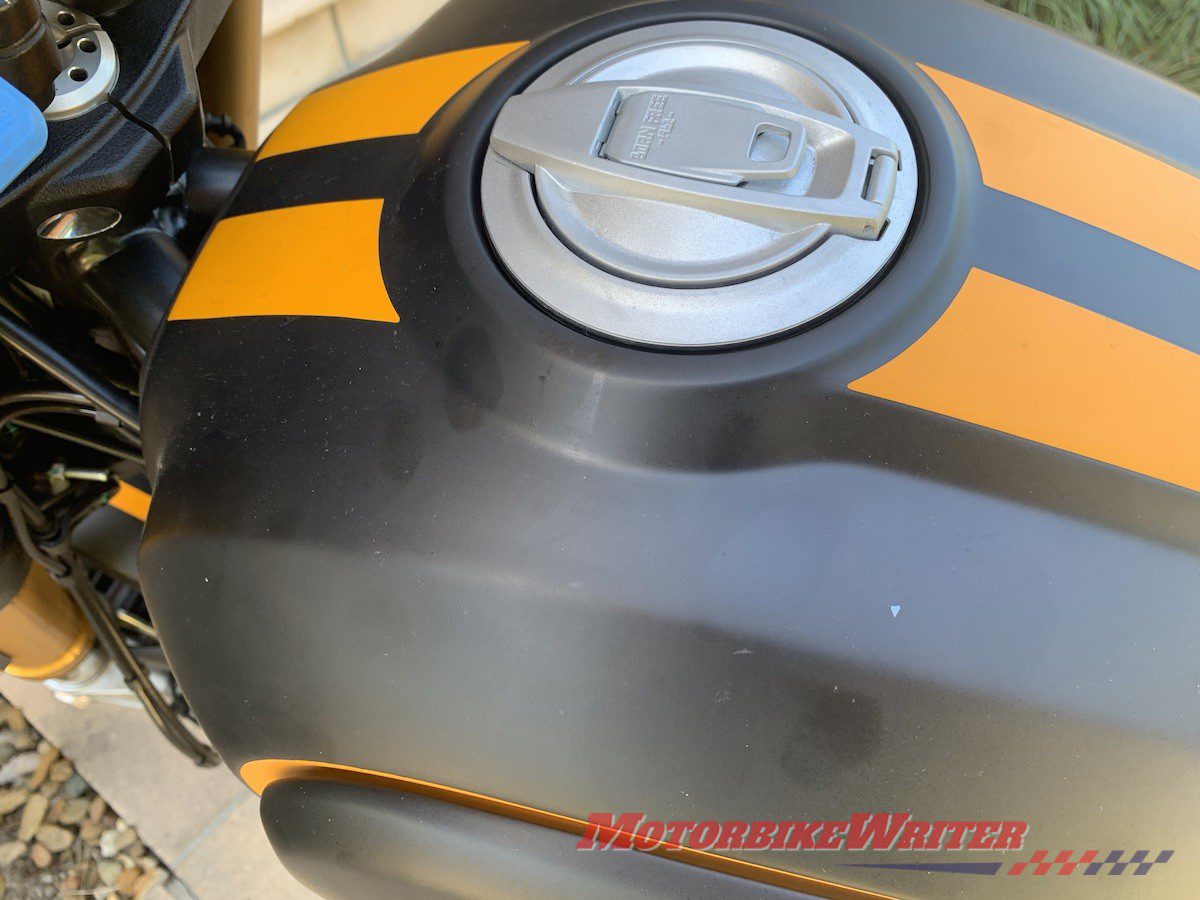 If you've ever tried to remove tham, you will know how difficult it is to get rid of the smears and "rainbow effects" on the paintwork.
That's because you are probably using detergent or some other cleaner to wash the surface.
Matte cleaner
What you need is a special cleaner that doesn't contain any oils or detergents.
We like products from French motorcycle company Motul, distributed in Australia by Link International, which make cleaners and lubricants specifically for motorcycles.
Their aptly named "Matte Surface Clean" comes in a 400ml spray can for $21.90.
They don't say what's in it, but the formula seems to work to clean and remove any greasy marks and grime without leaving streaks or sticky smears.
Motul says it also contains a UV filter which should help prevent it from fading.
If you've ever seen old matte-black Ducati Monsters, you will know how ugly they can look when the paint starts to dull.
Warning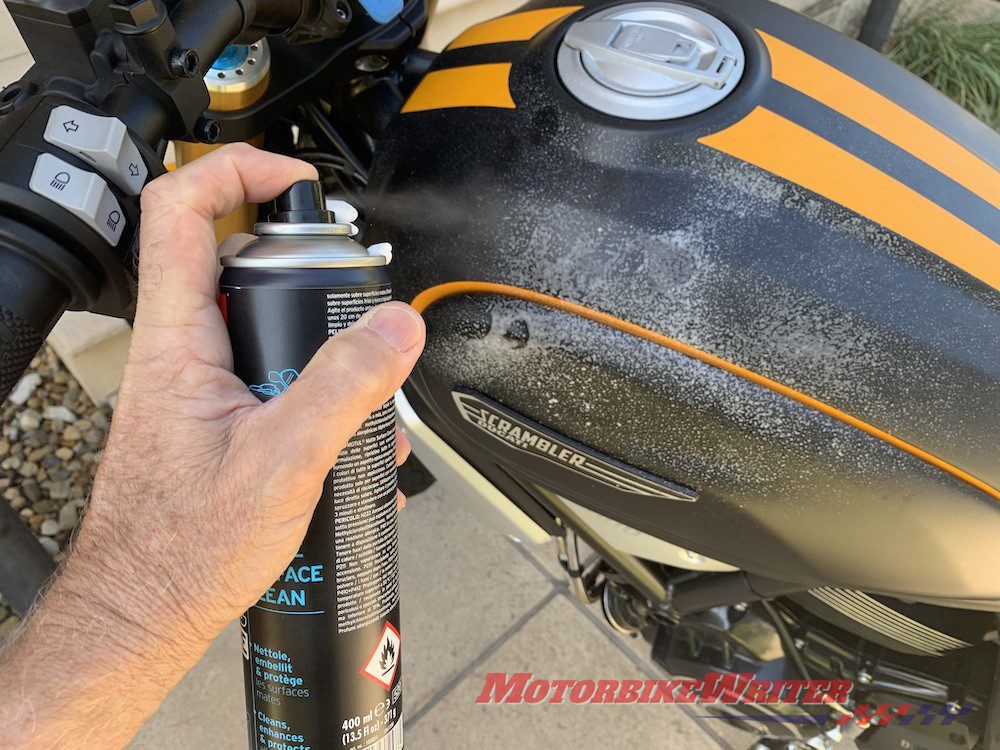 Do not use this in a small, confined area. If you are cleaning your bike in the garage, open any doors and windows. Maybe even turn on a fan.
It's not noxious, but the perfume in the formula can be a little overcoming after a while and give some people a headache. Others, like my wife, actually enjoy the aroma!
Never spray it on a hot bike that has just been running or sitting in the sun.
Keep the can away from naked flames and sparks.
We also suggest spraying small areas rather than trying to work on big surfaces.
Microfibre cloth
Use a microfibre cloth to dust the area down first. Never let a cleaning cloth drop on the ground as it can pick up small amounts of grit that can scratch your paintwork and chrome.
You may also want to give the bike a light wipe first with a wet cloth or spray on some of Motul's Insect Remover ($11.90 for a 400ml trigger bottle) to get rid of bugs that have dried and stuck to the surface.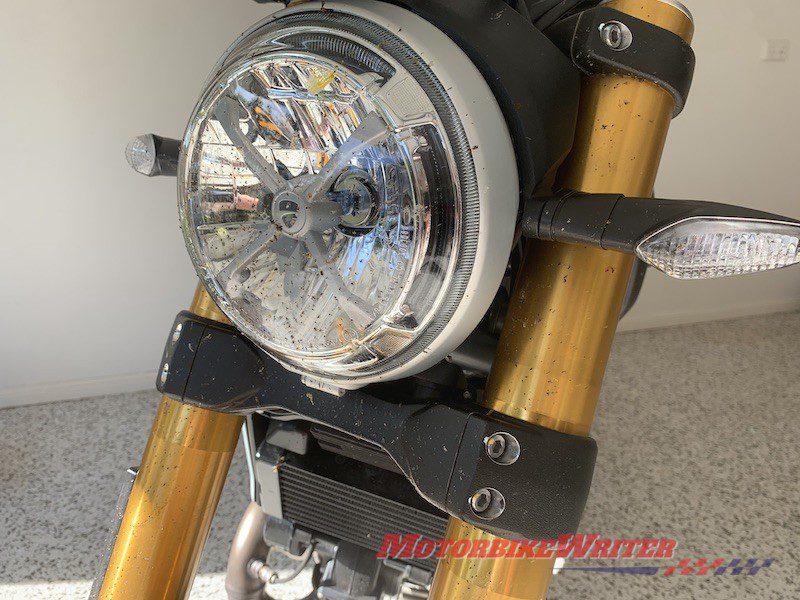 Spray the cleaner on the surface and gently rub it over with a soft microfibre cloth, then let it sit for a few minutes.
It will look like that fake snow you use at Christmas time.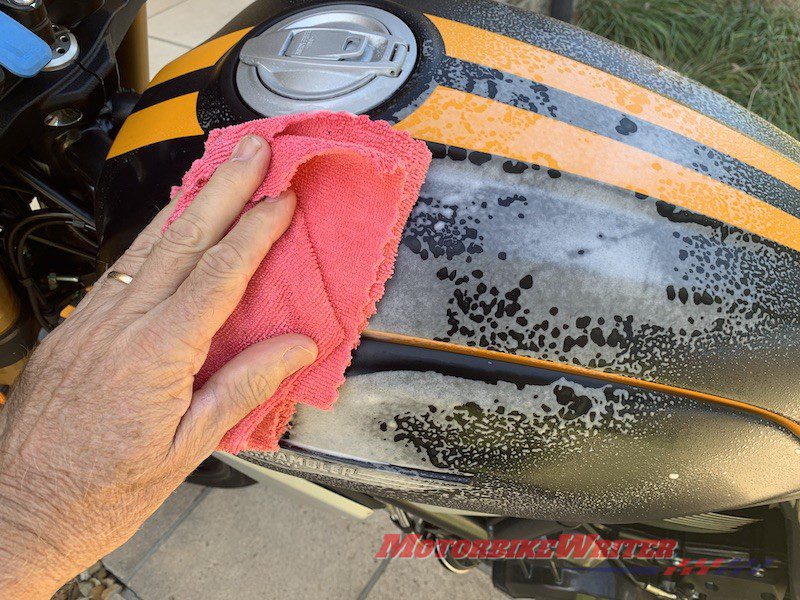 Before it completely dries, use another dry microfibre cloth to rub the surface.
It comes up in a gentle sheen that enhances the beauty of matte paint.