Waxed cotton is making a comeback in modern motorcycle riding gear and now manufacturers even claim they are waterproof.
Many mature-aged riders remember waxed cotton as the only viable alternative to leather. It was breathable, tough and "water-resistant", but never waterproof.
While there are far better materials available today that have more protection and comfort and really are waterproof, nothing beats waxed cotton for just looking plain cool.
The best-known brand of waxed cotton motorcycle gear is Belstaff, but they are now so cool, their gear is very expensive.
British company Richa is another band with a lesser-known name, but a long history using high quality waxed cotton from The British Millerain Company in Yorkshire.
Now their gear is available in Australia through Melbourne-based website Suus Customs who make urban custom bikes and sell vintage and new riding gear plus other fanciful "hipster" products.
Among the Richa products they are offering is the Ace Jacket, named after the famous Ace Cafe in North London, spiritual birthplace of the Rocker and cafe racer cults.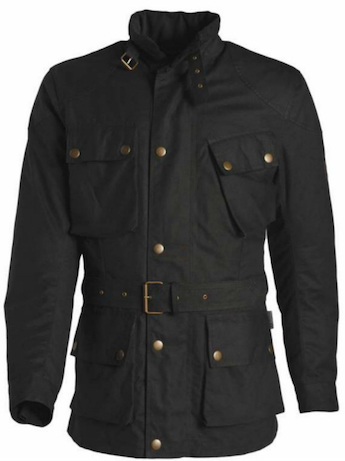 It's a classic four-pocket long-coat design and looks similar to the Belstaff Trailmaster.
Unlike the waxed cotton jackets of my youth, this features modern CE armour, a quilted warm lining and "Reissa membrane waterproofing".
We can't vouch for the waterproofing because we haven't tested the jacket. My experience of waxed cotton is that it is only water resistant and useful in a light shower only.
However, they claim Reissa is a three-layer microporous membrane with a polyurethane coating and different-sized pores that makes it waterproof, windproof and breathable.
Belstaff also claims to have waterproof jackets, but I have a modern Belstaff jacket that is apparently "waterproof" but it is not, hence my continued suspicions about such claims.
Meanwhile, Suus also has the Richa Deauville GTX winter gloves in soft, chocolate-brown leather. They feature Gore-tex waterproofing and Dexfil insulation.