Suzuki Motorcycles
IN THE BEGINNING
Suzuki Motorcycles was founded by Michio Suzuki, who opened a small loom business (weaving fabric) in 1909 in Hamamatsu, Japan. Suzuki Loom Works became an industry giant and in 1929, Suzuki invented a new type of weaving machine, which was manufactured & exported over the next 30 years. These were highly complex machines (Suzuki took out some120 patents) that needed to be precisely made, which required a high degree of engineering expertise. Looking to expand, Suzuki ventured into small car production in 1937, but World War II ended all that. It was war time production until VJ Day, when it was back to making looms. Again, business boomed. But a cotton market collapse in 1951 nearly ruined the company.
A MOVE INTO MOTORCYCLES
Desperately seeking new markets, Suzuki looked again at motorized vehicles. After World War II, Japan was starving for cheap transportation, so Suzuki developed a clip-on engine to motorize bicycles in 1952, called the "Power Free", with 36cc and making 1 horsepower. Sales were good. In 1953, Suzuki introduced the 60cc "Diamond Free" with which they handily won the Mt. Fuji Hill Climb. By 1954, Suzuki was producing some 6,000 motorcycles per month and changed their name to Suzuki Motor Co., Ltd. In 1955, Suzuki rolled out a small car called the "Suzulight", which featured such advanced features as front-wheel-drive, 4-wheel independent suspension and rack & pinion steering.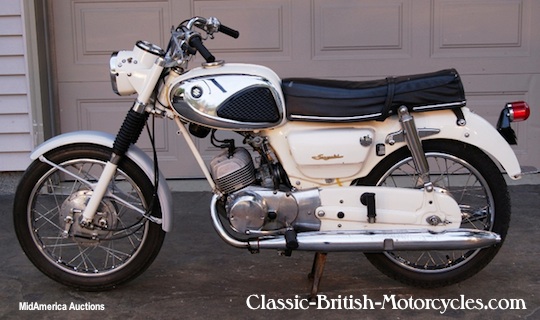 This 1966 Suzuki S32-2 was typical of Japanese motorcycles of the day: well-built with advanced features (like that TLS front brake), but clunky in the looks-department.
---
AMERICA, HERE WE COME!
Like Honda, Kawasaki, and Yamaha, by the late 1950s, Suzuki was poised for an assault on the burgeoning and lucrative U.S. market. They hit the ground running with an array of small, odd-looking 2-stroke designs that turned out to be quite well engineered and built. They quickly gained a reputation for quality and value.
BIGGER & BETTER
Suzuki steadily improved their motorcycles while, at the same time, enlarging them. Their street bikes quickly grew from 100cc to 250cc lightweights into the middleweight market with a growing range of 350cc twins and ultimately the 500cc Titan 2-stroke twin. Not much to look at, it was a real road-burner, faster than it looked.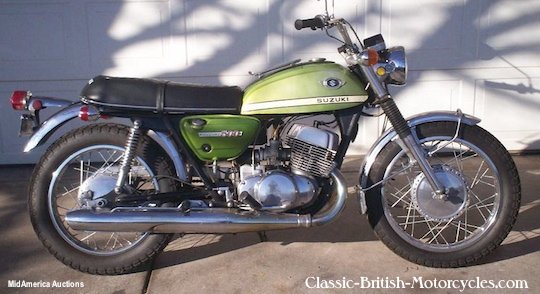 This 1970 Suzuki Titan T500 was a solid bike with excellent performance from its 500cc 2-stroke twin cylinder engine, and the looks weren't even that far off. But there was more to come very soon…
---
THE LAST OF THE 2-STROKES
The march toward larger, heavier, faster and more expensive (read that: more profitable) Suzuki Motorcycles, all with 2-stroke engine designs. They simply didn't build any 4-stroke motorcycles in the 1960s. They concentrated on bigger and better 2-strokes which culminated in the last generation of 2-strokers that Suzuki Motorcycles built before making the big switch over to 4-stroke designs. This last generation of bikes were the "GT Triples", all 3-cylinder 2-strokes, which included 380cc Sebring, and 550cc Indy, both air cooled, and each with a unique (some called it ugly) angled air diverter built onto the top of the heads; and a 750cc LeMans water-cooled triple that was quickly dubbed "The Water Buffalo" because of it's unwieldy looks.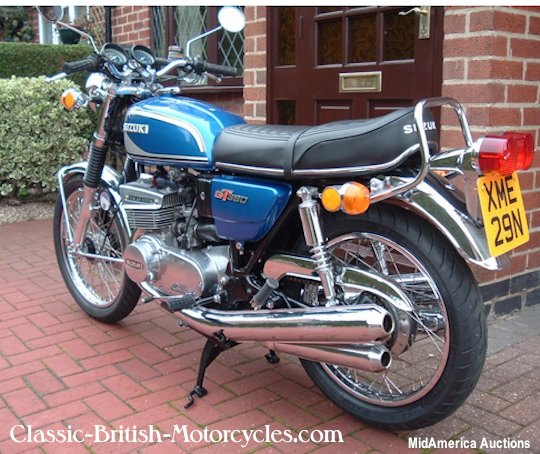 This 1974 Suzuki GT380 shows the odd-looking angled airbox that directed cooling air around the cylinder heads of this 2-stroke triple.
---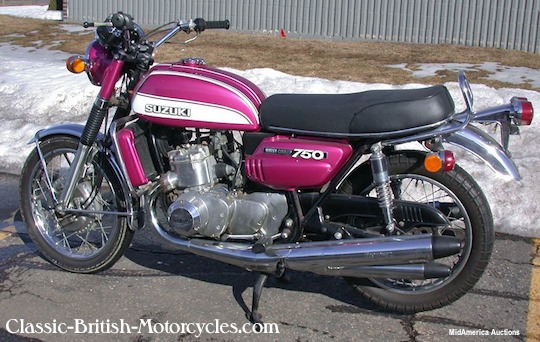 "Water Buffalo" was the nickname the public quickly applied to the chubby 1972 Suzuki GT750 when it came out. It was fast, no doubt, but it's liquid-cooled 3-cylinder 2-stroke engine was just a little to odd for the mainstream, and heavy too.
---
DIRT BIKE WARS
Also during the late 1960s, Suzuki Motorcycles were winning on the dirt track, with a full range of 2-stroke single-cylinder dirt bikes, motocrossers and enduros. The Dirt Bike Wars were very lucrative for the likes of Suzuki, Kawasaki, Yamaha, and now even Honda, with its excellent new 250 Elsinore.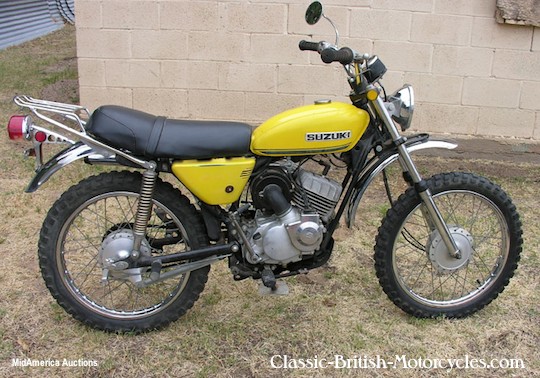 This lovely little 1971 Suzuki TC-90 is indicative of the kinds of dirt bikes that Suzuki produced by the shipload & sold to young Americans like me. They helped fuel the Dirt Bike Wars of the early 70s. Typically, you'd buy one just like this from the dealer, then take it home, strip everything off of it, including the rotor & stator (we'd run on total-loss), and lower the gearing, then take them out motocrossing.
---
THE MOVE TO 4-STROKES
Ultimately, Suzuki Motorcycles left the 2-stroke business behind and embarked an a whole new path, building only 4-stroke machines. One of their earliest efforts was the legendary Suzuki GS-1000, which was as DOHC (Dual Overhead Camshafts) air-cooled 4-cylinder with epic performance & handling for the day. Today, Volkswagen AG owns about 20% of Suzuki, and Suzuki makes a full range of high-quality motorcycles and off-road bikes, along with ATVs, Quads and a line of small cars that have garnered an excellent reputation over the years.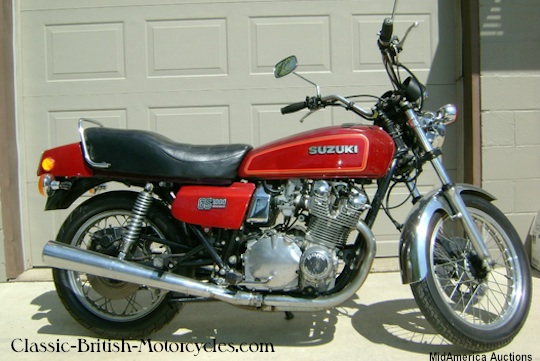 This is ultimately where it was all heading: the 2-strokes were dead, killed by emissions regs, long live the mighty 4-stroke. This 1979 Suzuki GS1000 was a market leader in its day.
---
THE LONG VIEW
Just like the rest of the Japanese motorcycle industry, Suzuki an impact on the ailing and failing British motorcycle industry at the time. The Brits were simply unable, or unwilling to embrace modern designs and manufacturing techniques. While the Japanese continually modernized, the Brits tried to hold on to their "Old World Artisans". How can you hand-build motorcycles that were designed in the 1930s & hope to compete with the likes of Suzuki, who is mass-producing state-of-the-art machines? In an interesting turn of events however, after many years, Triumph, Norton, and other classic British motorcycle brands are staging a comeback. Stay tuned…