The popularity of the action camera to record your ride has grown massively in recent years and led to a flood of cheap Chinese cameras on the market.
There are now many challengers to GoPro in the quality end of the market, but there are also some reasonable cheap cameras available.
Be aware that their use on a helmet may be misinterpreted as illegal by police. However, you can still use them on your bike or attached to your body.
David Black of MotocrossAdvice.com says he has bought several cheap cameras and found out the art way that the quality can be "bad".
He has picked out seven of the best cheap models based on his experience.
Important features on a cheap helmet camera:
HD resolution
One of the main shortcomings with cheaper helmet cameras is the quality of the Picture. Be sure that the camera has at least 1080p HD resolution. Some cheaper cameras even have 4K resolution.
Memory capacity
Some cheap helmet cameras do not even have the ability to add a memory card! If they do, be aware that some don't include the SD card in the price. You will need at least 32GB to store a reasonable amount of video.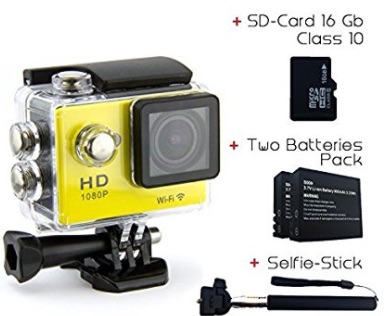 Waterproof
Even though you don't ride under water, rain has a way of permeating and ruining cameras that seem to ave a waterproof case. Note there is a difference between "weatherproof" and "waterproof". You actually need more than weatherproofing, especially if you are riding off-road and intend crossing creeks. You can easily fall in and submerge the camera.
Batteries
Don't buy a camera that has a non-removable battery. Make sure it also works with rechargeable batteries. Also check the tech specs for battery life and charging times to see if it fas your riding behaviour. No point in having battery life of two hours if you plan to ride all day.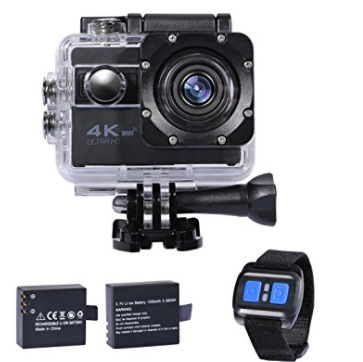 What to avoid
Cheap cameras often don't come with some of the stuff that is included in more expensive cameras. They can include essentials such as the battery, lens cover, camera cover, wiring and memory card.
If you have to pay for these, they can turn a cheap camera into an expensive one.
If you are still interested in buying a cheap helmet camera check out David's guide to the top seven under $US100.
But remember, you only get what you pay for!