Low-Voltage Warmth With Chilli
The Chilli Heated Vest (or waistcoat) is nicely made.
It includes a simple but strong wiring harness and assembly.
But the 38 Watt output just doesn't seem to provide that much heat.
It's available in men's and women's specific sizes and the size large weighs 323 g (11.375 oz.).
I thought this would be the winter of warmth.
Sure, we've had record high temperatures here on the East Coast of the U.S.
That is, until about a week ago, when it dropped down to the low 20's (F) and doesn't look like it's going to get any better any time soon.
But that's not what I mean. After bundling up in multiple layers and riding in too many winters to remember, I was really looking forward to using the variety of electrically heated clothing that we purchased last fall.
I figured would make all the difference in the world and I could picture myself all warm and toasty.
We started this electric festival with the Gerbing Heated Jacket Liner review, and found that its hefty power requirement wasn't compatible with our wimpy vintage motorcycles' alternators.
When we tried it on a motorcycle with 400 Watt output, it put out the heat, but it has too many hot spots and the wiring is fussy.
We've been learning a great deal about electrically heated clothing recently.
First of all, it's important to make sure your bike's alternator can handle the power requirements. Also, we found that electrically heated clothing works best when the garments fit very tight to your body.
And remember that the manufacturers usually recommend wearing at least some type of shirt underneath – these garments are not designed for wearing directly against your skin.
We discovered that the best way to keep the heat close to the body is to wear some type of tight-fitting but light sweater, polar fleece or turtleneck shirt over the top of the heated vest or heated jacket.
It really makes a difference, because it keeps the garment closer to your skin while also providing an insulating layer that keeps the warmth inside the outer jacket.
But overall, we've been disappointed so far with the electric heated clothing products that we've tried, which is surprising, considering that electric vests and jackets that are specifically designed for motorcycling have been available for many years.
You'd think someone would have the formula figured out by now, and granted, we've only tried a very small sampling, but we're disappointed nonetheless.
I guess it's too much to ask for a nicely designed vest or jacket that you won't be embarrassed to wear by itself.
It should draw less than, say, 60 Watts or so and provide lots of very evenly distributed heat. It should have a thermostat and the connector should be easy to attach and disconnect from the motorcycle.
Throw in some type of foolproof disconnect that automatically pops out when (notice I didn't say "if") the rider dismounts after forgetting that the garment is still connected to the bike's wiring harness, and you'll have a winner.
Maybe someday soon?
In the meantime, our most recent heated clothing experience is with the Chilli heated vest, or "waistcoat" seen in these photos.
The Chilli heated vest has been around virtually forever; it was originally developed by Steve Attwood, an Iron Butt rider extraordinaire, and is proudly made in England with what appears to be all-British components.
This is a no-nonsense garment that actually has decent looks, even though it uses the apparently de rigueur taffeta material found on heated clothing – you know, the stuff that makes them look like the liner of a 1960's era overcoat.
The Chilli vest is sans pockets, both on the inside and out, and they're not missed because they aren't necessary anyway. It's a light weight 323 grams (11-3/8 oz.) and the men's size large fits my 43/44 (U.S.) chest perfectly.
The vest has no collar and no trim around the armpits, which was done on purpose and which we think is a good idea.
Most winter motorcycle jackets are too tight in the collar area anyway, and by time you get a sweater, vest and maybe a scarf or neoprene neck warmer or Balaclava helmet packed on, there isn't much room left to button up without feeling absolutely choked.
So the lack of a collar is not a bad thing.
The Chilli heated vest also draws only 38 Watts at full power.
Although this means that it can be used on virtually any motorcycle without having to worry about battery charging problems, we found that the 38 Watts just doesn't cut it when it comes to warmth (more on this in a moment).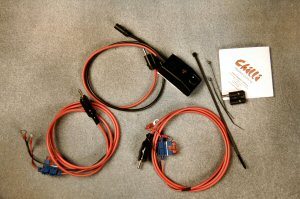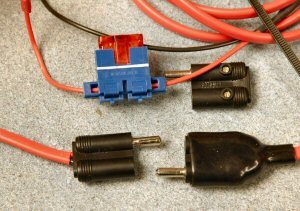 ---
Where to Buy Chilli Heated Vest
Check Reviews & Prices on Amazon
Also Shop for: Motorcycle Jackets, Motorcycle Gloves, Motorcycle Boots, Motorcycle Pants
---
Wiring and Wiring Harness
We do really like the design of the wiring harness for the Chilli vest though. The wires seem very heavy-duty and are covered in substantial-looking (and feeling) shrink tubing.
The plugs are also hefty and are very easy to use. Somehow the whole wiring assembly is less fussy than the Gerbing jacket liner we reviewed recently.
The vest connector is located on the outside of the lower left hand side of the garment, which is a good location.
Plug in the black female connector from the controller and plug the red lead from the controller into the harness and you're ready to go.
There's still the problem of where to put the controller if it isn't permanently mounted to the bike though. The location of the vest's connector means that the controller usually ends up in the pocket of the outer jacket.
The waterproof controller comes with an attached piece of Velcro on the back and a matching piece of Velcro with double-sided tape, ready to attach to a suitable location on the motorcycle, which is really where it should be placed anyway.
The opposite end of the controller harness plugs in to the main harness, which must be connected to the motorcycle's battery terminals.
The red power lead has a 10 Amp fuse wired in place. It's all nice and clean and tidy and makes for a quick installation.
The controller includes 35.5 cm (14″) of red (power) wire and 46 cm (18″) of ground (black) wire to connect to the vest and the battery harness.
The battery harness is 117 cm (46″) long, so there's plenty of length to wire up a motorcycle without having so much extra that it becomes a problem to get it all stowed.
Our package included a a spare battery harness, which can be used to attach to a second motorcycle, and a spare power plug, but I'm not sure if this is actually included in the price or if it was added by mistake.
The controller is an interesting design: it's a box shape about 63 mm long, 35 mm wide and 19 mm thick. The thermostat is controlled by a rotary dial, but there's no "off" click when it's lowered all the way to the left (i.e., anti-clockwise).
There's a single LED red light that comes on and blinks as the dial is turned up for more power. The farther it's turned, the faster the light blinks, until it's on continuously at the maximum output of 38 Watts.
So far, so good. There's trouble in paradise though.
Tthe 38 Watt output that allows the vest to be used with less than 300 Watt alternators also means that the heat output is weak at best.
I hate to break it to you folks, but we could barely feel any heat emanating from the vest, albeit during a riding week marked by very low temperatures hovering around 20 degrees Fahrenheit.
If a tight sweater or turtleneck is worn over the top of the vest, keeping the material as close as possible to the body, some heat can be felt and it does take the chill off slightly, but our opinion is that the heat output just isn't there.
Maybe it will work for a 40 degree (F.) English winter, but it didn't do much for us in the way cold weather we've had recently.
It's too bad really, because otherwise the garment gives an overall good impression. The wiring is especially well thought out. I need more power, Scotty!  How about 60 Watts or so?
Conclusion
Steve Attwood used his long-distance riding experience in the design of the Chilli heated vest. We can't fault the fit and the quality of the wiring and plugs, although we have some reservations about the fabric used for the vest.
But it's too bad that the vest doesn't have more power.
We realize you can't have it both ways; that is, you can't have a low-powered vest that puts out lots of heat (or can you?), but 38 Watts just doesn't seem to be enough. Fifty or sixty Watts would probably do the trick.
Kudos to Chilli for providing an extra harness and plug and for the sturdy but simple wiring assembly.
More wBW Heated Clothing Reviews  |  Motorcycle Glove Reviews
w

BW

 Review: Chilli Heated Vest (Waistcoat)
Manufacturer: Chilli Heated Clothing (Apparently no longer in business as of 2014).
List Price (2005): $179.95 or £119.95
Colors: Black
Made In: UK
Review Date: December 2005
Note:
 For informational use only. All material and photographs are Copyright © webWorld International, LLC since 2000. All rights reserved. See the webBikeWorld® 
Site Info page
. Product specifications, features and details may change or differ from our descriptions. Always check before purchasing. Read the
Terms and Conditions
!
---
Where to Buy Chilli Heated Vest
Check Reviews & Prices on Amazon
Also Shop for: Motorcycle Jackets, Motorcycle Gloves, Motorcycle Boots, Motorcycle Pants
---
Owner Comments and Feedback
---
From "D.D." (2/09):  "Been meaning to give input on the Chilli Electric Heated Vest. I ride an 2005 Harley Davidson Ultra Glide. I've owned my Chilli Electric Heated Vest for 4 years.
My personal experience with this vest is excellent. Albeit I had to install the higher wattage alternator, assuring the vest would perform, but if is without question, I'm not cold. The heat dispersion is quite good, the rheostat works well in all positions.
I would appreciate if the company would broaden their scope to include Heated Gloves and Leggings. The best news for me, and others would Chilli would produce Electric Heated Gloves and 'Leggings'."
Other WebBikeWorld Clothing Posts