The CFMoto 300NK is the cheapest 300cc learner bike in Australia at just $4990 ride away, but how does it indeed "ride away"?
We tested the bike and found it a willing partner around town and even out on the highway.
The CFMoto 300NK is powered by a new 300cc water-cooled, single-single engine with 25kW of power in its lithe 151kg frame.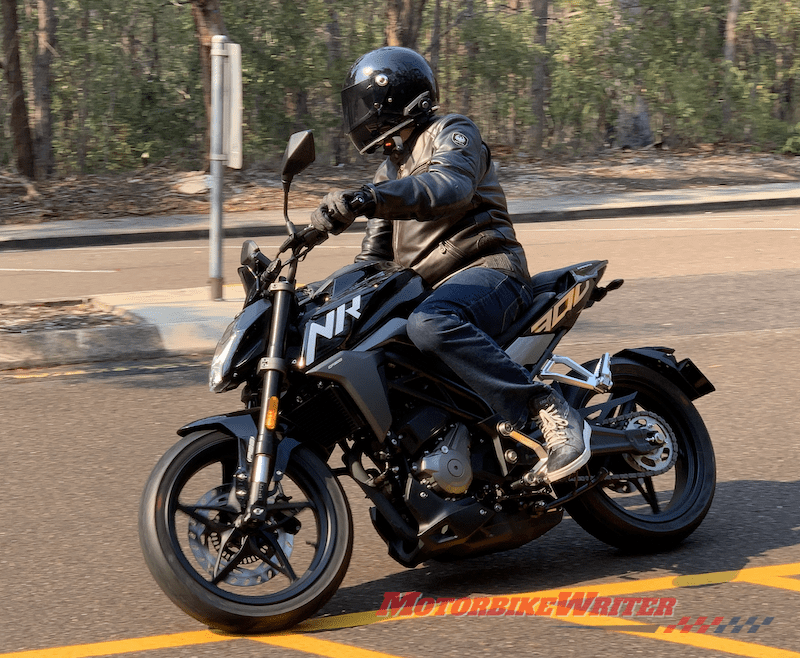 It's an extremely flexible little engine with capable power delivery around town and passable passing abilities on the highway where it revs at 5700rpm in sixth.
The only time it starts to run out of puff is up steep hills.
With a 12.5L tank and excellent fuel economy, you could ride this bike much more than 300km on one fill.
Smooth operator
The EFI engine has a balance shaft and a sixth gear to reduce vibration at highway speed.
We found that after a long ride, there was only a slight tingle in the fingers and none in the toes thanks to the rubber-topped footpegs.
There was also little vibration through the mirrors which are big and wide for plenty of good rear vision. They are no wider than the reasonably wide bars, so lane filtering is fine on this narrow bike.
The whole bike feels very narrow including the 795mm seat which makes it easy for most riders to get a foot on the ground.
The 300NK pillion seat is removable with a key and there is little space underneath. The rider seat is removable with a spanner.
This is a highly manoeuvrable motorcycle in traffic and tight spaces thanks to its smooth fuelling, light weight and narrow frame.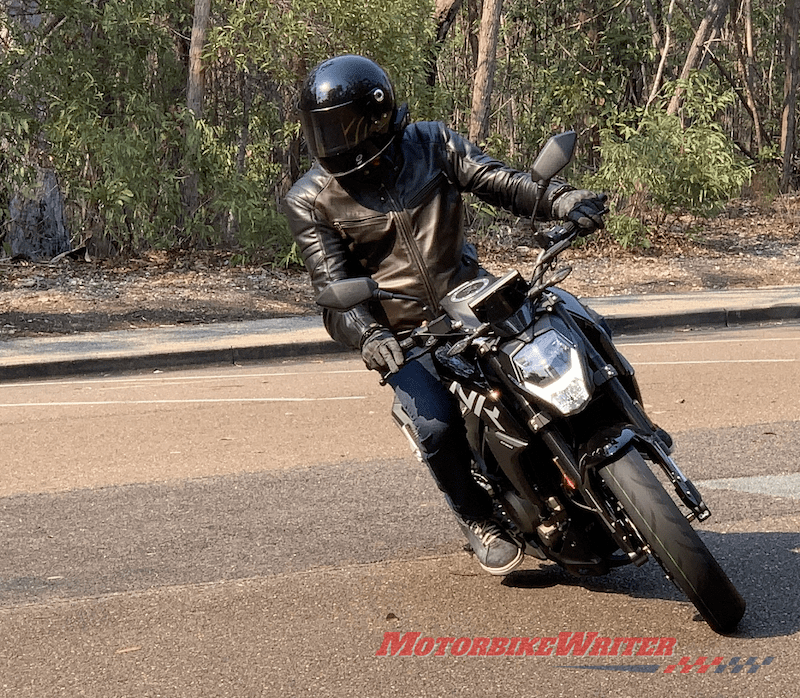 The six-speed transmission is slick and faultless with no false neutrals and neutral easy to select when stopped.
Braking is handled by Spanish J Juan brake callipers and a Continental Dual Channel ABS controller.
They are strong and willing with reasonable feel in both the lever and pedal, but the front fades off under heavy braking.
Suspension may be rudimentary, but it is quite capable as the bike is so light.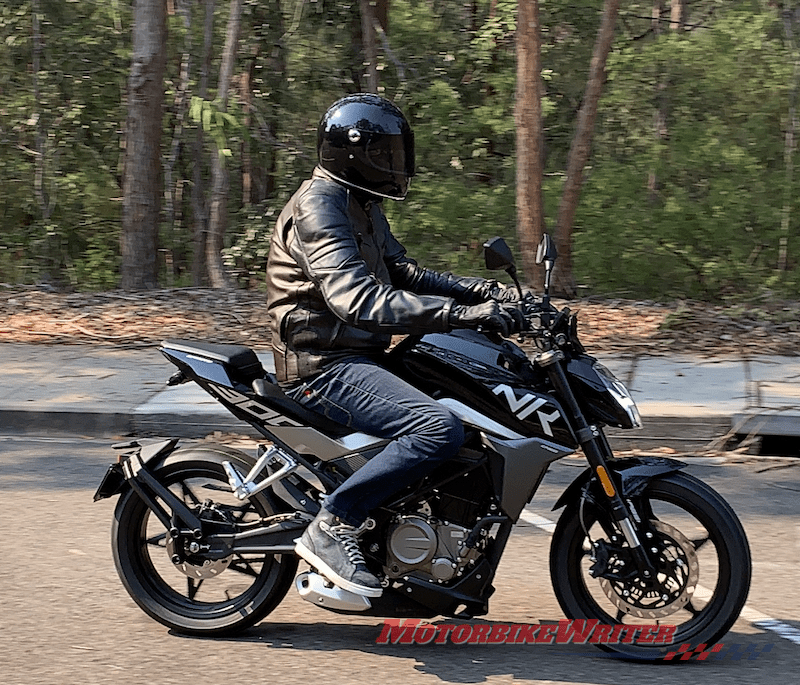 Heavier riders may have trouble and the forks gets jittery over high-frequency bumps.
I'm 183mm tall and found the riding position quite neutral, except the pegs are fairly high which cramped my legs. They could easily drop them down a bit as it has plenty of cornering clearance.
Modern features
Modern features on the 300NK include a full-colour TFT instrumentation panel with convenient gearshift indicator, LED headlight, lockable fuel cap and daytime running lights.
The 300NK instruments are easy to read in most lighting conditions although they can reflect the sun's glare at certain angles.
They are also light sensitive and change colour in a tunnel or at night.
You can also choose between a traditional analogue-style display or digital representation.
Interestingly, they include "Sport" and "Rain" engine modes, but they are not active … yet! We are told that may come in future models.
The backlit controls are basic and a bit cheap, but tactile and function fine.
We like the modern, angular styling of CFMoto's range which has been outsourced to Kiska, the Austrian design house which is also responsible for many KTM models.
The company has close ties with KTM, making their bikes in China for the domestic market.
An interesting touch is the rear the tail which has winglets and reminds us of the Ducati Panigale!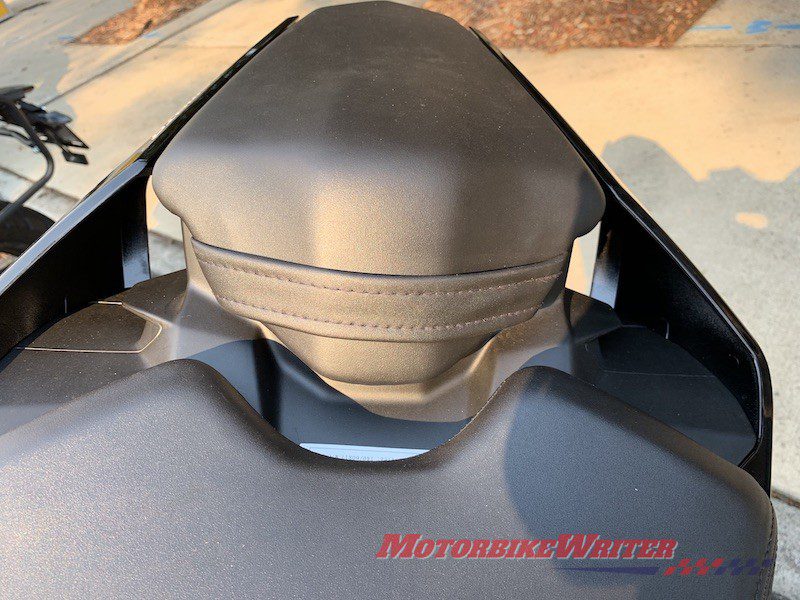 It only comes in solid black and we reckon it would look a whole lot better with some graphics or at least a flash of an alternate colour to alleviate the all-black paintwork.
Fit and finish is close to Japanese standard.
Conclusion
Despite our test bike developing an occasional coolant leak from an ill-fitting cap that was replaced as a precaution, we found the bike very strong and reliable.
Novices will find it easy and enjoyable to ride and useful in most road situations.
At this bargain price, it would also make a great second bike for commuting to keep the kilometres down on your prized bike.
CFMoto 300NK tech specs
Price

$4990 ride away

Warranty

2yrs/unlimited km

Engine

292.4cc single cylinder, 4-stroke, liquid cooled, 4-valve, DOHC with balance shaft

Bore & Stroke

78mm x 61.2mm

Compression

11.3:1

Power

25kW @ 7200rpm

Torque

20.5Nm @ 8800rpm

Gearbox

6-speed

Front Suspension

Upside down telescopic fork

Rear Suspension

Mid positioned monoshock

Front brake

300mm disc, twin-piston caliper, ABS

Rear brake

245mm

 

disc, single-piston caliper, ABS

Seat

795mm

Weight

151kg

Tank

12.5 litres

Clearance

150mm