You can pay hundreds of dollars for a Bluetooth intercom, or less than $50 for a cheap unit, but do they really work?
We tested a cheap $40 Chinese-made D2 500m intercom from Gear Best and found that, yes, they do work, but there are obviously some shortcomings.
For a start, this cheap unit only supports up to Bluetooth 3.0, not the latest 4.1 mode. However, it still works with my iPhone 6+, pairs easily and works every time.
It will play music through your phone, FM radio and auxiliary player, and the quality of sound from the tiny speakers is reasonable, but very loud. In fact, it's the loudest unit I've yet tested.
The D2 also works as an intercom, but only with another 3.0 Bluetooth unit from the same manufacturer. In fact, they claim it will pair with 11 other intercoms and switch to any two at a time.
However, Gear Best only sent one unit, so I couldn't test its intercom abilities. Instead, I tried connecting it to my latest Sena 20S which is supposed to have universal Bluetooth connection, but it didn't pair.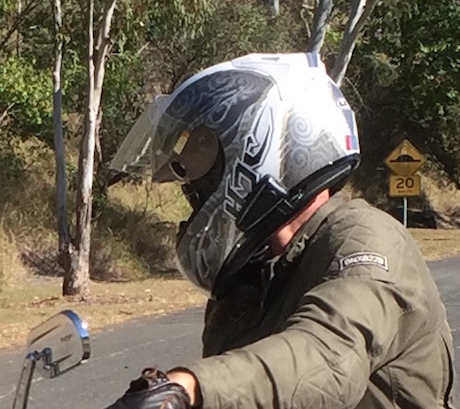 Yet I did receive some phone calls and every one I spoke to said the sound quality of my voice through the wind-cancelling microphone was clear and quiet.
For just $37 you seem to get an awful lot of features including voice prompts, voice recognition and speed-adjusted volume, but I didn't notice any changes in volume.
The unit is a bit bigger than most which means there is plenty of room for big buttons that are easy to find, even wearing thick winter gloves.
While it's a big unit, it's low profile, so it doesn't sit out a long way from the helmet and create wind noise. It can be connected to the helmet via a clamp or stick-in pad. The connection is a bit loose, but the speaker wire prevent it from falling off your helmet.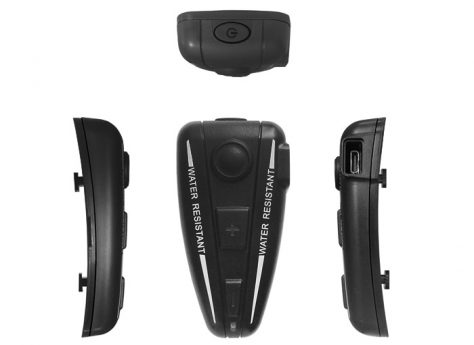 There are only three buttons on the unit, so to do all the different operations you have to hold the control button for a varying time, up to a full eight seconds just to switch it off.
For example, the volume up and down button is the same as the next/back track buttons, so when you are trying to turn the volume up a little, you can accidentally select the next track.
The unit is claimed to be water-resistant, not waterproof. I've had two much more expensive units ruined by riding in the rain, but this cheap unit does seem to have a pretty tight case and the only input socket has a deep rubber plug which should keep out water. I tested it in light rain without encountering any problems.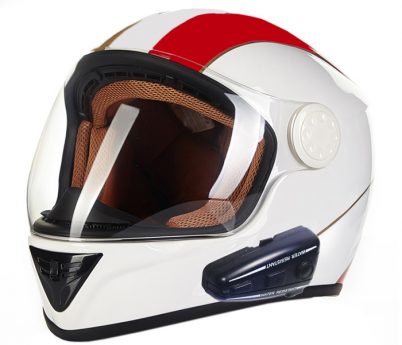 The Li-polymer 500mAh battery charges in three hours from flat and is claimed to have 100 hours of standby time and eight hours of phone talk, intercom or music play time.
In fact, I tested the unit by playing Bluetooth music at pretty high volumes for nearly 10 hours and it still hadn't gone flat. However, the music starts to get a bit distorted after five hours, so I turned it down a little.
They claim range from intercom to intercom is 500m which is much shorter than most units, but, as I said before, they didn't send a second unit so I couldn't test that.
Unfortunately, the manual is printed in an ant-sized font and I needed my reading glasses to read it.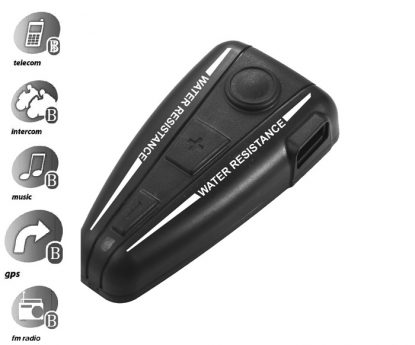 The manual is pretty easy to follow with the added benefit of some Chinglish hilarity:
"If there is call coming and intercom, be careful to drive. We advise you stop riding to talk when the weather is bad or there have a traffic."
"D2 Bluetooth headset can only assure to successfully pair with the same series product Bluetooth headset turn to intercom state automatically after the first pairing succeed."
So, while there may be a few shortcomings, the D2 unit still a pretty good unit for a cheap $40. (Price varies according to the exchange rate. It was $3 cheaper when we started testing the unit!).
As the alternative solution for wireless connection you could consider, for example, the bone conduction headphones.