A discovery by a webBikeWorld visitor means the perfect motorcycle chain cleaner has finally arrived.
Made from an organic compound, it's also inexpensive, and although it may seem strange, it works.
We've been reviewing motorcycle chain lubes, chain cleaners and degreasers since metal chain links were first invented.
Which, by the way, begs the question: what came before metal motorcycle chains?
The leather "chains" were really belts that fit into the pulleys and they were made from leather, believe it or not.
Don't believe it? You can look it up…
Run your eyes over the right-hand column and you'll find links to all of the various chain lube and chain cleaning articles that have been published on webBikeWorld through the years.
Finding a good chain lube is the easy part — our favorite is the DuPont Teflon Chain Lube (review), but there are many to choose from and we've compared dozens over the last few years.
Some are easier to use than others, but in the end, pretty much all of them will do the job.
Chain cleaning and degreasing? That's another matter altogether. The choices are limited and many of the products are either difficult to use or don't work as advertised.
Best Way to Clean a Motorcycle Chain
Discussions about the best chain lube or chain cleaning product will result in as many opinions as there are motorcycles.
Everyone seems to have their favorite brand and method, with wild claims of 10, 20 and even 30 thousand miles from a chain and sprocket set.
webBikeWorld visitors use have told us about many of their formulas, from citrus-based cleaners to "green" solvents to dishwashing soap and everything in between.
Each product has its adherents and each one is said to be the best, but unfortunately, we've never been able to verify any of them. Until now.
I hesitated publishing this article because I know this seems like it has to be one of the most unusual chain cleaning substances available, but we've tried it many times and it's amazing.
You can see for yourself by looking at the photos below, which are un-retouched and documented proof of this system we now call the "Chain Pickle".
The discovery was made by webBikeWorld visitor Cucumis Sativus, a motorcycle rider who is apparently always looking for unusual (and inexpensive) alternatives to expensive off-the-shelf brands.
Here's an excerpt from the email which introduced us to this unusual method:
"I had just returned from an off-road ride and my chain was filthy. I grabbed a can of WD-40 and emptied it on the chain but it was useless. I was looking in the trash for some old newspapers to clean up the mess when I saw the pickle.
I don't know what made me think of it, but I needed something to clean off the grunge so I grabbed it, split it in half and wrapped it around the chain.
I figured it was just wet enough to wipe off the crud and as I slowly rotated the rear wheel while holding the pickle on the chain, I was amazed at the results. One swipe and the chain was good as new!"
Of course, I thought he was pulling my leg, but after a series of emails to him in a quest to learn more, I realized he was serious. So, after talking to the local crew, we figured "What the heck" and gave it a try.
All I can say is that I was as surprised as anyone at the results.
Which Pickle?
We've tried it with all types of pickles, but only the dill varieties work best. The sweeter "Bread and Butter" types leave a sticky residue on the chain that can attract dirt and grunge.
It takes a fairly good-sized pickle to clean a 530 chain; not a gherkin, but more like a Kosher dill. We found a jar of Claussen's brand in the local supermarket, and we can highly recommend them.
These are different from other brands, such as Vlasic, because the Claussen's pickles are not cooked, so they will be in the refrigerated section of the store.
We found them on sale, two for $6.00 and there are about a dozen dills in each jar, which should be enough to last for nearly the life of the chain.
So how does it work? Apparently, the acidity of the brine immediately breaks down the hardened grease and sludge on the chain, but it's also mild enough that it doesn't affect the O-rings at all.
Here's a photo series illustrating the process; I think you'll agree that the results are pretty amazing: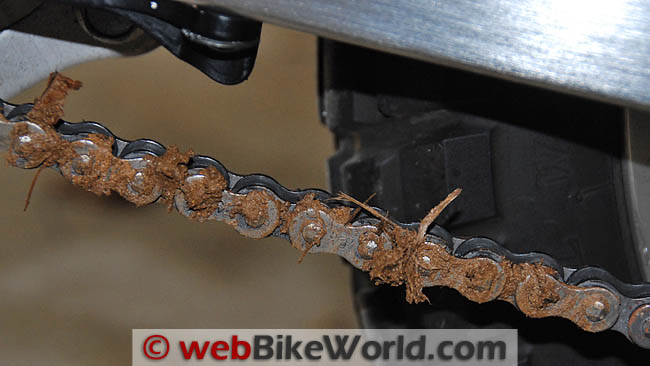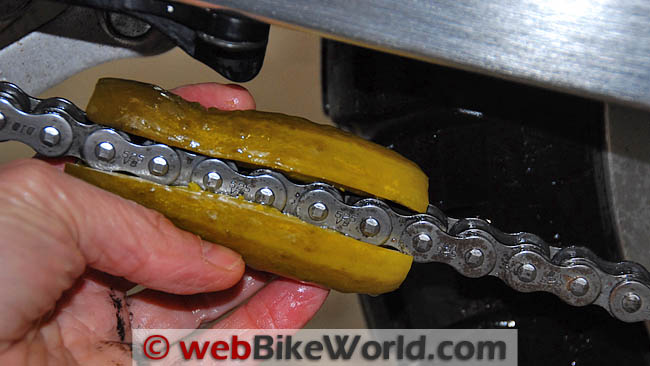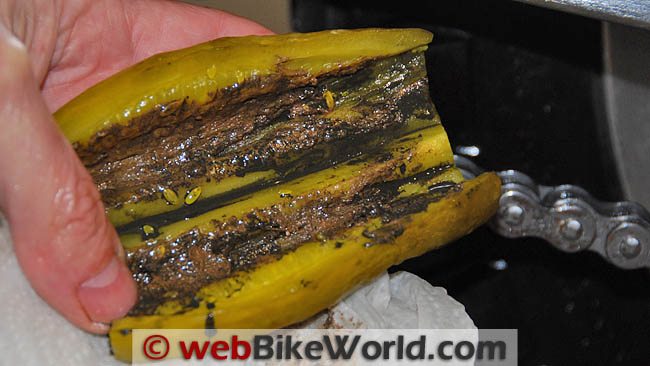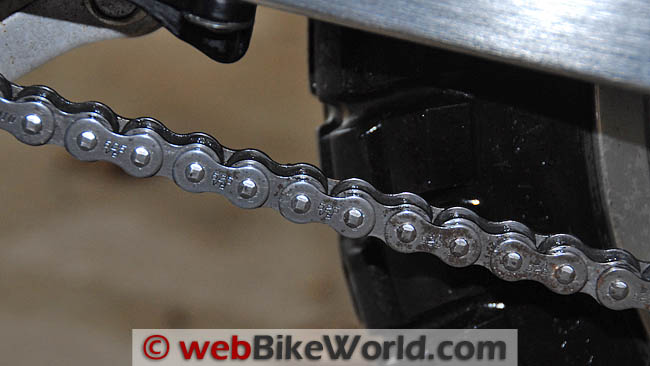 Conclusion
I know it seems odd, but if it works, who cares? Like many of the best ideas and inventions, this one was a result of pure serendipity. Try it, you'll like it!
Chain Pickle users may also be interested in installing a set of Spiffy Spokes (review) on their rides…
Published Date: April 1, 2011
From "B.M." (4//1/2011):  "I hope someone has advised Arlo Guthrie of this amazing situation. Reference "The Motorcycle Song" lyrics: "I don't want a pickle, I just want to ride on my motorsikle."
---
From "D.H." (4/1/2011):  "Why waste your pickles? You state it is the salt brine that does the cleaning work.
The cucumber is only the media to apply it. Next time you eat the last pickle, drop a Scotchbrite pad into the jar of juice and off it goes to the garage. Free cleaning solution."
---
From "J.L.W." (04/11):  "Once you are done cleaning with the pickle, you can use the fat from the corned beef in your sandwich to lube the chain."
---
From "B" (4/1/2011):  "I've been using these for years, always keep a couple of spares in the pannier.
Along with mayonnaise (full-fat Hellman's is best) for chain lube. Saved my life broken down in the Kalahari…boiling the chain and the pickles made a lovely and nutritious stew."
---
From "D.M." (4/1/2011): "You're right, it works. I'm not too keen on the smell though. Probably better than acetone, but not much."
---
From "L.E." (4/1/2011):  "I don't know how this guy came up with the idea, but he's a genius."
---
From "P.H." (4/1/2011):  "Something you didn't mention is the smell left over on your hands — I suggest you wash them before wearing gloves. Also, I swear I can smell something like burnt cucumbers when I'm in stop-and-go traffic.
---
From "N.D." (4/1/2011): "What are you supposed to do with the pickle once it's used? Do you think it's safe to eat it after cutting out the part used for cleaning?"