CFMOTO Australia has announced a pre-order campaign for their 800MT adventure tourer range with $899 of free accessories.
The 800MT Sport in Starlight Black will cost just $12,990 ride away and the up-spec Ocean Blue 800MT Touring is only $1000 more.
They will start arriving in January 2022 with a three-year, unlimited kilometres warranty under CFMOTO current '2 plus 1' deal.
For those who have already ordered the bikes or do so before the end of the year, CFMoto Australia will throw in $899 worth of free accessories fitted during pre-delivery.
They include:
•    Silver side crash bars;
•    Black radiator protector; and
•    Black headlight guard.
It sounds like a good idea and a real incentive to get customers to be patient while they wait for the Chinese-made motorcycle.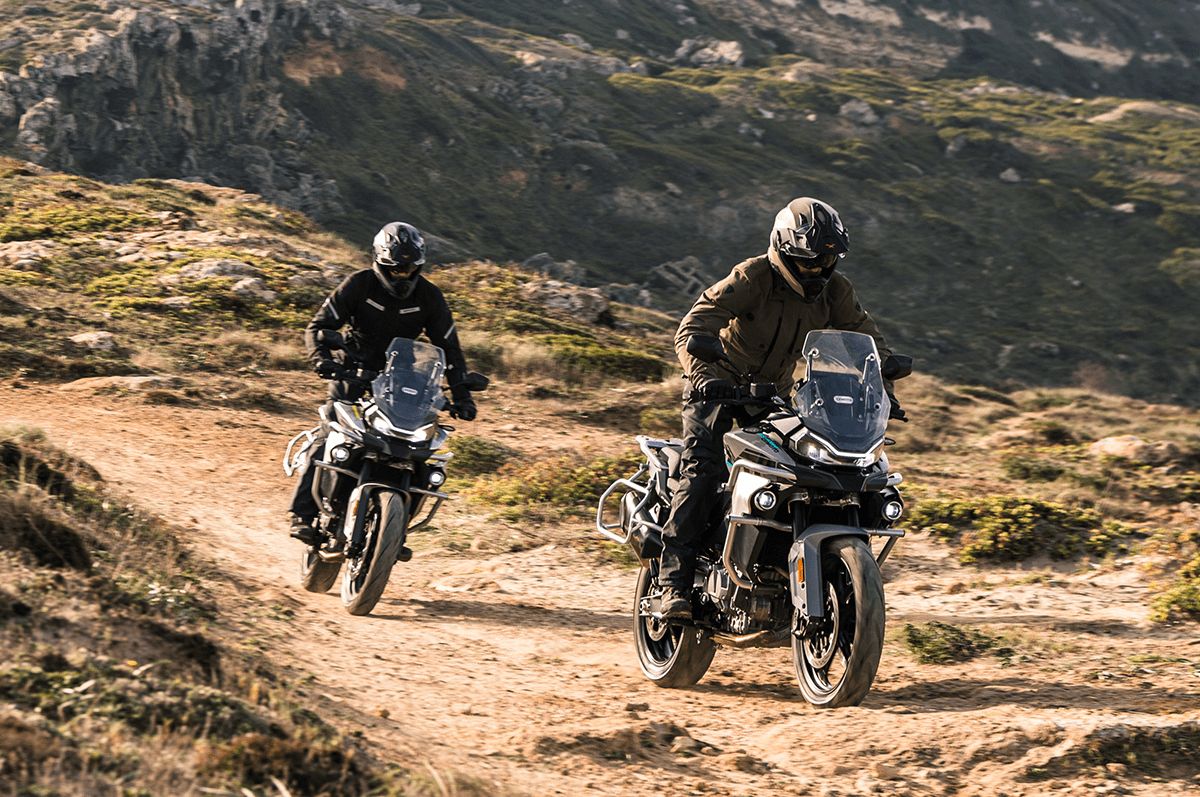 The company supplied this question-and-answer info for those interested:
How will the campaign work?
Customers can make a pre-order through a dealership, over the phone or online via a new dedicated 800MT microsite with a simple step-by-step build process.
The microsite's address is www.cfmoto800mt.com.au, and has extensive information on both models including images, words, specs and video.
Once the customer has digested the full gamut of 800MT information, they can start the build process to place a pre-order and nominate their preferred dealer.
The build process also allows customers to include any accessories they'd like to include on their 800MT over and above the free items already included in the campaign.
Once the pre-order details are received by a CFMOTO dealer, it will then contact the customer to verify details and process a $500 deposit.
Does the customer have to place a pre-order through the new 800MT microsite?
No. A customer can still place a pre-order directly with a dealership, over the phone etc, as long as a deposit is taken by the dealer within the promotional period.
Is the deposit refundable?
On the basis that customers won't see either 800MT before they arrive, the $500 deposit is 100 per cent refundable if the customer changes their mind.
What about customers who already have placed deposits?
Yes, these customers are eligible for the pre-order promotion.
When will deliveries start to take place?
First shipments are scheduled to arrive in January 2021 to begin honouring the summer delivery guarantee.
800MT FAMILY FEATURES
•    Seven-inch TFT screen
•    Ride by-wire throttle
•    Multiple riding modes
•    Slipper clutch
•    Cruise control
•    Continental ABS braking system
•    KYB fully adjustable suspension
•    Adjustable screen
•    Fog lights
•    Crash bars
•    USB charging
•    LED lights and turn signals
•    Three-year warranty
ADDITIONAL 800MT TOURING FEATURES
•    Tyre pressure monitoring
•    Wire-spoked wheels
•    Centrestand
•    Up/down quickshifter
•    Handguards
•    Alloy bashplate
•    Steering damper
At the heart of both bikes is KTM's  799cc parallel twin, which produces 70kW (95hp) at 8000rpm and 88Nm at 6600rpm.
The 800MTs also have a slipper clutch, Bosch electronic fuel injection and a ride-by-wire throttle with three riding modes: rain, off-road and road.
The 800MT Sport and 800MT Touring share the same 19-litre fuel capacity, expansive rider and pillion seats, tubular steel frame, fully adjustable KYB suspension, crash bars, 825mm seat height, adjustable screen and Spanish J.Juan brakes with ABS.
The major point of differentiation between the two is in the rolling stock: cast wheels on the Sport as opposed to spoked tubeless wheels on the Touring. Wheel sizes are 19-inch front and 17-inch rear – an ideal compromise for road and off-road riding.