"More Fun" reads the decal on the CFMoto 300SR tail section.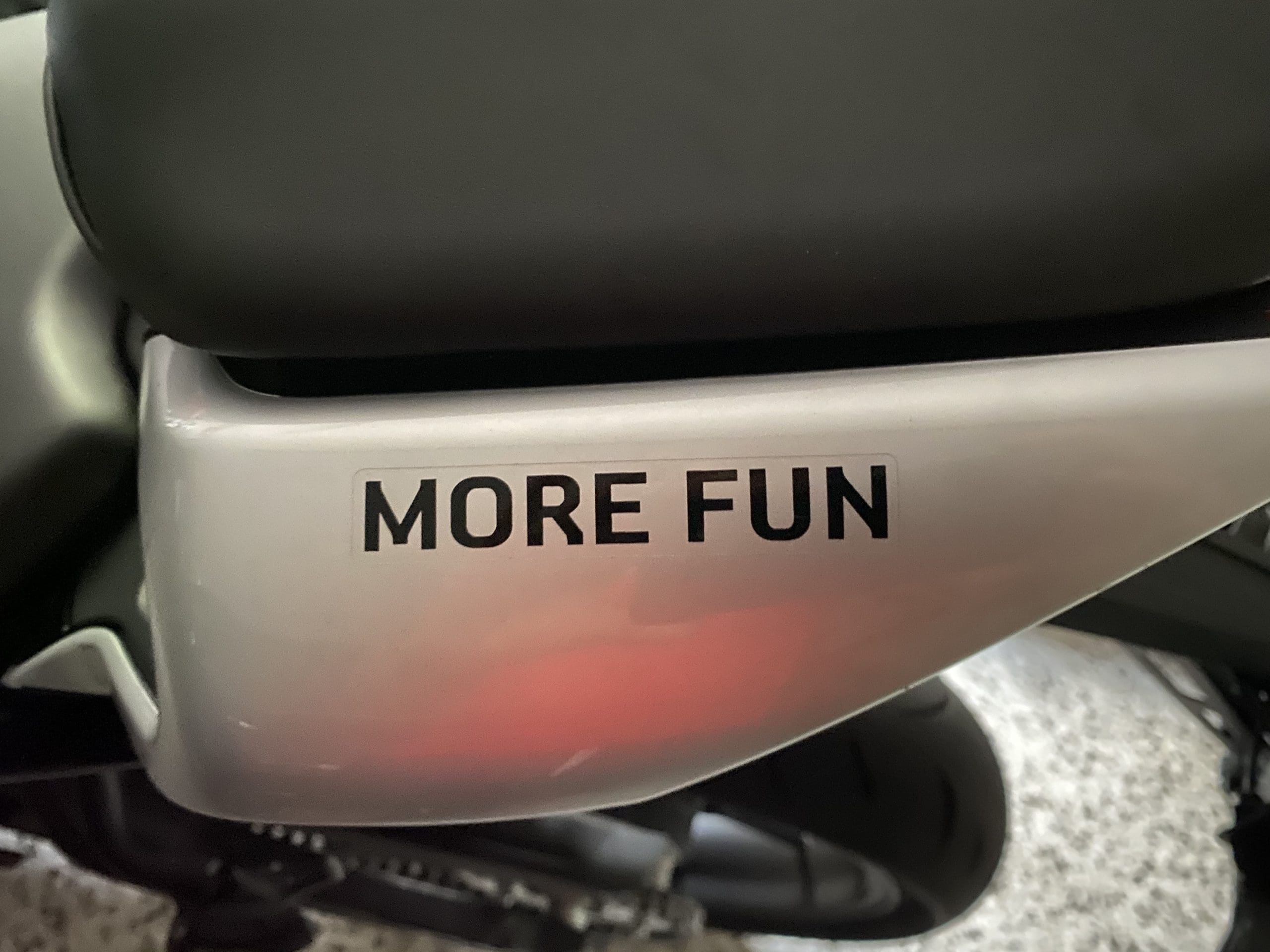 I wonder how much fun you can have with a 292.4cc sports bike with just 21.4kW of power at a screaming 8750 revs.
But with its race replica decals, aggressive styling, light weight, upside-down forks and clip-on handlebars, they're not kidding.
It is a delight to flick around the city streets and up into your favourite twisting mountain road.
This is the first fully faired bike from the Chinese manufacturer and one of several firsts for the company in coming months. Other firsts are a range of 700cc bikes, a 1250cc adventure bike and even an electric range.
CFMoto is imported to Australia by Mojo Motorcycles who have kept prices competitively low on all their bikes and this is no exception at $5790, ride away with a three-year warranty.
In fact, all CFMoto bikes purchased from until the end of 2020 receive the extended warranty, up from the standard two-year factory unlimited km warranty.
The main rivals to the 300SR are the Honda CBR300R at $5749, KTM RC390 ($5995), Suzuki GSX250R ($5790) and Yamaha YZF-R3 ($6299).
It comes in Nebula Black or the standout Turquoise Blue with race replica decals which I took for a squirt around the city and environs, looking every bit the boy racer, even at my mature years.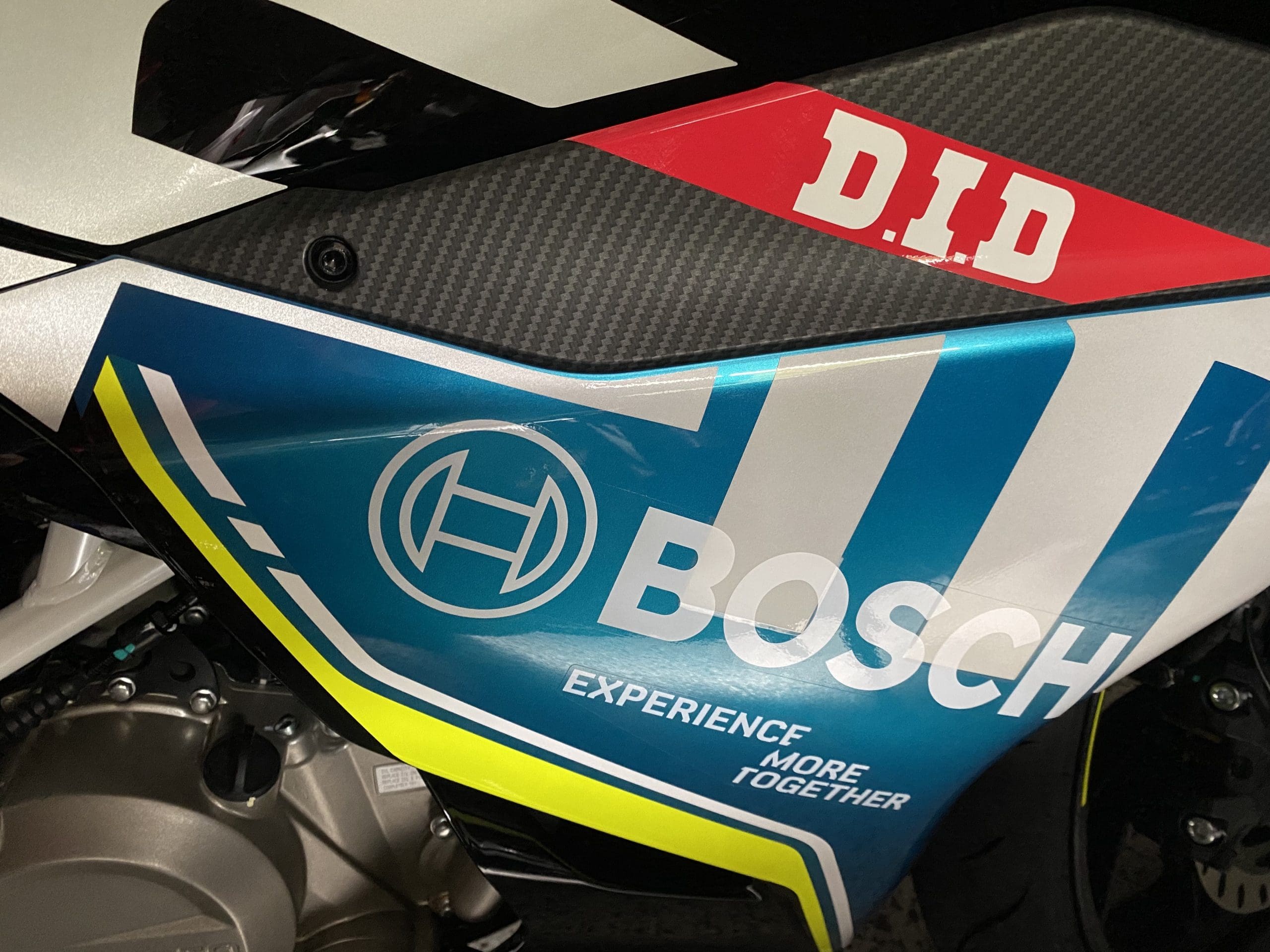 Styling is thanks to Kiska, the Austrian design house which is also responsible for many KTM models as CFMoto has close ties with KTM, making their bikes in China for the domestic market.
Complementing the racer style are distinctive LED headlights which give good coverage if you're commuting home at night.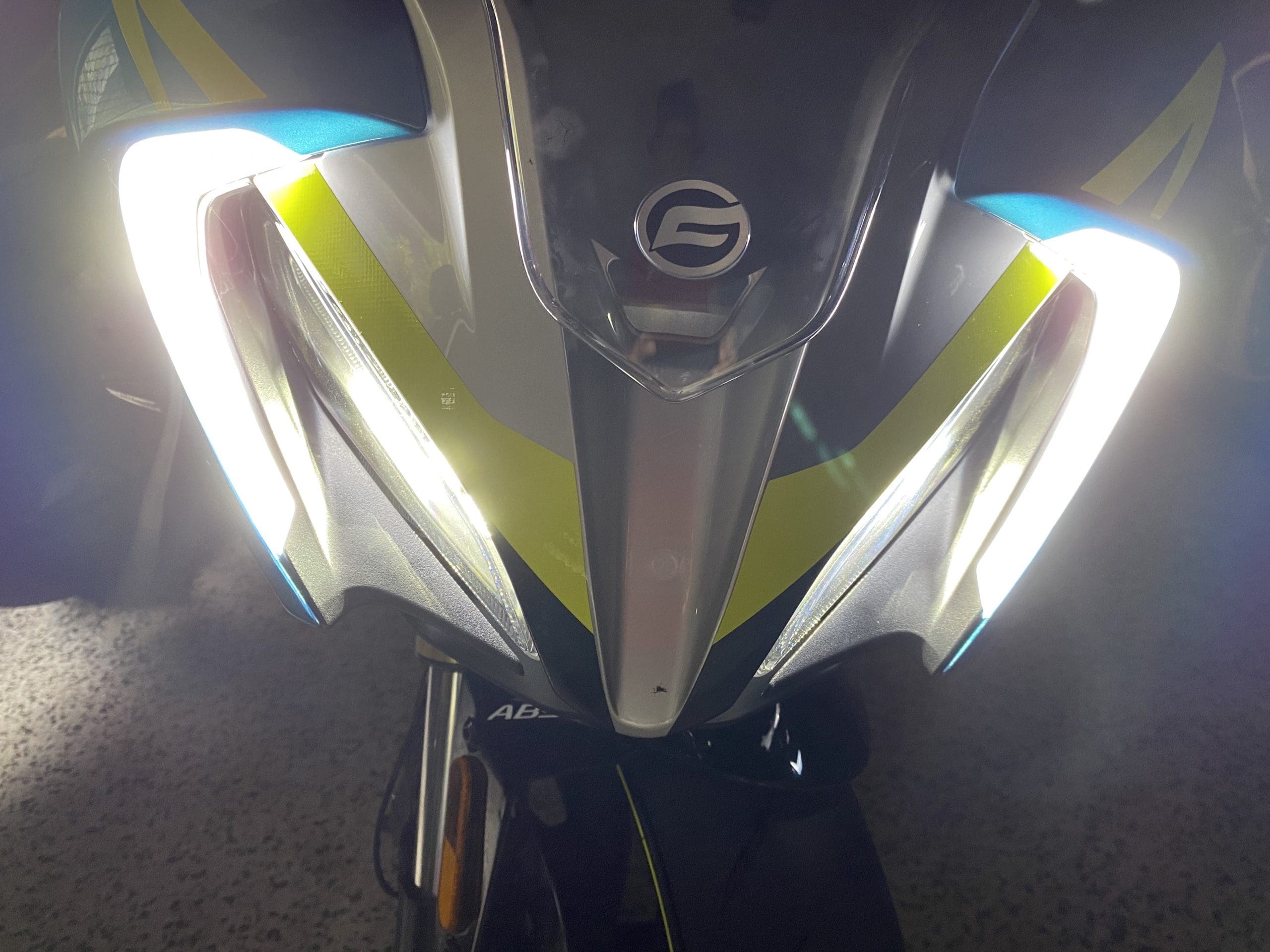 It also comes with a full-colour TFT display with comprehensive information, two-mode display and even mobile phone connectivity which tells you when you receive a call.
While the bike shares the same drivetrain and frame as the naked 300NK version, there are some subtle and strange differences.
Of course, it weighs more as the fairing adds 15kg, but it's still a lightweight at just 165kg.
Strangely the liquid-cooled single-cylinder engine has 3.6kW less power.
That is offset by the 4.8Nm more torque which helps drive the bike off the line at the traffic lights and provides a fair bit of flexibility throughout the rev range.
However, it runs out of breath quickly, especially on hills, and you have to tap dance on the slick six-speed transmission to squeeze the most out of the buzzy little engine.
Yet it's plenty for most novice riders and still great fun for those who enjoy a nimble bike they can flick through tight and technical bits of tarmac.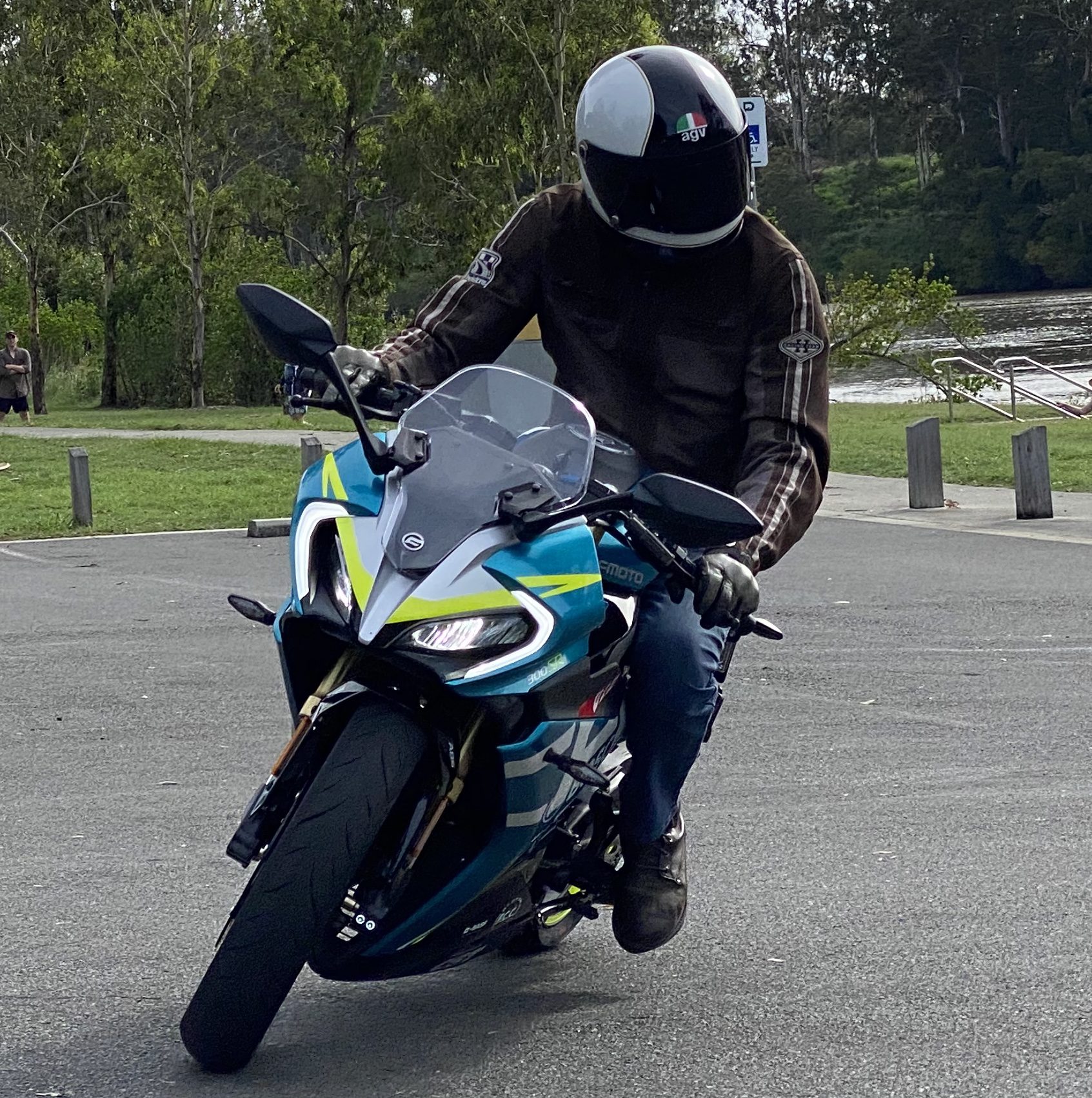 Surprisingly, the little donk generates a fair bit of heat which is something I did not find with the naked version. It seems the fairing traps the heat and pours it out directly on to your legs.
It comes with a balancer shaft, but still tingles your fingers, backside and toes and blurs the mirrors.
Riding position is not overly aggressive with the bars slightly lower than the 300NK, but the seat also 15mm lower which tucks you into the bike more.
The unforgivingly hard saddle reminds you that this is a sports bike and not a tourer and the narrow 12-litre tank invites you into an intimate jockey riding position.
Strapped into this position, you have a good command of the bars for counter-steering and quick changes of direction.
While the suspension is a little on the plush side and bottoms out on big bumps with my 75kg weight, it still handles quite well with little fork dive or deviation on big bumps.
It flicks easily into corners and holds deep lean angles where you will be using all the 140mm width of the rear tyre and scraping the hero bobs on the footpegs in quick time with confidence.
And tight feet-up carpark u-turns are simple with wide clip-on bars providing a generous turning circle without jamming your thumbs against the tank.
My only concern is the poor braking performance.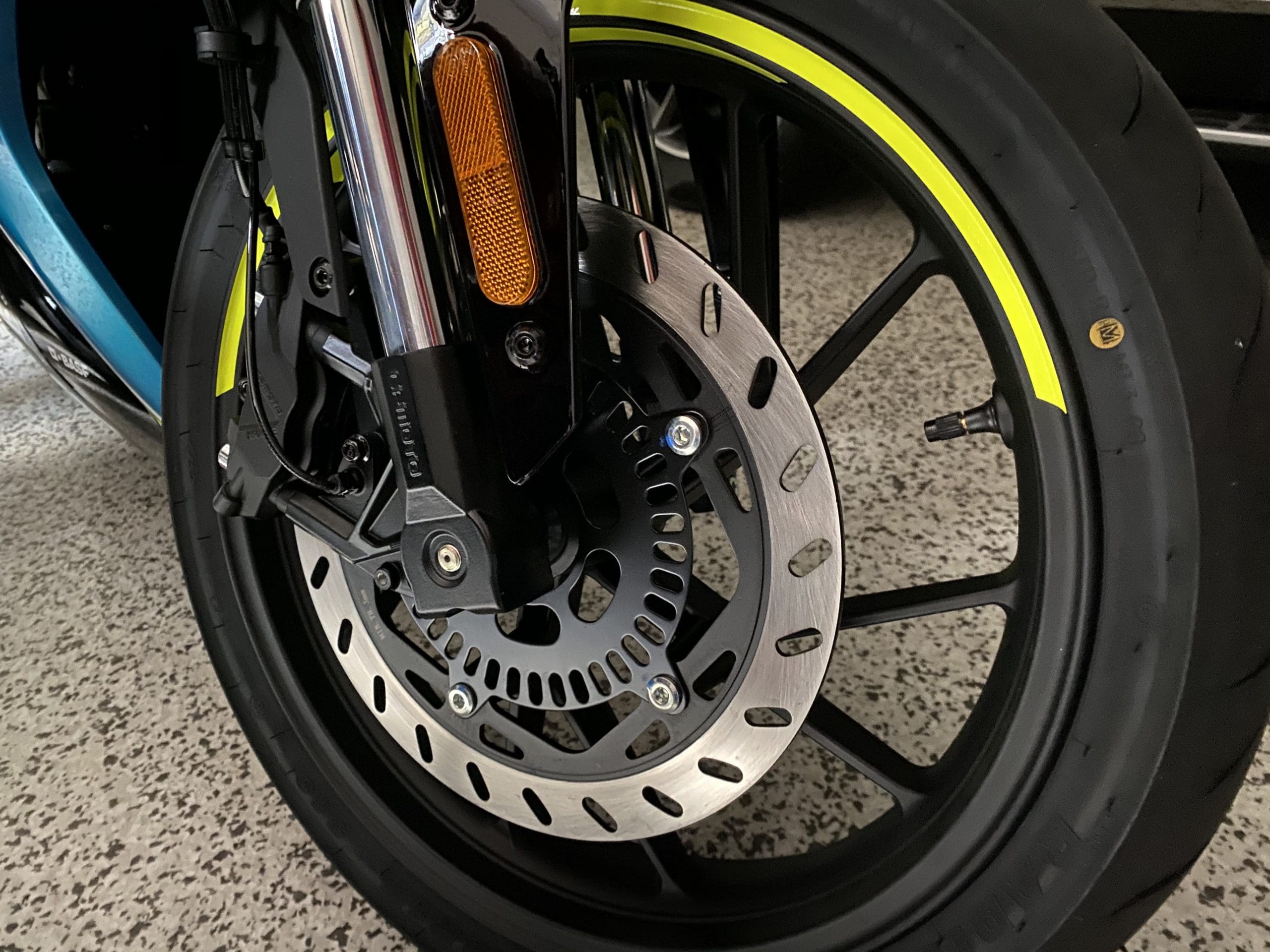 The brakes feel wooden with little initial bite and plenty of input required for effect.
In fact, I was surprised to find that despite the bike weighing more than the 300NK, it has slightly smaller disc rotors at 292mm (front) and 220mm (back) compared with 300mm and 245mm.
CFMoto 300SR tech specs:
Price: $5790 ride away
Warranty: 3 Year, unlimited kilometres
Engine:

 

292.4cc water-cooled single cylinder, DOHC with balance shaft
Transmission: 6-Speed
Wet weight: 165kg
Suspension front/rear: 37mm upside-down forks, mono shock rear
Brakes front/rear: 292mm single disc with four-piston caliper (front), 220mm disc wth floating single-piston caliper (rear)
Dimensions: 2010mm (L), 750mm (W), 1080mm (h), 1360mm (wheelbase), 780mm (seat), 135mm (clearance)
Tyres: 110/70 R17; 140/60 R17
Fuel: 12L