British handmade sportscar makers are turning to motorcycles.
Earlier this year Lotus announced its intentions to make a limited edition of V-twin-powered Lotus C-01 sportsbikes and now Caterham has launched its first motorcycle division with three prototypes.
Caterham Bikes have unveiled the Brutus 750 adventure bike and two electric bikes – Classic E-Bike and the Carbon E-Bike – at the International Motorcycle Exhibition (EICMA) in Milan.
They promised the bikes would be "affordable".
Production begins in the second quarter of next year, starting with the Brutus 750 adventure bike.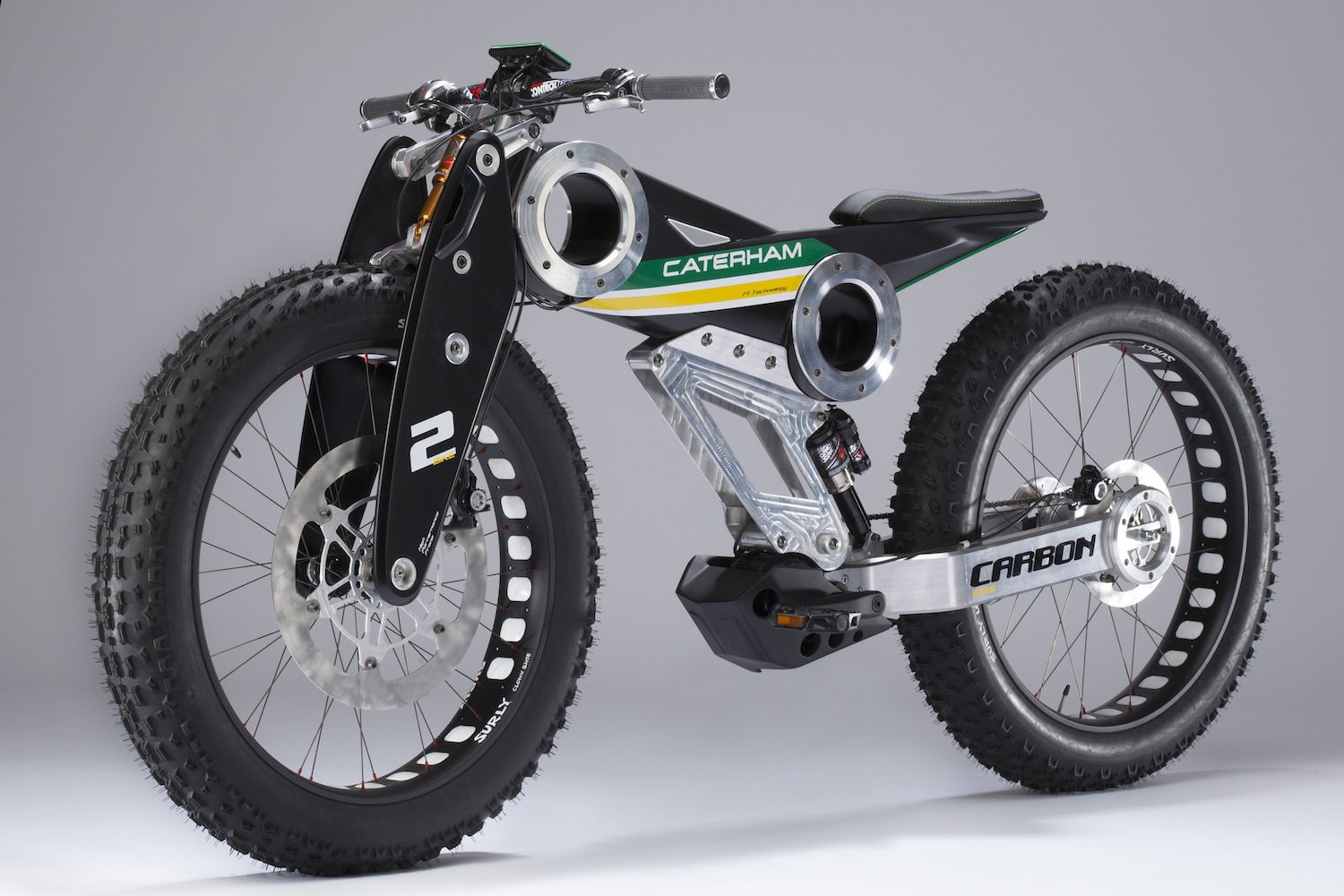 They will target the European, North and South American markets, and Asia. There is no word about Australia, although the company does sell its sportscars here.
Caterham describes the fat-tyred Brutus 750 as the "SUV of motorcycles", although their spartan sportscars cost between $50,000-$90,00.
It will operate as a street bike, off-road machine or even a snowmobile with conversion in less than four hours. It features an automatic transmission and two-wheel drive.
The retro-styled bicycle-inspired Classic E-Bike has a range of 40-80km and does not require the rider to have a licence in the EU while the modern-looking Carbon E-Bike is inspired by F1 technology. A limited edition version featuring exclusive F1 input and materials is being explored.
Caterham Group co-chairman Tony Fernandes,  said that expanding interests into motorcycles  is "another natural progression for us and is a good opportunity to showcase the breadth of knowledge, experience and creativity we have at our disposal across the Group".
Although Caterham has made three-wheelers before, they have never made a two-wheeler, however co-chairman Dato' Kamarudin Meranun says motorcycle production has been a key objective "since day one of Caterham Group".
"We are establishing ourselves in markets where we can bring new thinking, innovative concepts and products that will be game-changers; Caterham Bikes does exactly that.
"Having launched our Moto2 team recently at the Malaysian Grand Prix, the launch of Caterham Bikes takes us from the track to the road – we have partnered with industry experts and we have long-terms plans for the business that are ambitious but achievable, the perfect mix for success."