The 2014 Can-Am Spyder will make its Australian debut at next weekend's Brisbane Moto Expo. It receives a power boost, bigger engine, more gears, more features, but not a huge expected increase in price.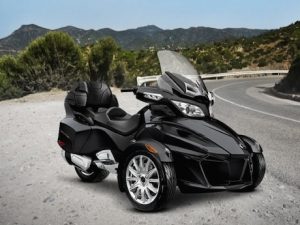 The major change is in the engine room where the Rotax 998cc V-twin has been replaced by a 1330cc in-line triple. Power output has increased by 10.8kW to 85.8kW, but even more impressive is the increase in torque by a whopping 40% from 108Nm to 130.1Nm.
Despite the power boost, fuel efficiency has been improved with the new models having range of about 360km from the 25-litre tank. The increased economy is partly due to fly-by-wire throttle introduced in the previous model plus the shift from a five-speed manual or semi-automatic transmission to six speeds. The economy gains are despite the vehicle weighing about 90kg more.
Making the new models more efficient is a BRP technology called Advanced Combustion Efficiency which optimises the bore/stroke design, valve angles, and intake design, and reduces mechanical friction of the engine internals. BRP claims this makes the Rotax ACE Triple T in-line triple more efficient and smooth running.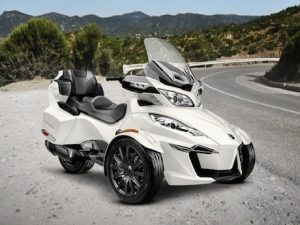 They also come with ECO mode smart assist, selectable by the driver, which tells them when to shift up a gear to improve economy. It is a similar system to that found in many modern European luxury cars. The dash indication shows the driver to shift between first and second gears at 1800 revs; from second to third at 1950rpm; and from third on up at 2200.
Other updates include a redesigned front fascia, better cooling and heat management, larger diameter shocks, an 85% larger 1200W magneto and new colours.
The base RT gets a touring saddle, heated grips, cruise control and audio system with separate rear speaker controls and iPod connectivity.
The RT-S adds adjustable rear air suspension, rider floorboards (SE6 transmission), fog lights, LED running lights, push-button front cargo release with liner bag, two-tone seat, 12-spoke black wheels and black and swain chrome styling accents.
The top-of-the-line RT Limited adds an integrated Garmin Zumo 660 GPS with 4.3" touchscreen and Bluetooth, a colour-matched and embroidered touring saddle, 12-spoke chrome wheels, chrome-tipped exhaust tip, and rider and passenger floorboards.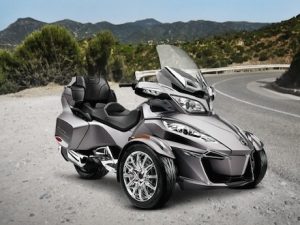 Can-Am Spyder
Prices: RT – $31,490, RT-S – $39,90, RT Limited – $41,990 (+ORC)
Warranty: 2 years, 12 month roadside assist
Service intervals: 1000/7500km
Engine: Rotax 1330cc ACE in-line, liquid-cooled triple
Bore x stroke: 84 x 80mm
Power: 85.8kW @ 7250rpm
Torque: 130.1Nm @ 5000rpm
Suspension: double A-arm with anti-roll bar, rear swingarm, Sachs shocks
Brakes: 270mm discs, Brembo callipers, electromechanical parking brake
Safety: ABS, traction control, electronic brake distribution, stability control
Tyres: 165/55 R15; 225/50 R15
Dimensions (mm): 2667 (l), 1572 (w), 1510 (h)
Wheelbase: 1714mm
Seat: 772mm
Clearance: 115mm
Dry weight: 459kg
Storage: 155L
Maximum vehicle load: 224kg
Fuel: PULP, 26L, (3.8L res)