The Italian-made Caberg Duke flip-up helmet is the type of quality helmet we will start to see filtering into Australia now that they're legal to sell here.
It is a UN/ECE 22.05 approved helmet that is legal to wear in Queensland, Victoria and the Northern Territory and is expected to be approved in other states and territories soon.
It is currently only available via the internet from New Zealand distributor Motorgear, but spokesman Tim Foster says they are already in talks with a chain in NSW since the laws changed last month.
I've been testing the Caberg Duke helmet on our Tacos 'n' Tequila Tour of Mexico, Guatemala and Belize with Ferris Wheels Motorcycle Safaris where the temperatures and humidity have been high and the riding long and hard.
I've even had a small spill in the mud and hit my helmet on the ground, so it's been low-speed crash tested!
I've got to say, I am impressed.
I'm not usually a fan of flip-up helmets because they are often bigger, heavier and noisier than a standard full-face helmet. I also worry about the structural integrity of the hinged system in a crash.
However, this helmet is smaller, lighter and more streamlined than most flip-up helmets and it withstood the small bump with no problems.
Flip-up helmets are also handy on tours because you can often fuel up, speak to other riders and take photos without having to take it off.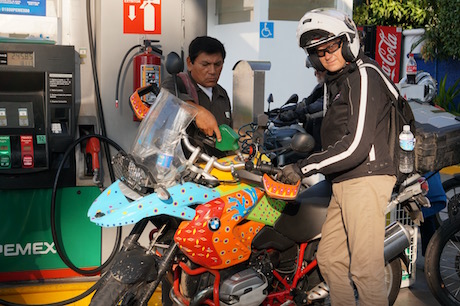 Even though it only costs $396, It feels plush inside like an expensive helmet and the jaw piece and visor open and close with a solid "clunk".
I've been opening and closing frequently the helmet for the past two weeks and it doesn't feel like it's ever going to get loose and rattly.
The anti-scratch visor is easy to replace and it comes Pinlock-ready which has been great in these humid conditions.
It's made of a polycarbonate outer shell with removable, washable and sanitised inserts with a reflective piece at the back.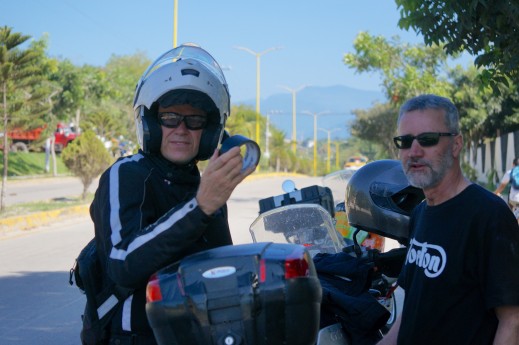 The jaw piece not only goes all the way up, but you can lock it in that position and in some jurisdictions, it's permissible to ride with it up, which is what I've been doing in slow-moving Mexican traffic.
My main concern with the helmet is the venting. It's quite hot in these conditions and it only has one adjustable vent at the top and three small vents in the chin piece which seem ineffective.
Consequently, I have been perspiring heavily in the helmet.
Yet it is only just starting to smell a little and when I get home, I'll remove them and give them a wash anyway.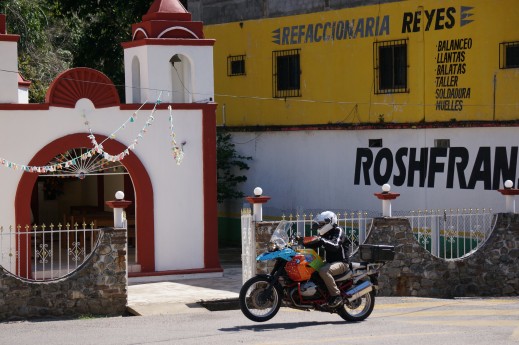 It comes wth a ratchet quick-release chin strap fastener which some people don't like, but it feels firm and secure.
The Duke weighs just 1.5kg which is light compared with other flip-ups I've tested and doesn't get tiring even on long 12-hour rides.
While the helmet is a little noisy wth the visor closed, it is actually rather quiet wth the visor open which is how I have been using it.
The helmet also comes with a handy drop-down sunvisor, but the lever to open and close it is on the top of the helmet which is a little difficult to find sometimes when you are riding.
With the clear visor open and the sunvisor down, there is plenty of cooling air, but hardly any wind in your eyes even at highway speeds.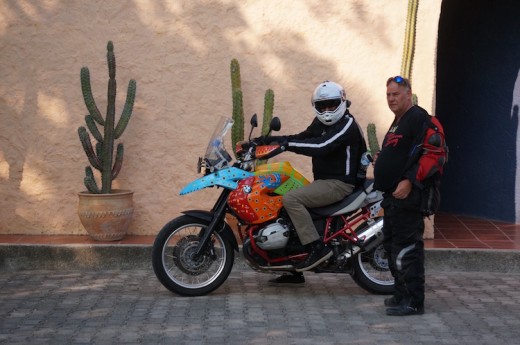 Duke comes in the solid colours of Metallic White like I have, Metallic Black, Matt Black and Gunmetal; the unpainted Smart version; the Commander with camouflage graphics under varnish on a matt black base; Legend with a black base and white stripes, matt black with orange stripes, matt black yellow fluro stripes; Legend Italy with the Italian flag tri-colours; and Hi Vizion yellow fluro.
It comes in sizes XS, S, M, L  and XL.