Innovative engineer Erik Buell is back with the Fuell Flow electric motorcycle that is virtually future proof with a replaceable and updatable battery, motor and charger.
The Fuell Flow was designed in a modular way to make it easy to replace elements if or when they are superseded by rapidly developing technology.
It also has a connected dashboard that automatically downloads software updates.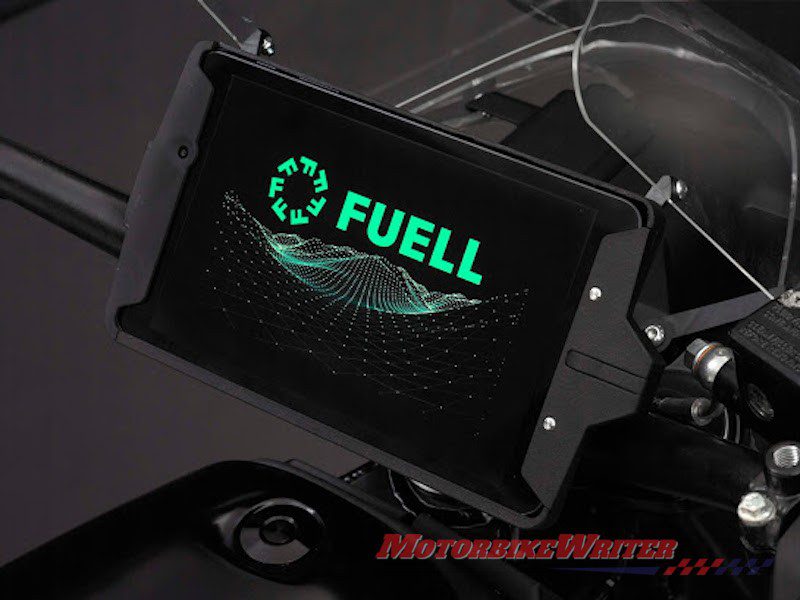 It's basically future-proof! 
The Fuell Fluid e-bike and Flow electric motorcycle were announced last month and are now available for sale online rather than through dealers. They plan to do a roadshow so buyers can test-ride the bikes.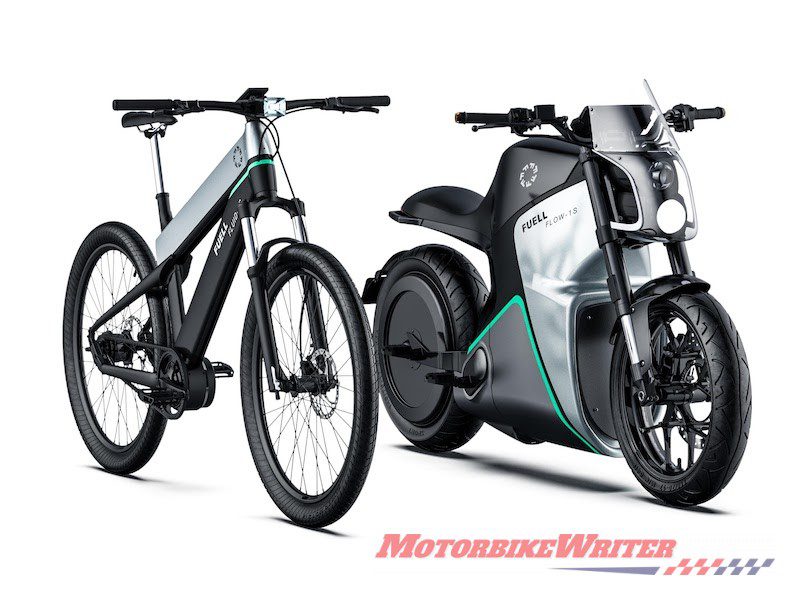 Prices start at $US3295 (about $A4650) for the Fluid e-bike and $US10,995 ($A15,500) for the Flow electric motorcycle.
They say they will also have credit, leasing and battery leasing options.
A Fuell PR spokesperson told us they had already received several inquiries from Australia about the Flow electric motorcycle.
However, the company first plans to focus on certification for US and Europe.
Flow
Flow comes in two power versions. The 11kW is the equivalent of a 125cc while the 35kW model has a 0-100km/h time of just 2.7 seconds, a top speed of 135km/h in "Audacious" mode and urban range of 240km.
Click here for details on calculating electric vehicle range.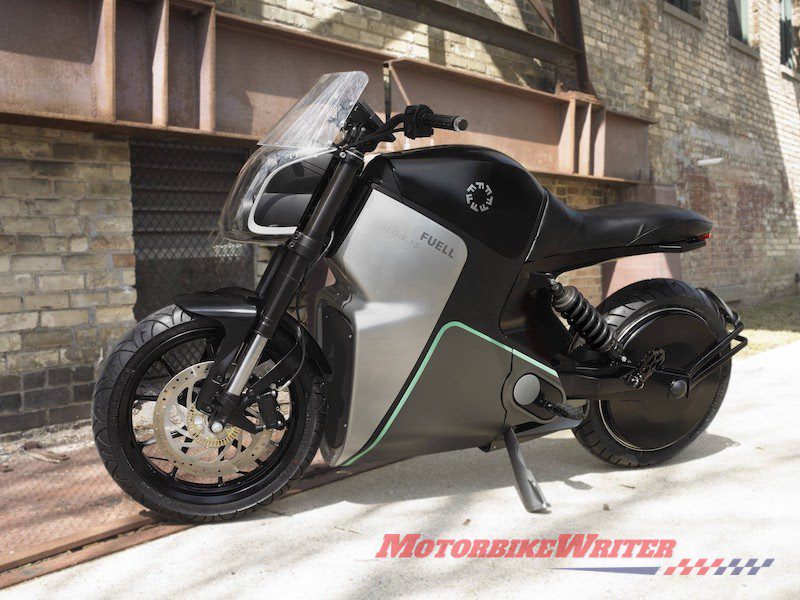 The 10KwH battery will charge in 10 hours with the onboard charger. There are also various optional chargers available that will bring charging times down to as little as 30 minutes with a DC "supercharger".
Instead of a motor where a conventional bike's engine would be, this has a patent-pending wheel hub electric motor.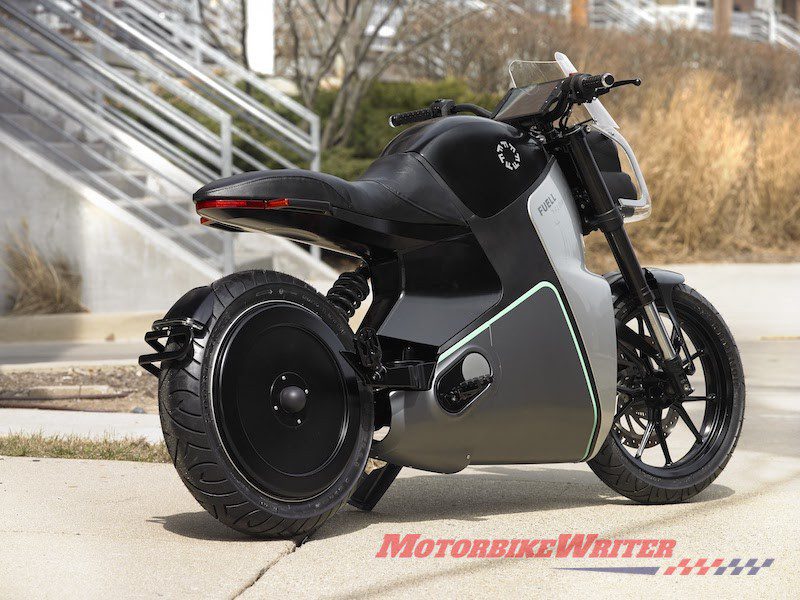 Since there is no motor in the usual place, nor a fuel tank, there is 50 litres of space under the hinged tank cover to accommodate your jacket, helmet and more.
Hi-tech features include a parking-assist slow mode to "walk" your bike forward or backwards, eTraction control, blind spot detection, front and rear collision alerts and an iPhone/Android app that provides vehicle status.
Fluid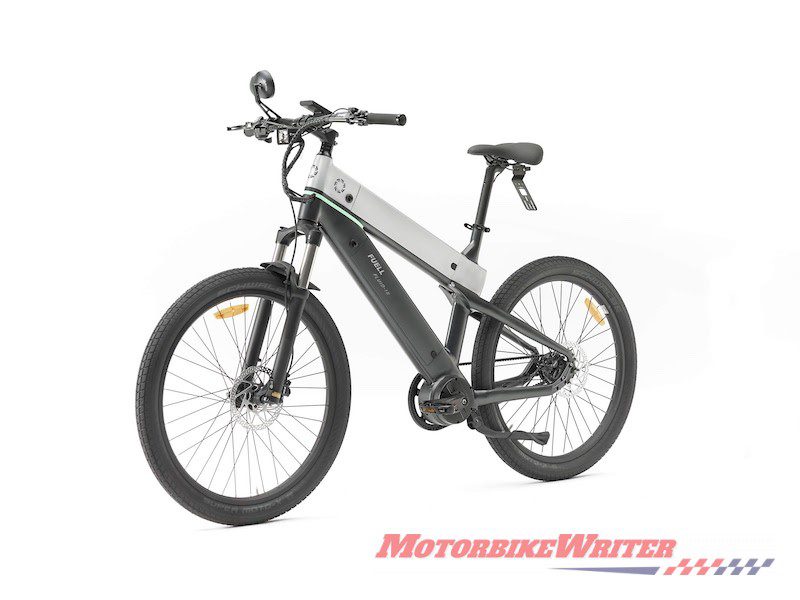 The Fluid electric bicycle has two removable batteries and more than 1000Wh of energy.
It features a full-colour dashboard, five levels of motor assistance, a carbon belt and eight gears.
Fluid is available as a Pedelec (max 25km/h or 20mph) or a S-Pedelec (max 45km/h or 28mph), starting at $US3295.
About Erik Buell
Erik has had a rags-to-riches-to-rags story in motorcycling that keeps on surprising.
The former Harley-Davidson engineer developed the Buell brand in 1983, sold 49% to Harley in 1993 and Harley took over in 2003.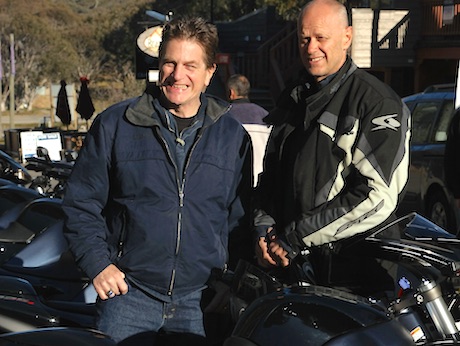 Harley axed the brand in October 2009 when the GFC hit, but Erik relaunched as Erik Buell Racing (EBR) just a month later.
EBR ceased production in April 2015 and was bought by Michigan company Liquid Asset Partners in February 2016.
It returned to small-scale production in March 2017 and went into liquidation in June 2017.
Fuell Flow tech specs
Engine: proprietary electric wheel motor (patent pending), two modes – Urban and Audacious

Power: 35kW (48hp) continuous

Torque: 750Nm (553lb-ft)

Speed: 90km/h sustained with up to 135km/h on demand

Range: 260km (150 miles) urban

Battery: 10 KwH, 400V Li-ION cylindrical cell array in structural magnesium housing, with rear wheel regenerative braking activated automatically by application of the linked

braking system (patent pending)

Recharging: Quick charge or home w/ Onboard or accessory Fast Chargers

Charge Port CCS Type 2 (adapters for Type 1 available)

Charging Rate 750W on board, 3.3kW & 6.6kW available accessory fast chargers

Recharging: 10 hours (onboard), ~2.5 hours (3.3 kW optional), ~1.25 hours (6.6kW

Optional), ~30 min (CCS Type 2, DC Supercharger/CCS)

Recharge Time Home

100% Charge: ~10 hours (Onboard), ~2.5 hours (3.3 kW Optional), ~1.25 hours (6.6 kW

Optional)

Suspension: USD 40mm forks, single-sided swingarm, mono shock with adjustable preload

Brakes: Single hydraulic front disc, rear regenerative braking, ABS

Wheels: 2.50 x 17"; 4.00 x 17″

Tyres: 110/70-17; 140/70-17

Weight: 180kg (400lb)

Wheelbase: 1370mm (53.9")

Seat: 30.1"

Warranty: Power pack 5 years/unlimited km; motorcycle 2 years/unlimited km