BSAOCNC – THE BSA OWNERS CLUB OF NORTHERN CALIFORNIA
The Northern California BSA Owners Club was formed to promote the preservation and enjoyment of the motorcycles produced by the Birmingham Small Arms Company. Founded in 1985, the Club now has over 500 members, and has since its inception produced a monthly newsletter, the Bulletin. Technical help on BSAs is available from advisors listed in the newsletter, and advertising is free to all members.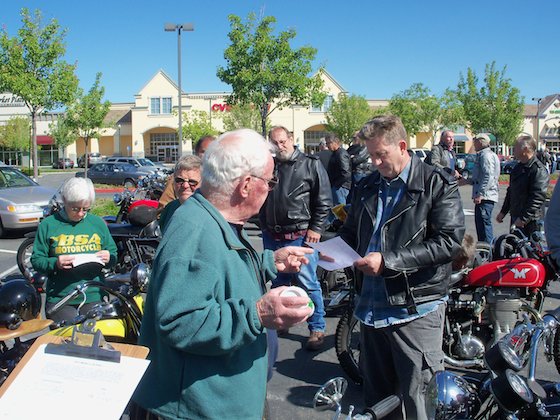 RIDES, SHOWS & EVENTS
Rides are scheduled each month, originating in various locations around the Bay Area to encourage participation by members throughout the region. In addition, a California BSA Rally is held once a year in conjunction with the BSA Owners Club of Southern California, and over the past several years joint rides have been held with the Ariel, Norton, Greeves (off-road), and Velocette owners clubs; the Club also stages the annual Clubman's All-British Show & Swap Meet in San Jose each spring and the Northern California All-British ride in the fall. Club business is generally conducted at informal meetings held at the lunch stop of each monthly ride; the Annual General Meeting in January is the one formal convocation, when elections are held and the calendar for the coming year is established.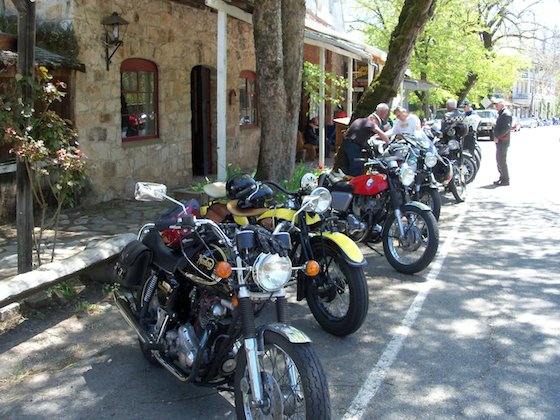 BSAOCNC – NETWORKING WITH OTHER CLUBS
The BSA Owners Club has been instrumental in developing communication among the various British one‑make clubs and is well represented in vintage roadrace, motocross, and trials competition. In 1992 we established a sponsorship fund, as a means of supporting such competition by members of the Club. The fund is financed by voluntary contributions by members and donors.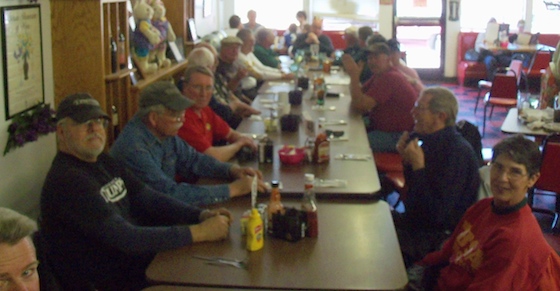 BSAOCNC – NICE FOLKS
The Club corresponds with all known BSA Owners clubs in North America, as well as several overseas, and many other British marque clubs with membership representation in our region. This fosters the exchange of information of common interest, and enables scheduling coordination of local and regional events.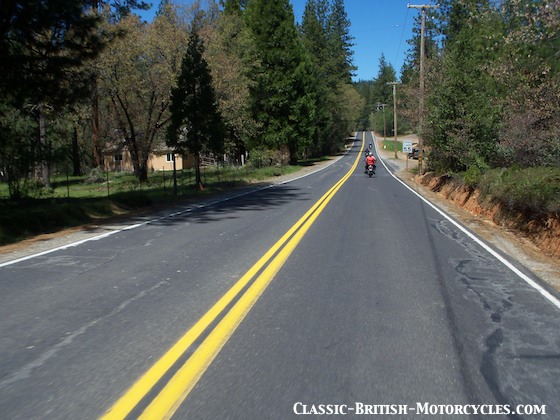 CLUB CONTACT INFO
Membership is open to all British motorcycle enthusiasts. You don't have to own a BSA or even a bike, you just have to like them. Dues are $20 per year. If you'd like more information, please contact us directly. Visit their website at www.BSAOCNC.org.
BSAOCNC – SPECIAL NOTE
While membership is open to "all BSA enthusiasts", as mentioned above, this doesn't mean that you must actually own a BSA. In fact, I own & ride a Triumphs, and if you examine the ride pictures above, you will see all manner of motorcycles. Sure, most are BSAs, but there are also lots of members & non-members riding Triumphs, Nortons,Matchless, Velocettes and even the occasional Harley, Indian or Japanese bike. And you don't even have to be a member to join us on rides, shows, and events. So, in fact, a "BSA enthusiast" is defined as anyone who likes & appreciates BSAs. Please join us, all are welcome.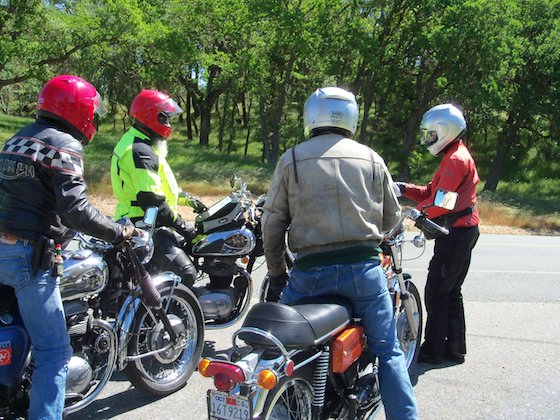 MY OWN PERSONAL TAKE
I am a member of this club myself. I'm even on the Rides Committee. And I can honestly say that this is one nice group of people. But more than that, they are very active & provide lots of great stuff for Classic British Motorcycle enthusiasts of every ilk. They organize great rides, and probably THE best all-classic British motorcycle show on the planet (in my opinion), the legendary Clubmans All-British Weekend. The reason I belong to a BSA club instead of a Triumph club is that the BSAOCNC is the largest & most active club I know of, in my area at least.
---
BSAOCNC Club Rides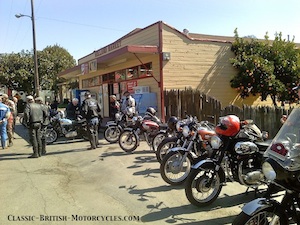 RIO VISTA-DELTA RIDE 2012
Saturday, March 3, 2012
Join the BSAOCNC as they tour the historic & beautiful Sacramento River Delta. Follow the river up one side & down the other through Locke, Clarksburg & Walnut Grove. Cross 2 ferries & umpteen bridges. A gorgeous ride!
---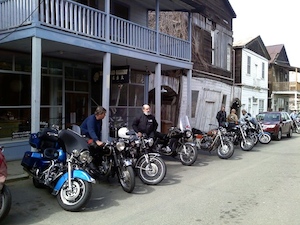 RIO VISTA-DELTA RIDE 2011
Saturday, March 5, 2011
Another great day of riding with the BSAOCNC on their annual trek through the Sacramento River Delta. An 80-mile loop through river country, along both sides of the Sacramento River, over bridges & two ferries & some beautiful scenery.
---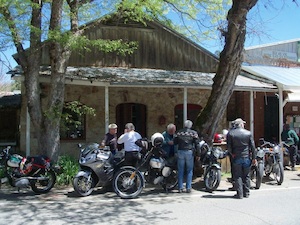 MOTHER LODE RIDE 2011
Saturday, April 30, 2011
Join the Club on a 127-mile loop through California's Mother Lode Country, starting & ending in Eldorado Hills, passing through Mokelumne Hill, Volcano, Plymouth, past houses & farms, hill & dale. Perfect weather, excellent roads, picturesque countryside & great people.
---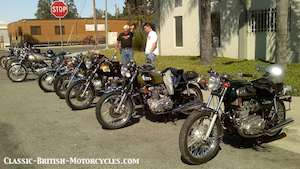 BSAOCNC's TRIPLES RIDE
Saturday, July 7, 2012
13 Triumph Tridents and BSA Rocket 3s left San Jose, took the 1100 curves to Lick Observatory as part of a 106-mile loop through gorgeous mountains & wine country.
---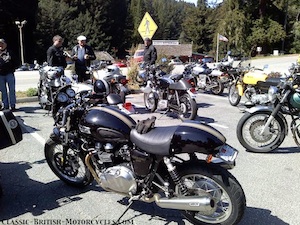 THE MORNING AFTER RIDE
Sunday, April 1, 2012
The BSA Owners Club of Northern California puts on this ride as part of the Clubman's All-British Weekend. From Los Gatos CA through the Santa Cruz Mountains, a gorgeous vintage motorcycle ride. Alas I was on an '09 Thruxton.
---
---
BSAOCNC's Clubmans Shows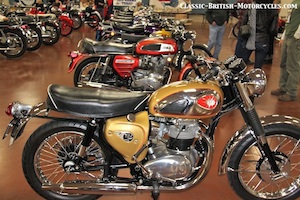 CLUBMANS All-British Weekend
Saturday, March 28, 2014
San Jose CA
The biggest, best all-British classic motorcycle show in the West. Sponsored by BSAOCNC, the 27th annual has over 100 classic Brit bikes all indoors.
---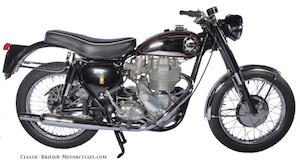 CLUBMAN'S ALL-BRITISH WEEKEND 2012
Saturday, March 31, 2012
San Jose CA
This is the mother of all classic British motorcycle shows…well, at least it's the biggest one west of the Mississippi, and that's a fact! Over 150 gorgeous classic Brit bikes competing for awards, all indoors. Plus a Swap Meet, Bike Corral & Vendors. This '57 Gold Star was raffled off for $1.00! CBM was there taking pictures. CHECK THIS OUT!!!
---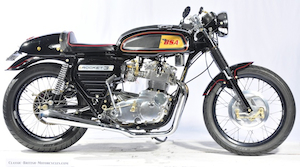 Clubmans All-British Weekend 2011
The world's greatest Classic British Motorcycle Show is back for it's 24th year, bigger & better than ever. 100'S of gorgeous bikes at this judged show. Velocette is the featured marque this year. Sponsored by BSAOC. Visit our booth, we have a gift for you.
---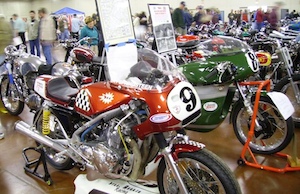 Clubmans All-British Weekend 2008 San Jose CA, March 29, 2008
The Clubmans is the ultimate Classic British Motorcycle show, with almost more eye candy that you can take in. 1-day judged show, all indoors in one building. 1st year w/other buildings for classic Japanese, European & American bikes also. What a day!!
---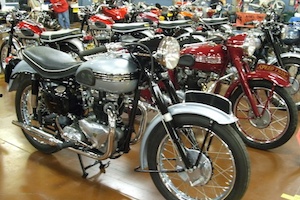 Clubmans All-British Weekend 2005 San Jose CA, March 26, 2005
Held at the Santa Clara County Fairgrounds, the Clubmans has got to be one of the finest Classic British Motorcycle Shows anywhere, certainly on the West Coast. Hundreds of museum-quality Brit bikes on display + venders & clubs galore. This is a judged show. Racing superstar Eddie Mulder was Celebrity Guest of Honor.