BSA-MAHINDRA UPDATE, December 9, 2020
When Indian tractor giant Mahindra & Mahindra (M&M) bought the old BSA brand for $5.4 Million USD in October 2016, they had big, ambitious plans to launch the revived brand as an upscale retro bike for the US and European markets. Now, 4 years later, we're still waiting. What happened?
Around the same time, Mahindra bought the legendary Jawa brand, also with big plans to launch a new line of bikes, including retro, sport bikes, and even custom-styled bobbers. When they announced the Perak bobber in 2018, so many orders poured in that the website crashed. It took a full 2 years to bring the Perak to production, due to production problems, a delay that caused many customers to cancel their orders in frustration.
The customers weren't the only ones getting frustrated. Mahindra leadership has been lamenting the move in the motorcycle business, which means that BSA may be on permanent hold. Who knows? The market for revivals of classic motorcycle brands is certainly red hot right now. Of course Triumph leads the way as always, but also Norton, Bultaco, Brough, Hesketh and Matchless have all been granted a second life.
WHAT WOULD THE BSA-MAHINDRAs LOOK LIKE?
That's a loaded question, and no one outside of Mahindra seems to know. But there is a lot of speculation. Designer Lee Thompson worked for BSA before the Mahindra buy-out, and this is the latest morsel of gold that he just sent me, above. He calls it the Gold Star Guardsman. Obviously a modern, water-cooled bike, but it has a very retro look. Are we looking at a 2019 BSA-Mahindra?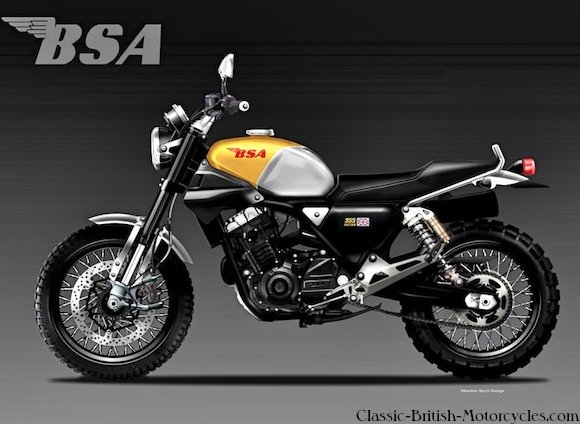 BSA-Mahindra – the deal
THE BSA-MAHINDRA DEAL: WHAT THE HECK IS GOING ON?
The worst-kept secret in the motorcycle industry today is that Indian tractor giant Mahindra bought the rights to the BSA brand in October 2016 with plans to start building new BSA motorcycles in India starting in 2019. Mahindra is not only the world's largest producer of tractors today, they have also been in the motorcycle business for quite awhile already, mostly cheap, lightweight 2-stroke commuter bikes sold in India and other parts of Asia. Then in 2014, they acquired 51% of Peugeot Scooters and moved into the scooter business. Now it's clear they want to move into the upscale motorcycle market, and with the reverence that Indians have for classic British motorcycles in general, and the long-standing reputation of BSA in particular, there was no better choice of brands to buy than BSA. They paid 3.2 Million Pounds (about $4.1 Million USD) for it, then shortly after also bought Jawa. They plan to build BSA's in their massive factory complex in Pithampur, Madhya Predesh, India starting in 2019 to ship them mainly to Europe and the US.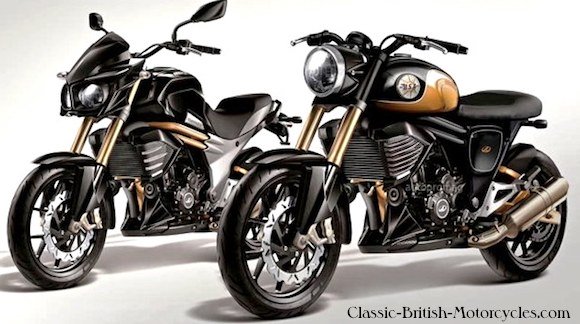 BSA-Mahindra – the bikes
WHAT WILL A BSA-MAHINDRA LOOK LIKE?
Well first off, I'm sure they won't be calling them BSA-Mahindras. They'll be badged as BSAs, and there probably won't be any visible markings on it indicating its Mahindra origins. No one knows for sure what the new BSA has planned under Indian ownership. Certainly Mahindra has more than enough money and the production capacity to take BSA as far as they want to, but just how far is that? So far they've been very tight-lipped about it and all we have for now is conjecture, educated guessing, and a few insider tips. The common wisdom here is that the BSA Gold Star name has so much market cache that they will almost certainly launch with some version bearing that name, and likely that would be a 500cc single with some dirt bike-attitude. Beyond that, only time will tell, fortunately 2019 isn't all that far off.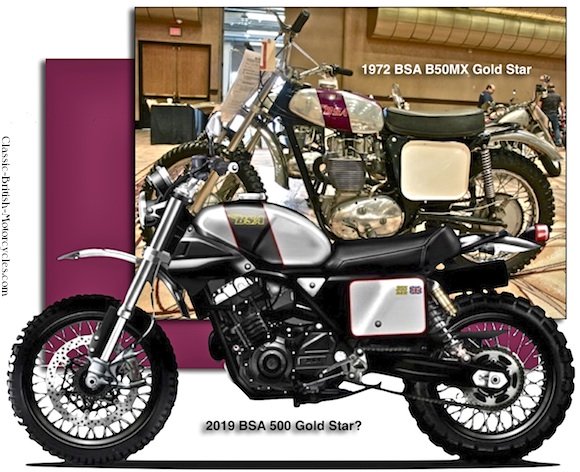 BSA-MAHINDRA INSIDER OPENS UP
Veteran motorcycle designer Lee Thompson worked closely with the new BSA in the very early stages of planning. These are some of the drawings that he did for BSA during his brief tenure, along with his words:
"I worked with the designs with BSA on a potential range and individual introduction to the market. I started with an expected 500cc retro with a twist and alternative look which was called the "Road Star". I was not in agreement with the idea and encouraged the idea of something a little more special. I was asked for various ideas. "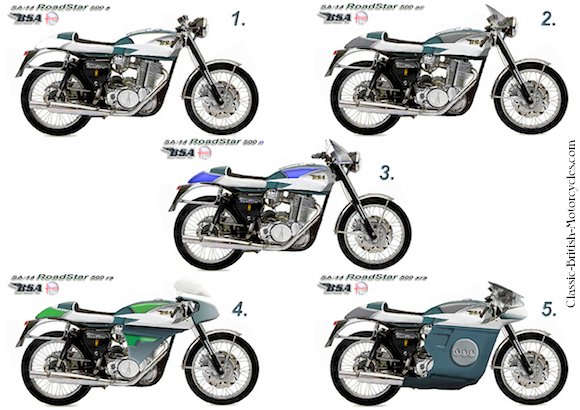 "I then took a budget and cost-effective project on where new colours and new image was more to the forefront than a retro bike would be. Although I maintained a look of BSA about it the one frame model allowed me to use an engine of a 350 twin up to an 800 triple and high powered full on sports model. The name of the smaller 350-500 twin was an adventurer type all-rounder and work machine and called the 'Ignite'. The bigger 800 triple was named the 'Rage N', this included touring cases (up to 4) and the front 2 acted leg protection with different paint designs. The full sports fairing option was the flagship headliner and an 850cc triple I called the 'Rage'"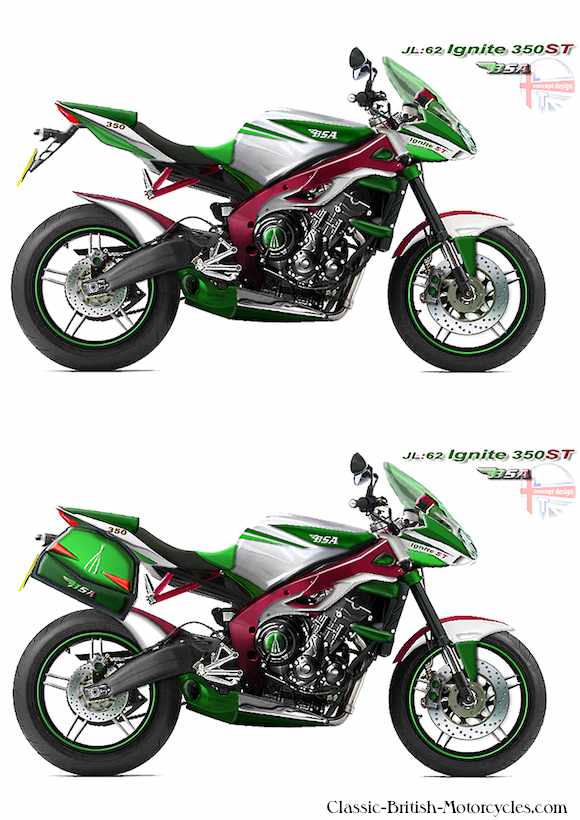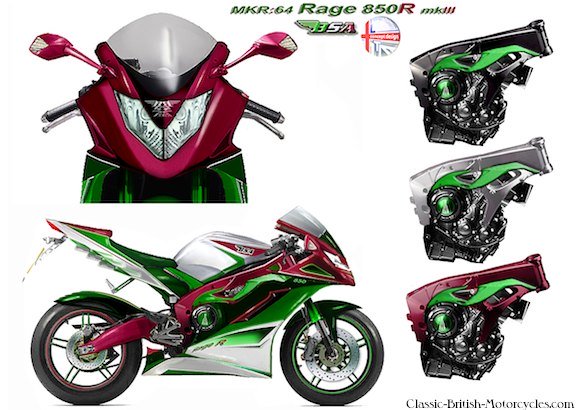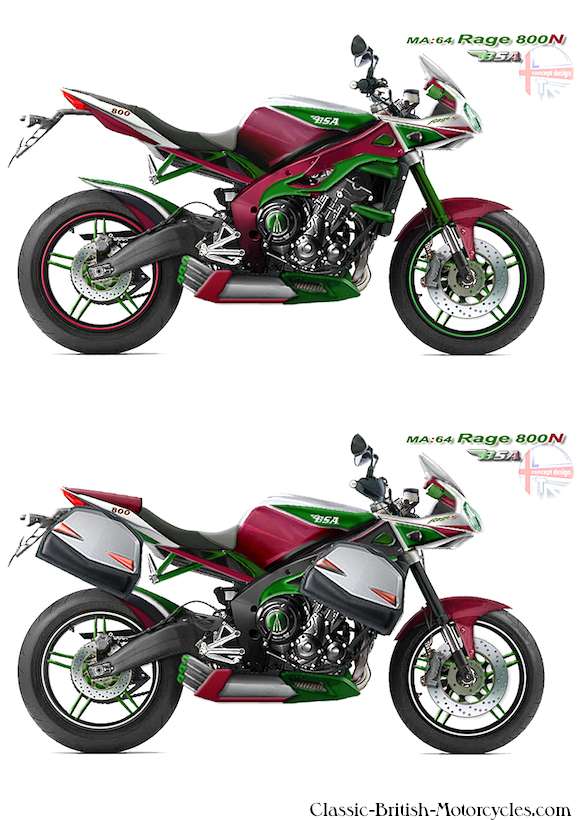 "The next option was an idea for something to catch the eye, something very different and thought provoking. Love-it-or-hate-it, it had to stood out. Enter the 'Temptress', a super twin of various sized engines again, from a 350cc entry level version, up to not a 600-800cc version, it would come in as a commuter work horse based version and a more sporty version with optional nose fairing."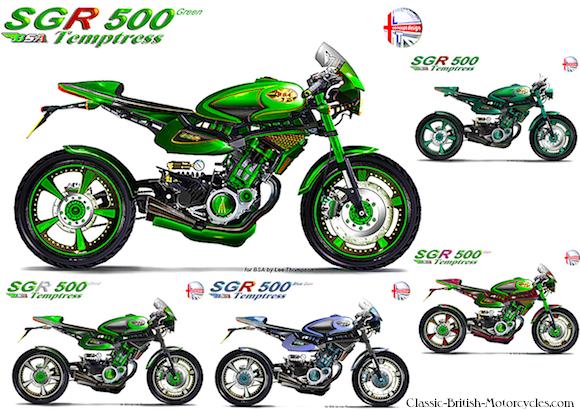 "The last bike I was asked to consider was a redesign of the legendary BSA 500cc Gold Star. I felt the iconic status should remain, with over 50 years between then and now incorporating new emission laws and advancements to make a direct copy would have been pointless and in my view and insensitive. Then if thought of a grandson of the original, and a progressive worthy ancestor to the Gold Star adding to the name calling it the 'Gold Star Guardsman' and making the engine a sporty 600cc keeping the DNA of the original looks alive would provoke a sincere interest of an even wider fan base…This idea again was held in very high regard."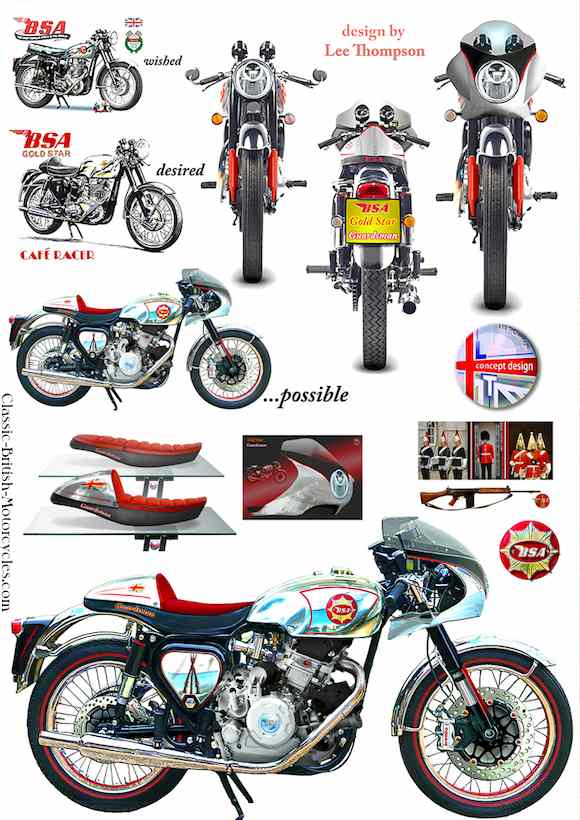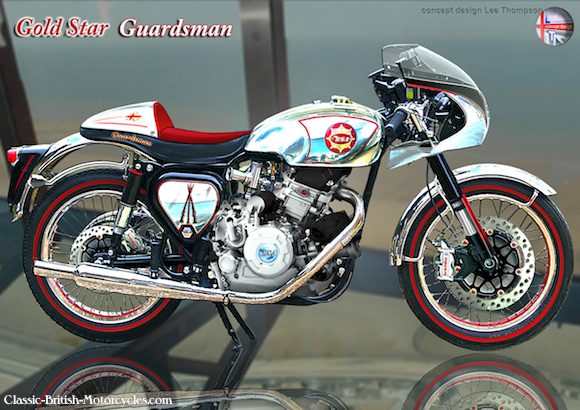 JUST GOTTA WAIT FOR THE 2019 BSA-MAHINDRAS
Until they tell us something more tangible or some spy gets a good picture of one, we don't know anything more than this about what the new BSAs will look like. But as the story develops we will keep you informed.
---
DATELINE OCTOBER 2018: BSA-Mahindra Nearing Launch
OCTOBER 6, 2018:
BSA-MAHINDRA TO LAUNCH IN INDIA FIRST
The BSA-Mahindra saga continues, while we British bike faithful anxious await with bated breath, hoping for something, anything to come out of the tight-lipped Mahindra. Word is that production actually began in July 2018 of the new Jawa and possibly the new BSA bikes. But again, nothing has been seen of the new machines. What will they look like?
Anand Mahindra, the chairman of Mahindra & Mahindra has confirmed that the Jawa brand will launch first, and in the beginning will be confined to the Indian home-market. A smart move just starting out. BSA production won't be far behind, and the new BSAs are also slated to launch in the Indian market at first, before expanding out to the lucrative US and European markets.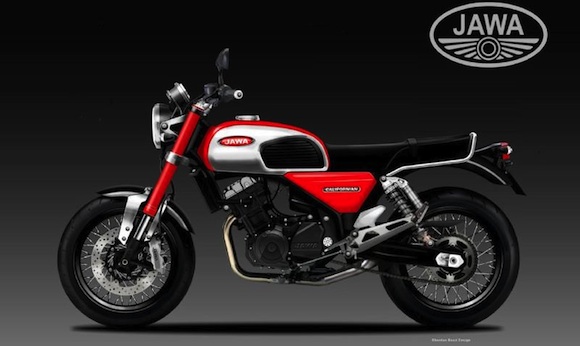 Mahindra broke into the 2-wheel market several years ago with scooters then lightweight 2-stroke commuter bikes, which are in high demand in Asia. In 2015, they moved upmarket with the 300cc Mahindra Mojo sport bike, which has been quite successful in India and Asia. It will serve as the basis for the first generation of Mahinda-built Jawas and BSAs. So, expect them to look similar to the Mojo, and most of the latest round of artists' renderings reflect this. It's an obvious move for Mahindra- use the platform that you already have. It saves time and money. Further, the Mojo has already been wrung out under severe Indian conditions, so its a proven design.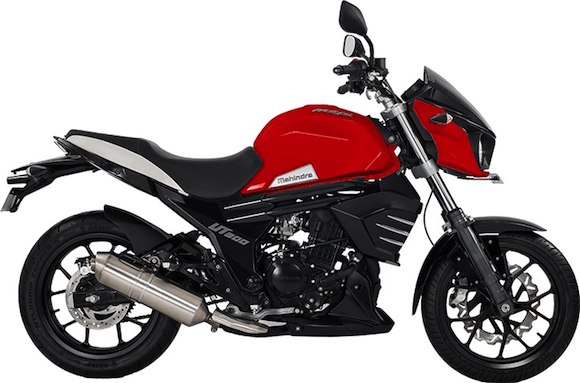 The DOHC 4-valve, liquid-cooled 300 single-cylinder Mojo makes 26 horsepower. Will the first BSA's simply be re-badged Mojo's? Or will there be something to make them unique, such as a 500cc engine? If so, will they have the good sense to call it a Gold Star?
All we can do is wait. Production has supposedly started, and we're now in the fall season, which is when new cars and motorcycles are traditionally announced for the coming model year. So, hopefully, we'll see something more than artists' renderings and sketchy details very soon. I want to see some actual photos.