Visitors to the Phillip Island Classic later this month are in for some rare treats, highlighted by demo laps of the rare and innovative Britten V1000 motorcycle from the early 1990s.
Fittingly the bike, designed and hand-built by Kiwi John Britten, will be ridden by nine-time New Zealand superbike champion Andrew Stroud, 49.
John, a brilliant, but dyslexic mechanical engineer, died of skin cancer in 1995 having hand-built only 10 V1000s.
Three remain in New Zealand, including this one, owned by Kiwi Kevin Grant, that was raced at the Assen BEARS race in 1995.
Britten ahead of its time
The Britten was ahead of its time with extensive use of carbon fibre on the frameless chassis, girder forks, swingarm and wheels, air ducts directed through the petrol tank to an underseat radiator, double wishbone front suspension and engine data logging. 
It has a dry weight of just 138kg, and power output is about 124kW (166hp) from the water-cooled 60-degree V-twin.
Brittens have appeared at a number of racing and classic events around the globe, including the Isle of Man, the Goodwood Festival of Speed, Ulster Grand Prix, the Broadford Bike Bonanza and Geelong Speed Trials.
Riders such as Bruce Anstey, John McGuiness and Scott Smart, John Surtees, Hugh Anderson and Guy Martin have ridden the V1000.
Stroud will be back on deck at the Island Classic to continue a relationship that began in 1992 when he raced the machine at Daytona. He won the Battle of the Twins races at Daytona in 1994, 1995, 1996 and 1997, and he also came out on top in the BEARS race at Bathurst in 1993.
In 1993, the V1000 hit a top speed of 265.5km/h (165mph) at the Isle of Man, and a year later Nick Jefferies produced a standing start lap of 190km/h (118mph).
The Island Classic will begin with practice and qualifying on Friday, January 27, and on the Saturday and Sunday there will be 56 races, starting with pre-WWI machines and taking in different eras and capacities. Sidecars will also join solos on the program.
The annual event also includes the International Challenge, with Australia taking on defending champion United Kingdom, Ireland, New Zealand and America.
Riders in action will include the UK's Jeremy McWilliams, John McGuiness and Peter Hickman; Australia's Cam Donald, Steve Martin, Shawn Giles and Jed Metcher; Ireland's Cormac Conroy and Hilton Hincks, US new recruit Barrett Long and Kiwis Damien Kavney and Damian Mackie.
Phillip Island Classic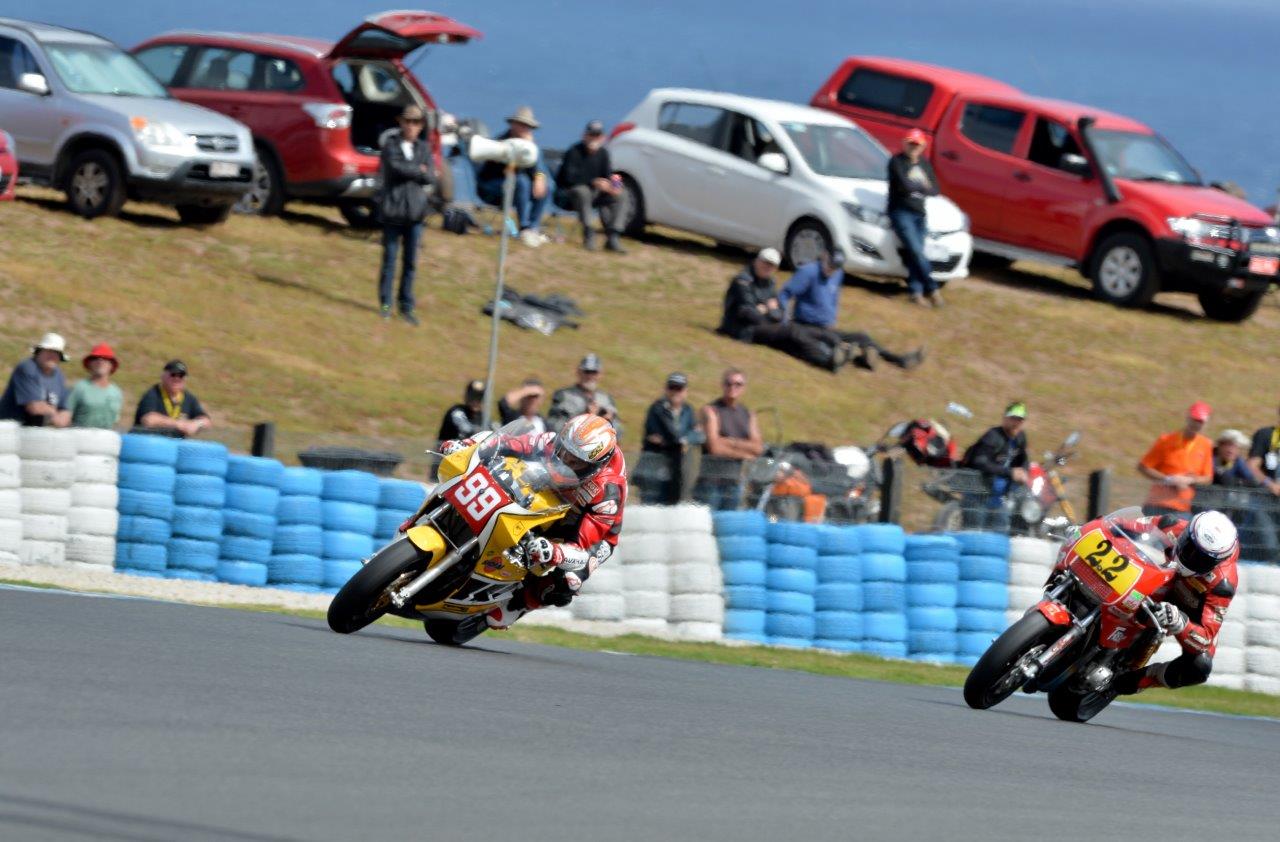 Dates: January 27-29
Tickets: On sale now at www.islandclassic.com.au
Prices: advance three-day adult pass $80 and children 15 and under free.
On-circuit camping: four nights for $75 per person, purchased in advance.
Times: gates open at 8am each day, qualifying and racing from 9am.