CLASSIC 70s CHOPPER
This unit-construction Triumph started out life as a single-carb TR6 650, but now has an alloy 750 big bore kit & Sudco Mikuni carb. This beauty is decked out to the max in the classic style of 1970. Its rigid frame, Girder forks, no front brake, 5.00X16 rear wheel, banana seat, sissy bar, Sportster tank blended into the frame and that wild smorgasbord paintjob make it look like it rolled right out of a time machine. Nicely done. This one was for sale in the MidAmerica auction in Vegas.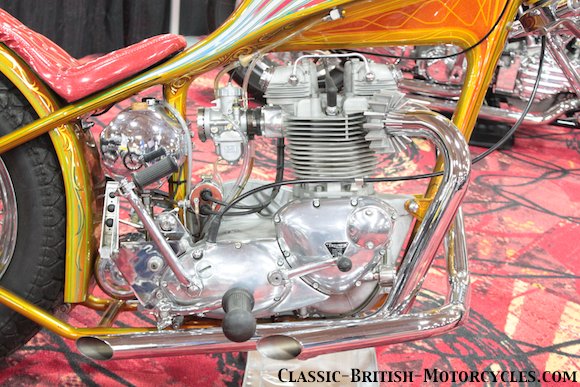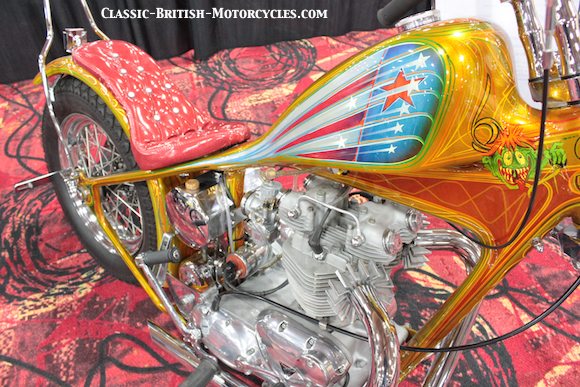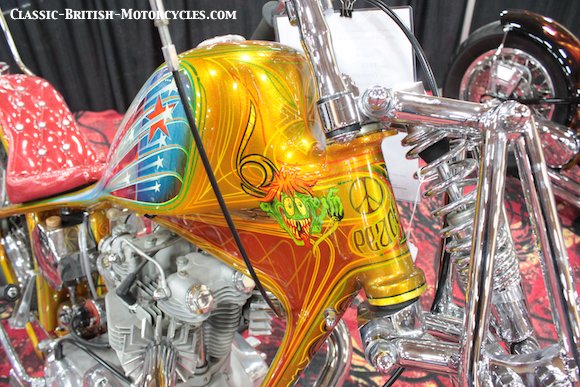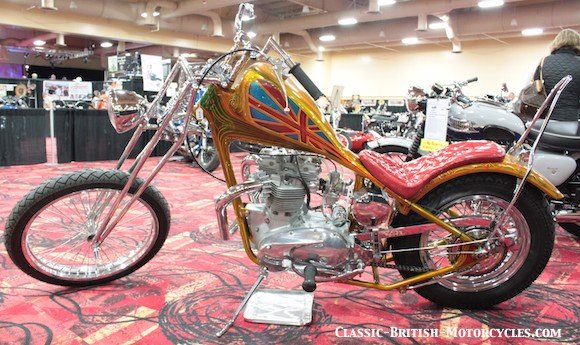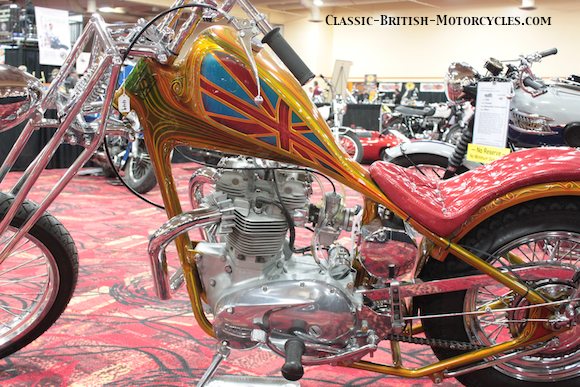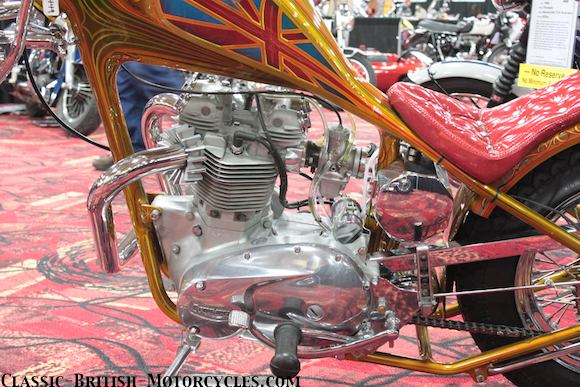 ---
OLD SCHOOL TRIUMPH CHOPPER
This classic Old School Custom is built out of a late unit-construction Triumph Bonneville, with a bolt-on rigid, a slightly raked neck with stock forks, and an 8-inch TLS front drum from a '68-70 650. It looks like a stock US-spec teardrop tank, a custom alloy oil tank, & just about everything else looks hand-built. This was at the 2014 Clubmans Show.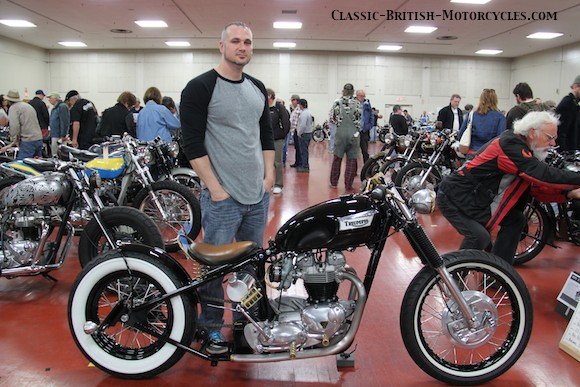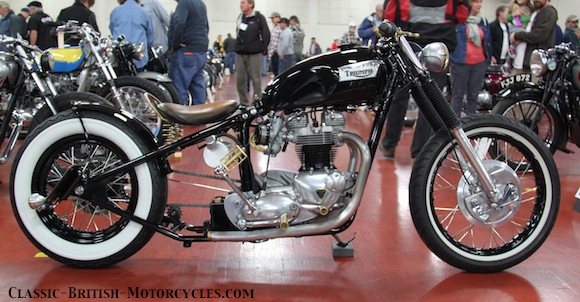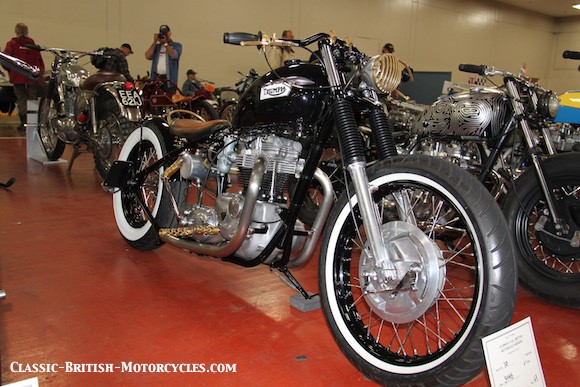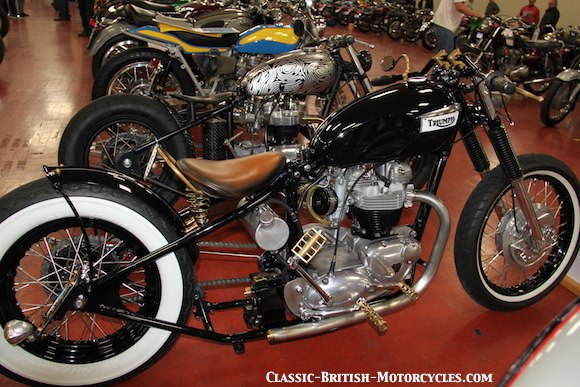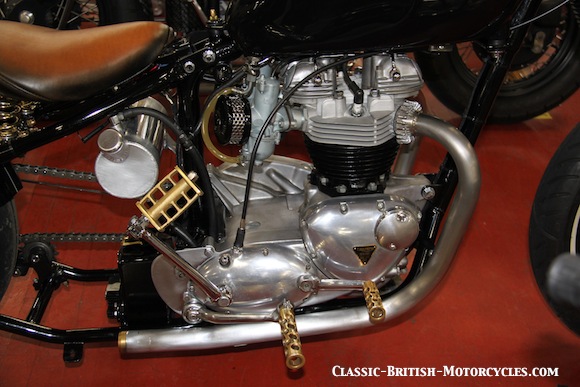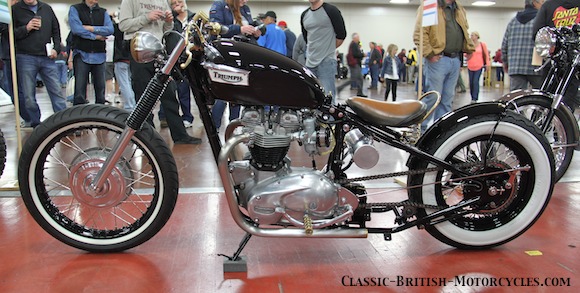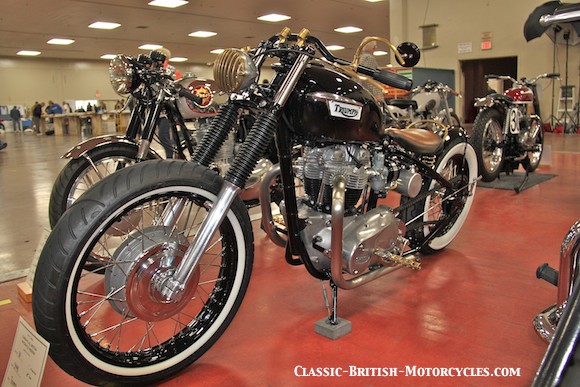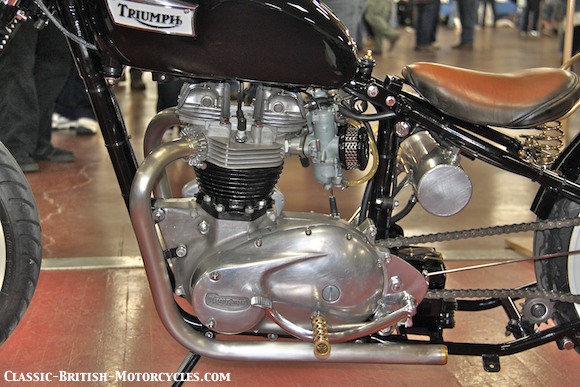 PRE-UNIT TRIUMPH CHOPPER
This gorgeous little beauty was at the Quail Motorcycle Gathering in 2012. This appears to be a pre-'55 rigid-framed 650 6T Thunderbird or T110 Tiger, but with a pre-unit Bonneville head & twin Amal Monobloc carbs. The frame, forks, front & rear hubs, oil tank & US-spec teardrop gas tank appear to be stock, just dolled up with either chrome or candy paint. A very handsome machine.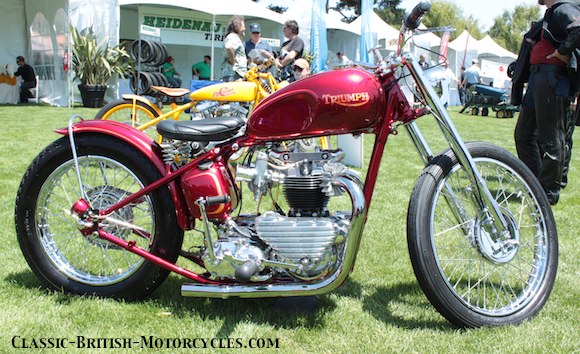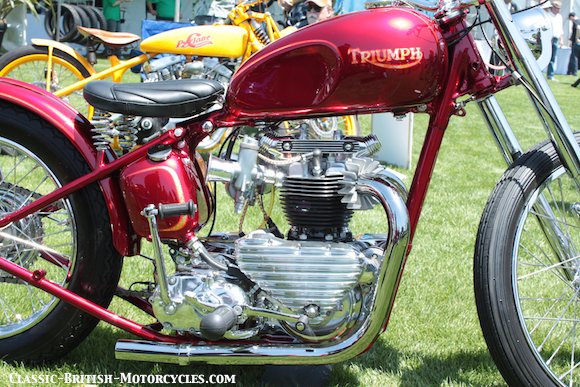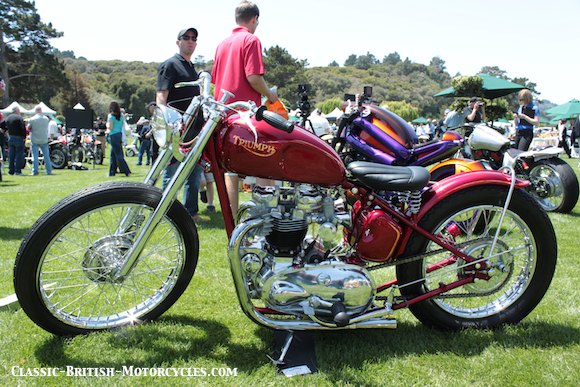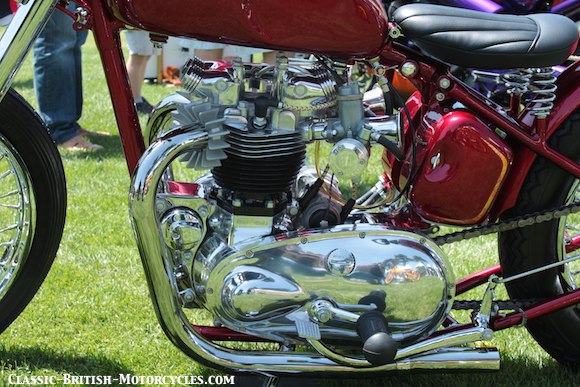 ---
BSA CUSTOM BY FALCON
Falcon builds wicked new-age chopper, bobber & customs like nobody else. They usually make a big showing at the Quail. This unique BSA 650 twin was at the 2012 Quail Motorcycle Gathering in Carmel CA.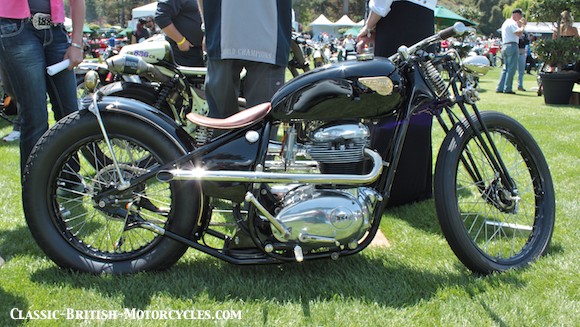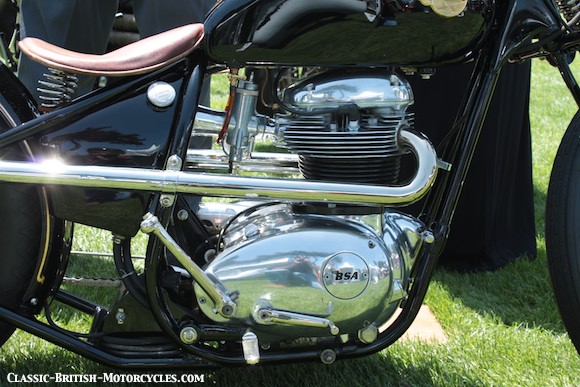 ---
CLASSIC TRIUMPH CHOPPER
This unit-construction Triumph 6is very typical of what you'd see in the early 1970s. Aftermarket rigid rear section welded onto an altered stock front section, raked & stretched, with a mildly-extended stock front end and no front brake on a 21-inch front wheel. Imagine trying to haul this baby down with on that 7-inch SLS rear brake? Period-correct aftermarket chrome oil tank/battery box, ribbed rear fender, sissy bar and "Peanut" Tank.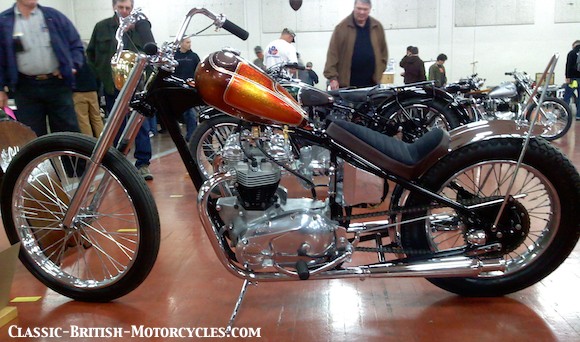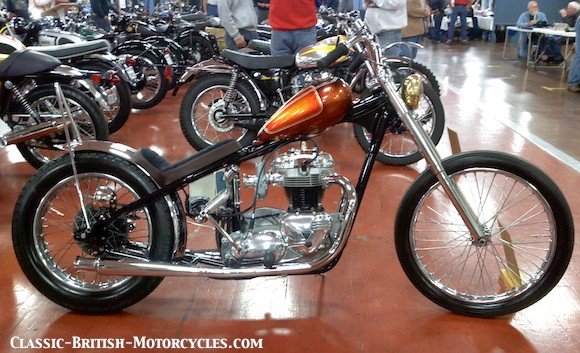 HUNKERED-DOWN BSA BOBBER
This wicked little number was for sale in the Bike Corral at this year's Clubmans Show. It appears to have started out life as a 1971 or '72 BSA A65 650 twin, with oil-in-frame. The oil-bearing front section was retained & a rigid rear section welded on. No front brake, low drag bars, solo seat and cool paint scheme give it a tough look.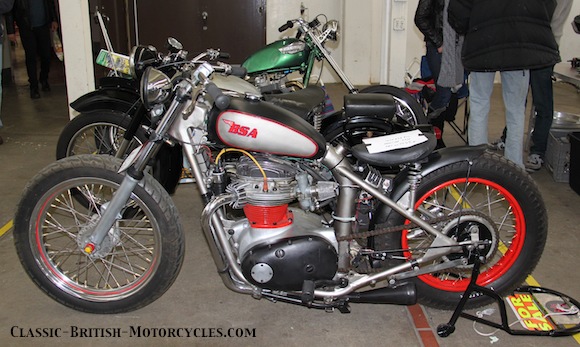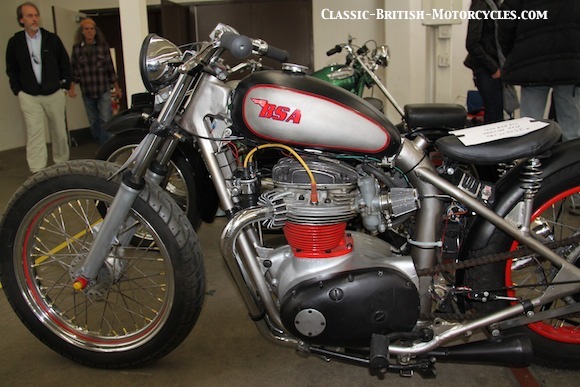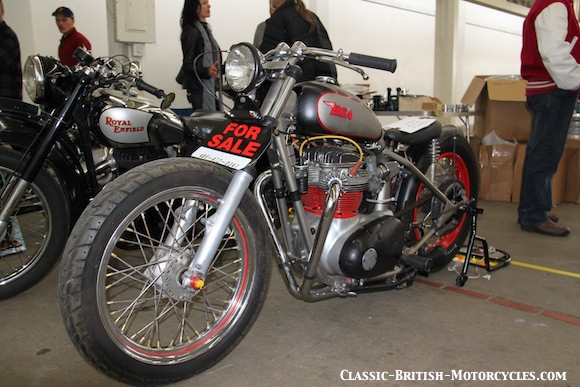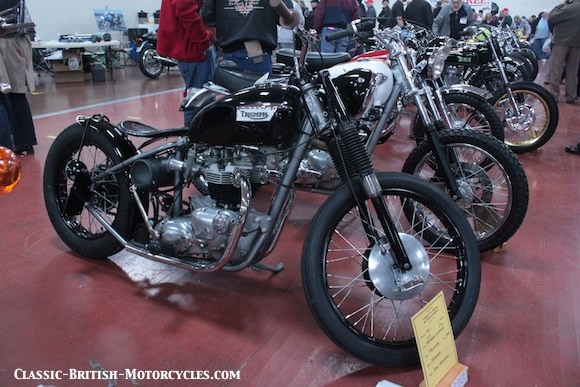 ABOVE: EARLY-UNIT TRIUMPH CHOPPER Lean, clean, mostly black with almost no added chrome. Spartan look of real-world 60s-70s bikes.
BELOW: A BSA A10 CUSTOM Captured at the 2014 Clubmans Show.
BOTTOM: CLEAN TRIUMPH CUSTOM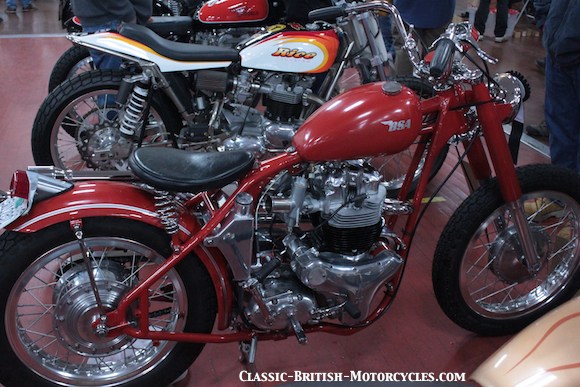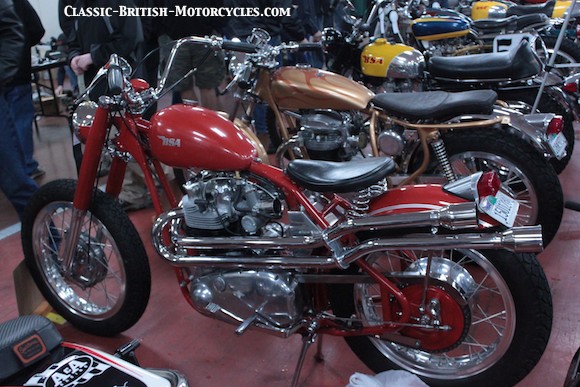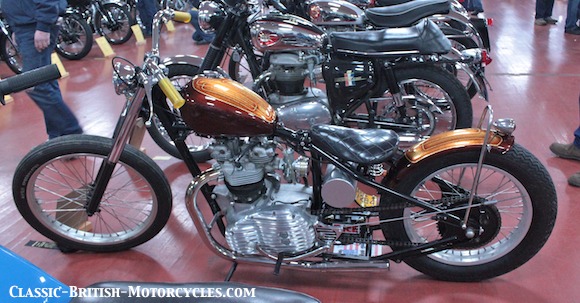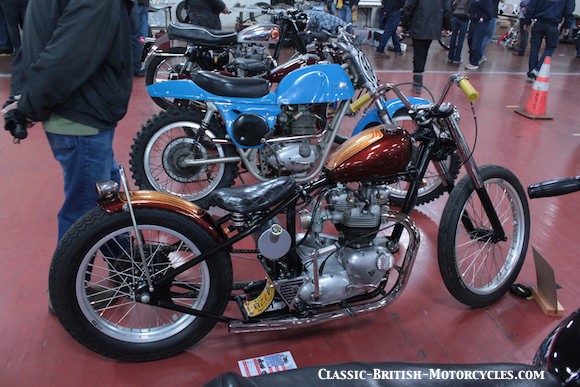 ---