If you like traditional cruiser styles with a tall front wheel, fat rear tyre and a thumping-big V-twin, there is no better example than the Harley-Davidson Softail Breakout.
And there must be a lot of fans of that type of bike because the Breakout is Australia's top-selling bike.
It seems unbelievable that a bike costing more than $30,000 can sell more than peewees, trail bikes, learner bikes and even the usual top-selling postie bike.
But after a couple of weeks rolling around town and the hinterland on the new Softail Breakout with the 114-cube engine, I am beginning to understand why.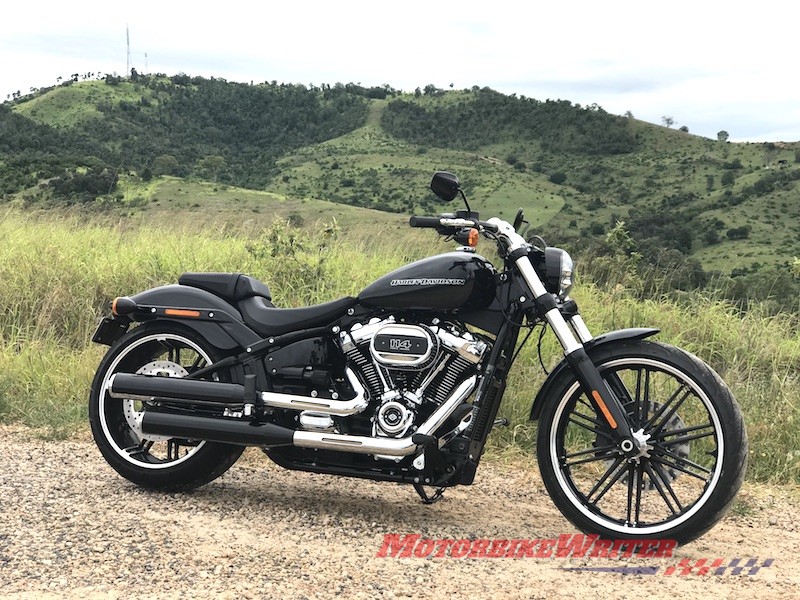 Every time you stop somewhere, people want to know about the bike and take photos of it. In traffic, you become aware of other motorists staring at the bike. They smile and give you a big thumbs-up. It really is a crowd favourite!
Back in 2013 the Breakout became the first Harley to be issued as a CVO model before a standard model was released.
It sold out quickly so Harley introduced a standard version. For the 2016 model year they added a 110-cube CVO Pro Street Breakout.
And now the Breakout has the all-new Softail wide frame and Milwaukee Eight engines. The 107-cube model costs $31,250 and the 114-cube model is $33,995.
It now has a much cleaner look, more refinement, greater output and far better handling.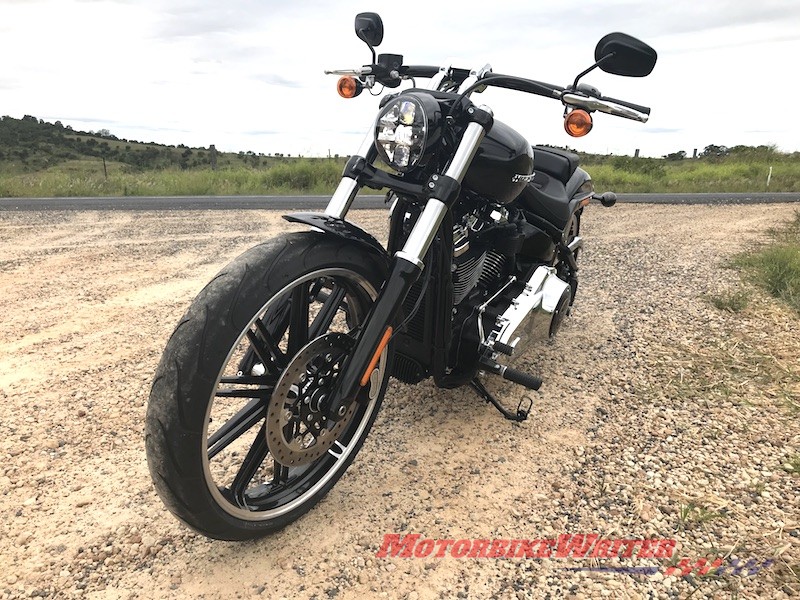 So if the 2017 Twin Cam 103-cube model can be Australia's top seller, the much-improved model with a choice of two bigger engine sizes should continue to top Australian motorcycle sales.
The Fat Boy – that stalwart of many cruiser fans – now also comes with the same updates and the same fat 240mm rear tyre, so it could cannibalise some Breakout sales.
However, the absence of the V-Rod range should steer those fans towards the Breakout.
There are three main reasons why the new Breakout models will continue to sell well: styling, performance and handling.
Styling
Styling has been improved by tucking the cabling away in the spine of the frame, making it look much cleaner.
The clean look is also aided by the tiny instruments that Softail program manager Brad McIlwee described as "barely legal". They are so tiny they are not much bigger than the fat drag bars.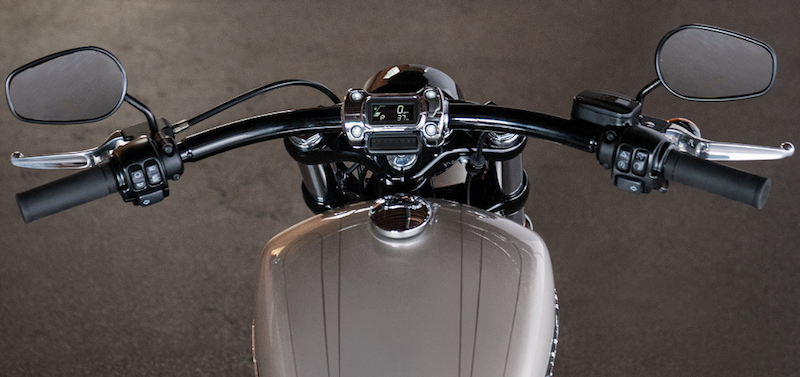 They really tidy up the front of the bike, although they can sometimes be difficult to read in bright sunny conditions. For example the top of the speedo numbers is blinded by glare, so you are not sure if you are riding at 87km/h or 81km/h.
Despite its size, the tiny screen displays a lot of information across separate menus you can toggle through with a button on the left handlebar.
Underneath is another screen with indicator and warning lights.
The Breakout's front is also cleaned up by the compact oval LED headlight. Even tough it's small, it still throws a wide and piercing beam of white light.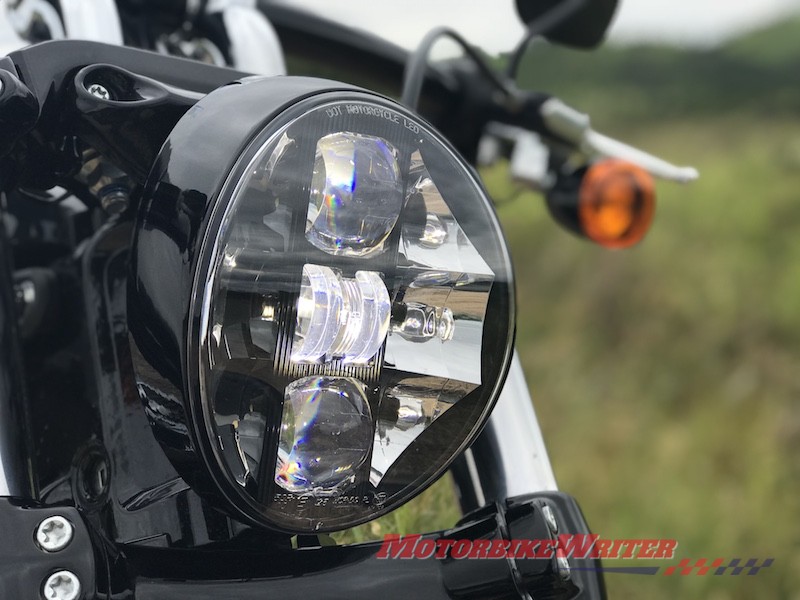 It comes in four colour options: Vivid Black, Black Tempest, Twisted Cherry and Silver Fortune.
Performance
I rode the 107-cube Breakout in California at the world media launch and was impressed by how much better it looked and performed.
The 114-cube model is better again.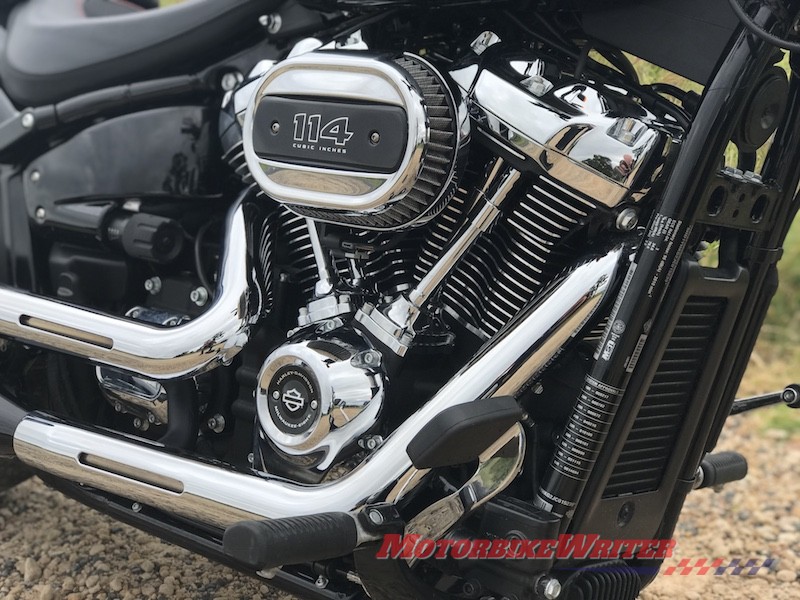 It defies belief how refined and sophisticated the new Milwaukee Eight engines and transmissions are.
They are thumping big units, yet they are so smooth and sophisticated.
The 107-cube (1745cc) model has 69kW of power and 145Nm of torque while the 114-cube (1868cc) engine has 75kW and 155Nm.
In a drag race with a previous model Twin Cam, the 107 would be three bike lengths ahead at 100km/h and the 114 would be five bikes ahead.
But the Milwaukee Eight is not just about brute output. It's also about refinement.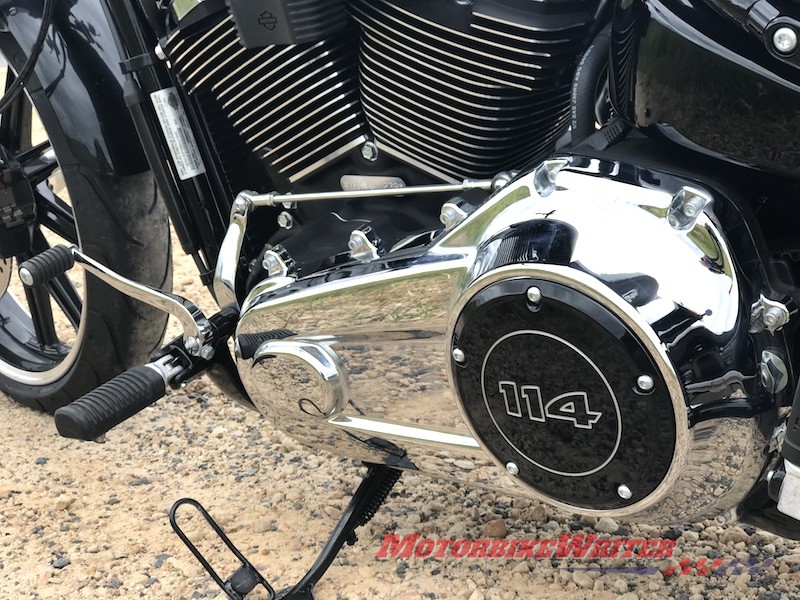 Now in the Softail model they are hard mounted to the frame and 100% balanced with two balancers.
That makes them smooth and refined. Together with a positive gearbox and light-touch cable clutch, it is a sophisticated transmission.
The 114-cube model is still a brute and more brutish than last year's 110-cube CVO Pro Street model.
Yet it's now a bigger brute with some table manners.
The only performance problem is the brakes with a single disc up front. They are a little underdone for the 300kg+ running weight. I found I used a lot of engine compression in conjunction with the brakes to pull it up swiftly.
Handling
I have to admit the previous Breakout was simply the worst-handling Harley in the stable.
The massive engine torque, the poor suspension and the geometry of a fat rear tyre and skinny front tyre put a lot of strain on the ageing Softail frame.
It twisted and contorted, it tracked on parallel cracks, steering was heavy, the bike wallowed in bumpy corners and it bottomed out easily. In fact, it wouldn't even ride in a straight line without input into the bars.
After a day's riding I was sore and sorry.
Despite the same mismatched tyre geometry, the new Breakout handles much better thanks to the 34% stiffer frame, Showa cartridge forks and hand-adjustable rear shock.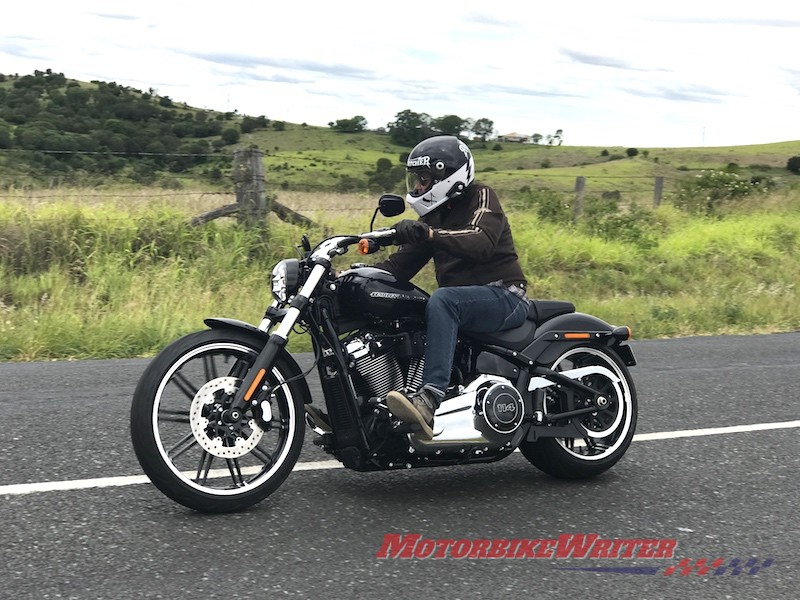 Make no mistake, it is still the worst handling of the Softail pack.
It still tracks a bit and tends to steer left on Australian roads because of the effect of the camber on the fat rear tyre.
However, ride comfort is much improved, steering is lighter, dynamic cornering clearance is better, it doesn't wallow and the frame doesn't twist under acceleration.
Comfort is also improved by the more contoured and better-padded seat. However, shorter riders may find it's a long stretch to the new drag bars.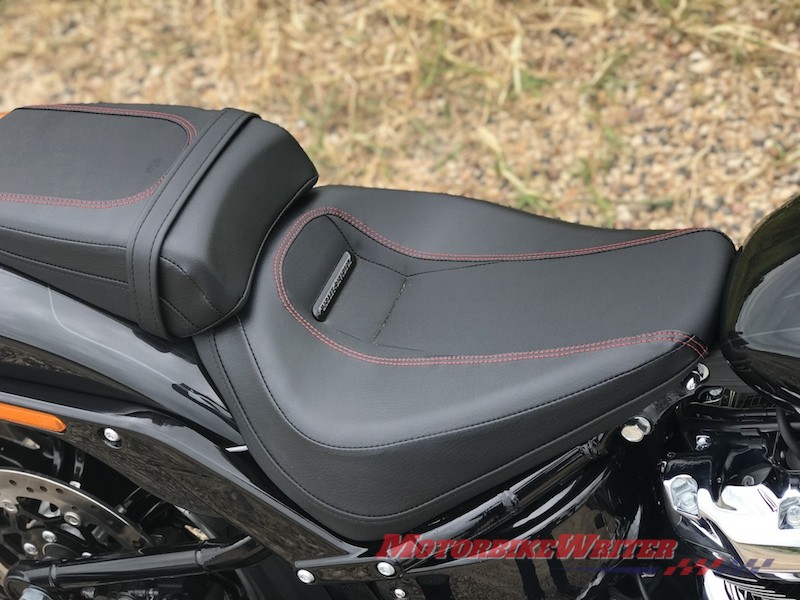 Conclusion
Harley-Davidson Australia marketing manager Adam Wright admits it is "amazing" that the Breakout could lead the Australian motorcycle market.
However, it seems Aussies love a cruiser with attitude and nothing has more attitude than the Breakout, especially with the 114-cube engine.
You won't believe how much fun it can be to wrestle a 300kg+ cruiser around with a 1868cc thumping twin at you beck and call!
As Adam says: "That particular motorcycle has an aesthetic value and a broad appeal."
Harley-Davidson Softail Breakout
| | |
| --- | --- |
| 107-cube | $31,250 |
| 114-cube | $33,995 |
| | |
| --- | --- |
| Length | 2370mm |
| Seat | 665mm |
| Fuel tank | 13.2 litres |
| Dry weight | 294kg |
| | |
| --- | --- |
| Engine | Milwaukee-Eight 107/114 |
| Displacement | 1745cc (107); 1868cc (114) |
| Engine Torque | 145Nm (107); 155Nm (114) |
| Transmission | 6-Speed Cruise Drive |
| | |
| --- | --- |
| Wheels | Gloss black, Gasser II cast aluminium |
| Tyre front | 130/60B21,63H,BW |
| Tyre rear | 240/40R18,79V,BW |