Australian certification for the Oregon-built Brammo Empulse and Empulse R electric motorcycles has been received.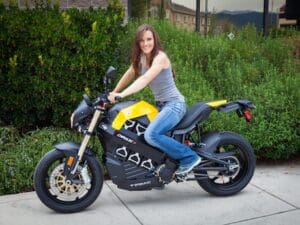 However, importers ElectroMotive Force (ELMOFO) are still waiting on import approval and expect the first shipment of bikes to arrive in late January.
Managing director Brett Sutherland says they have several buyers already who have all gone for R model at $19,350 (plus on-road costs), not the base model at $16,670.
"We also have a whole bunch of people keen to buy once the bikes actually arrive here and they all seem to be going for the R for the extra torque," he says.
The Brammo Empulse have 54 horsepower (40kW) and the Empulse produces 63Nm of torque while the R has 90Nm and hurtles to a top speed of 177km/h.
They have a 10.2kwh lithium-ion battery which takes eight hours to recharge on an American 120 volt mains, but will be a lot quicker on our 240V system. It comes with a 3kW on-board charger.
Range is about 200km in the city and 90km on the highway or 129km combined.
Brett says they plan to offer a support vehicle for longer rides in the Newcastle region where they are based so they can recharge the bikes while they are stopped for lunch.
"We have a fast charge unit for our race cars which we will adapt for the bikes. We want to show as a sample of what can be done and we're hoping to set it up in other places. We've been talking to some dealers, but we are waiting for import approval first."
Brett says they have buyers from all over Australia, including a couple each from Queensland and Western Australia.
"Most say they want to ride it to work, but also use it for weekend recreation."
All electric bikes are LAMS approved.