Bookings are now open for the annual Black Dog Ride, this time heading to Darwin for the first time.
The Top End ride leaves each state at varied times around August 9, arrives on Friday, August 17 and finishes on the Saturday.
Riders will be able to take part in the complete event or just one day.
Special options are available for Darwin's Black Dog Riders, plus partners of Black Dog Riders are welcome to join in the Top End 2018 Celebrations in Darwin.
Click here to read more info about Top End 2018 and explore registration options.
The Top End ride to Darwin will be the culmination of a big year for the Black Dog Ride which started with a World Superbikes tour and a record number of One Dayer rides in March.
All rides raise funds and awareness for mental health issues.
Black Dog Ride's new CEO David Peach says "awareness is the best catalyst for promoting help seeking behaviour and preventing the tragedy of suicide".
Black Dog Ride encourages anyone feeling isolated or experiencing a mental health crisis to reach out to friends, family, a GP, find resources on their helpful links page, or call Lifeline 24/7 on 13 11 14.
1 Dayer winner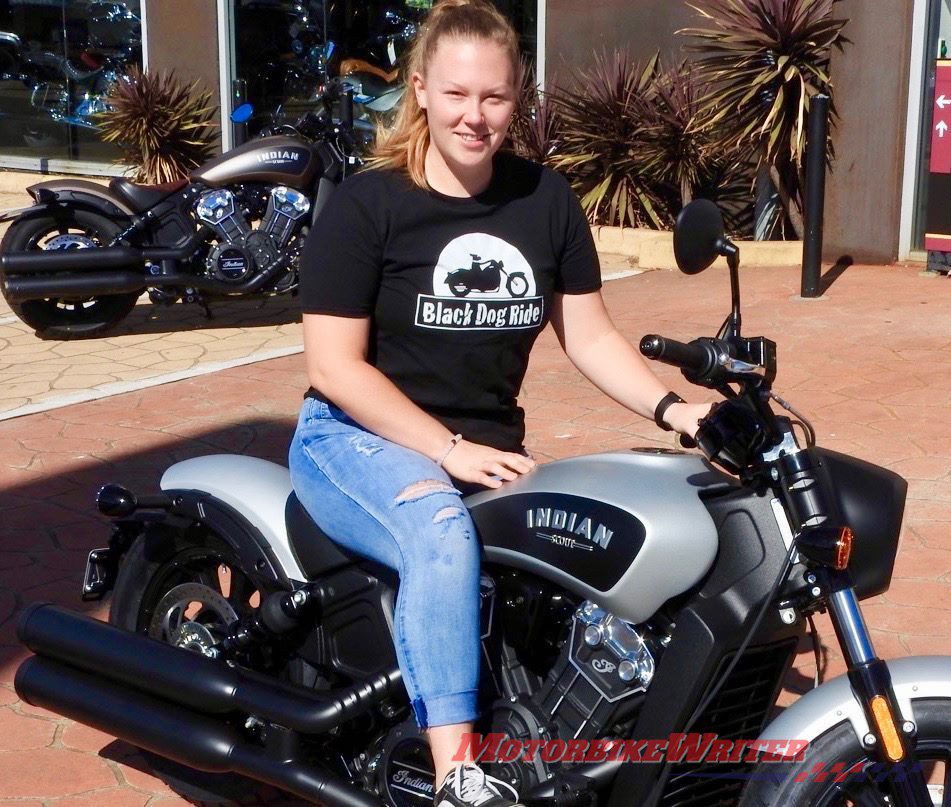 Bronte Howell, of Caringbah, NSW, is the lucky winner of an Indian Scout Bobber valued at $19,995 which was a raffle prize for the Black Dog Ride's 1 Dayer 2018.
"I'm in shock," she said. "Thank you Indian. I saw the raffle and was like 'yeah right as if I'd win it'. This is a great organisation and what is happening today is awesome. I'm stoked to be a part of it, it's my first big ride too."
Indian Motorcycle Australia donated the Scout Bobber. It's not the first time they have been involved with the Black Dog Ride.
Last year they offered a Scout as a 1 Dayer prize and raised $50,700 with an online auction of a limited-edition Jack Daniels Indian Chief Vintage.