BMW Motorrad has released its latest range of digital technology for connected riding featuring naturally spoken directions, cable-free charging and integrated intercoms.
Navigation
The new BMW Motorrad Navigator VI costs $A1290 and includes Australia and New Zealand lifetime mapping updates.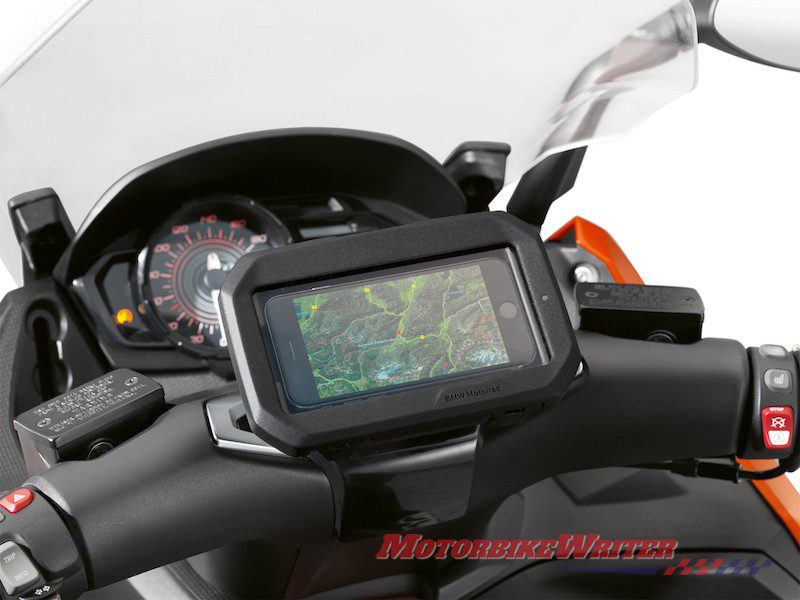 It has some interesting features such as Natural Guidance which announces navigation directions spoken as they would be by a pillion.
A new Music Streaming feature allows the rider to listen to music tracks saved on their smartphone. Even compatible action cams can be controlled directly via the Navigator VI.
Phone cradle
There is also a $A300 phone cradle that charges your phone via a micro-USB cable or using Qi with no messy cables.
Placing the phone in the Qi cradle automatically starts charging your phone at a slightly slower speed than using a conventional cable.
The dustproof and waterproof shock-resistant plastic hardcase has a viewing window made of anti-glare flex foil.
It can also be rotated by 90 degrees for use in portrait and landscape format.
The cradle can be powered by a motorcycle socket.
Dual USB charger
If you have a couple of electronic devices to charge, check out the BMW Motorrad dual USB charge.
It costs $A82 for 60cm and 120cm cables, $99 for a lightning fitting and $55 for micro-USB.
Digital communication
The BMW Motorrad Communication System 7 is now available for the System 7 Carbon, System 6, GS Carbon and Helm AirFlow helmets at $659.
Rather than an attachment off the side of the helmet with messy wring, it is integrated into the helmet for a streamlined design that doesn't increase wind noise or turbulence.
It allows the riders to connect with up to three Bluetooth devices, such as the BMW Motorrad Navigator, your phone, an MP3 player or the bike's TFT display.
The communication system can also be hooked up to the audio on the R 1200 RT, the K 1600 GT or the K 1600 GTL.
Its three-key control pad has been designed for use even when wearing thick winter gloves.
The charge lasts up to 12 hours and has fast battery recharge.
To preserve your hearing we recommend using earplugs when riding.
These Alpine Motosafe plugs not only filter damaging wind noise, but still allow you to hear your Bluetooth music, phone calls, intercom and important sound ssuch as sirens, horns, screeching tyres and your exhaust note! Not bad value from just $26.95.