Would BMW Motorrad please stop teasing us with beautiful and adventurous concepts such as this R 5 Hommage and just build the damned things!
The BMW R 5 Hommage has been unveiled at this year's Concorso d'Eleganza Villa d'Este to mark the 80th anniversary of the BMW R 5.
However, there is no suggestion that such a fine-looking retro vehicle will ever reach production.
We've seen loads of brave concept models from BMW in recent years – Concept Ninety, Scrambler Concept and Concept 101.
If they do make it into production, they are massively watered down such as the R nineT which was derived from Roland Sands' brilliant Concept Ninety.
But with the hipster retro thing going gangbusters at the moment and the move toward smaller-capacity motorcycles, there certainly is room for an R 5.
Even BMW has acknowledged the smaller-capacity move with its G 310 and a possible G 310 GS coming.
Now it's time to build a 500cc retro bike.
Even a limited-edition model with a premium price would find a market and make it worthwhile.
This concept is a faithful rendering of the original 1930-50s R 5 right down to the polished aluminium cylinder heads, black paintwork with classic white pinstripes and handstitched and embossed leather seat.
BMW used a damaged 500cc two-cylinder engine from motorcycle enthusiast Sebastian Gutsch for the R 5 Hommage.
The rest of the build was hand-crafted from scratch.
While the original R 5 had a measly 18kW of power and a top speed of 135km/h, the Hommage features a modern supercharger which gives it way more power and speed, although actual figures have not been released.
Kawasaki is looking toward a supercharged future with smaller-capacity bikes big on power, but small on fuel consumption and emissions to meet modern regulations. So why not BMW?
The R 5 Hommage also features a stainless steel exhaust system, new rear wheel suspension and a piston brake system.
BMW design boss Edgar Heinrich says the original R 5 "remains one of the most aesthetically appealing motorcycles in BMW history in my view".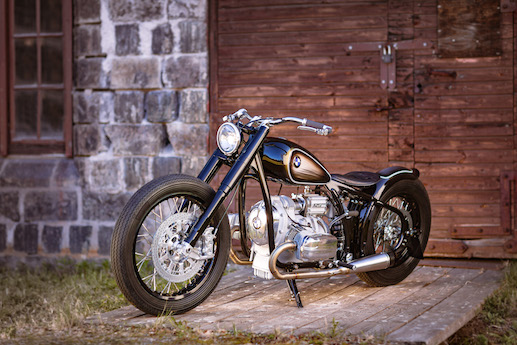 So why not build it!
Would you buy one? Leave your comments below.