BMW Scooter Owners Report Stalling Problem
I have received reports from owners of a stalling problem on their BMW scooter.
This is apparently a major issue, so I'll add any reports I receive to this page and we'll see what happens.
In the U.S.A., report all safety issues to the National Highway Traffic Safety Administration here.
Discuss the issue on the Google+ BMW Scooter Community (Gmail account required) with scooter owners from around the world.
If I learn anything from BMW, it will be reported here also.
If you have a stalling problem (or other issue) with your BMW scooter, please send it to [email protected]
BMW Scooter Stalling Problem Reports
From "S.G." (June 2019):
"I just came across your blog of BMW scooter owners reporting stalling problems – https://www.webbikeworld.com/bmw-scooter-stalling-problem/
I notice that most of them date back to 2013 and earlier and for C650GT's and the like, but oh dear, I've just recently bought a brand new (in April 2019) C400X scooter, and I'm getting the exact-same symptoms – stalling at a low speed either under engine braking coming to a stop or attempting a low-speed pull-away.
I had one stall about a month ago which was difficult to restart, but the fuel guage was on two bars, and it was just before I got the TFT warning to refuel, so I put that down to a sensor guage set too low, and make sure that I refuel when it gets to 3 bars. However I had two stalls last week, and one yesterday in same situations, the last stall with a newly full fuel tank. I took it in to the dealer after the first two stalls, who did the first service at the same time and reckon they updated the onboard computer, but as said, it stalled again yesterday.
Very irritating that BMW have had a previous track-record of this dating back to 6 years ago, but that the same problem seems to have carried over to the new scooter model, that and the service centre not knowing anything about it. The service centre is also a mile walk each way from the nearest tube station !
I shall try the refuelling on the centre stand trick, I've not been doing that."
---
From "S.W." (April 2017): "I have a secondhand 650 GT, 2016 build, 1400 miles up. I had the stalling problem too.
I ride fairly conservatively and I will often roll up to traffic lights rather than braking hard at the last minute. I was getting all the misfire problem on leaving lights or junctions.
On green, when setting off, there was a small momentary misfire for about one beat of the engine.
This was bad enough in a straight line and really unnerving on a corner, especially since it usually happened at low speeds with little momentum to carry me through the event.
My local dealer Chandlers in Portslade (UK) took the scooter in within four days under warranty. They applied 'a software update' which does appear to have fixed it.
The ride home was only ten miles but in that distance, no recurrence. I will report back either way once the position finalises."
---
From "F.B." (November 2016): "My wife bought a brand new GT650 in 2013.
The Scooter has about 2300 miles on it. It now has developed a stalling problem when engine is at idle (whether coasting to a stop, or immediately upon stopping).
It is a very random intermittent problem that does not seem to be related to outside air temp as first thought.
We brought it to the local shop but they could not duplicate the problem…huge safety issue BMW needs to get on this."
---
From "P.W." (June 2014): "I purchased a used 2013 C 650 GT (with 705 miles on it) from the local BMW dealer in Ft Myers, Florida.
I was getting used to the bike in my neighborhood and after about 6 hours of use in the following week after I purchased it, it started stalling when slowing to a stop or coasting.
I made a report to the NHTSA.
Since I use the home in Florida seasonally I will need to bring it to the BMW dealer when I return."
---
From "K.T." (March 2014): I purchased a C 650 GT in December 2013; a demo model with 527miles, I now have about 1200 miles.
The scooter  started stalling at low speeds after 1000 miles. I can never predict when it is going to happen.
I took it in to BMW service 2/28/2014 have not heard anything back yet.
When I was talking to service guy he said there where no advisories about this situation from BMW. It did it once while I was making a right hand turn and the car behind barley missed hitting me."
UPDATE From "K.T." (April 2014): "I finally got my bike back after leaving it for almost a month they tried to give it back to me after the first week because it did not stall for them. I insisted they ride it more.
They called me on the 3rd week and it had finally stalled for them and it just so happened the BMW North America Rep. was in there and he told them what to try.
From my dealer's warranty invoice:
Resolution: New DME software came out last December that does affect throttle closed / decal mapping. Please flash the DME and reset adaptations. That is probably the solution, but make sure that the idle air lines are not kinked.
I have put almost 850 miles on it since and no problems whatsoever. I love riding this bike!!"
---
From "B.S." (January 2014): "I own a 2013 BMW Scooter for about six months now, and has approx. 2,000 miles on it.
I've had no problems with this Scooter until last week, when coasting into my driveway, coming home from work, my Scooter stalled.
Then it stalled again the next morning as I pulled into the parking garage at work.
Then tonight, I was put into Harm's way, when my scooter stalled on the Freeway in rush hour traffic in the dark, in stop and go traffic. That scared the hell out of me!
Two years ago, I was rear ended by a young gal talking on the cell phone, she hit me under full braking at impact, 45 MPH, which I was squashed between a Mercedes-Benz in front of me.
I was riding a Brand New Harley Wide Glide at the time. I was bed ridden for three months.
So, after the stall tonight, I will be trading my Scooter in, maybe for the new Honda CTX1300.
I cannot take the chance of another stall on the Freeway. That's too bad, I really liked this Scooter. And I just had a Corbin Seat made for it, cost me $975."
Editor's Reply: I urge you to report this to BMW and to also file a report with NHTSA.
UPDATE From "B.S." (January 2014): "I am sending you this update.
I got my BMW Scooter back from the shop, and been riding it around town and in stop and go traffic on the freeway, and is running great, no stalling! I've noticed more pep now when riding it around town.
They said that the mechanic plug the Scooter's computer in for a diagnostic report and it said it needed a couple downloads for the codes that came up, which they did.
The service writer said that he didn't know what downloads did, only that they were required by the diagnoses.
So maybe BMW finally found the solution for the stalling problem, and are fixing the Scooters when their customers bring them in for service."
UPDATE 2 From "B.S." (February 2014): "Update: Since I had my C650GT back from the BMW Shop, my scooter hasn't stalled at all. The two downloads seemed to work. But I've notice another problem.
At low speeds, up to about 30 MPH, keeping the throttle still, the engine was really surging. It didn't do it with a passenger on the back at low speeds.
On the Freeway it seemed to be fine, with or without a passenger, except I notice going down the Mountain to Santa Cruz, I was letting off the throttle to keep the speed at 55, the engine was surging just a little, with a passenger.
I took the Scooter to the Shop again, and had a mechanic ride it at a steady 25 MPH, and he was dumbfounded by the surging. He had no clue why it was doing that. But, I have been ignoring it, I just keep riding it.
BTW, I had a Red Triangle on my instrument panel flashing at me while riding on the Freeway.
I notice the Tire Pressure Monitoring Mode was showing and the rear Tire Pressure was Flashing with the air pressure going down.
I pulled over, I had a 1/2″ Bolt in my rear tire, I just had enough air left to make it to the dealership for a new tire.
I like that safety feature! Probably saved my life!"
---
From "J" (October 2013): "My C650 was returned to me almost two weeks ago with the latest fix — a software update from BMW related to the Idle Stepper Motor.
After 400 miles and generally running well, the stalling issue is still occurring in much less frequency but in some ways similar to riding events prior to the fix: Light throttle through a turn and then slowing down for a possible approaching stop.
Since the stalling issues began around August 1st my bike has been trailered to the dealership 3 times periodically for a total of four weeks of shop time.
The stalling issue became progressively worse and I got to the point where I had no confidence in the bike.
Now, although the stalls are still occurring (6 times since returning to me with the BMW fix), it is hard to let the C650 go because it is so much fun to ride.
I have read on some sites where resetting the Throttle Position Sensor is a work-around for other BMW models.
Have you heard of the approach and, if yes, do you believe this is a viable work-around for the C650?
Rick's Reply: I haven't heard of this solution; perhaps some of our readers have? My scooter — knock wood — hasn't stalled yet.
---
From "D.L." (October 2013): "I bought a C 650 GT BMW scooter in June of this year. It stalls out at low rpm's (driving in town). You can tell when driving any where between 15 to 25 mph and coming to a stop the engine cutting out.
If you hold it to a steady throttle at those speeds you can hear and feel it cutting out if you let up on the throttle at that time it kills — you're done, you have to try to pull off to the side of the road because you know you have to use the brake to start the bike.
And on the highway coming to a stop light if you keep a steady low speed it will stall out.
It's a dangerous problem with this scooter BMW should recognize this find the solution and recall their bikes for fixing!"
---
UPDATE From "P.M." (July 2013): "I recently, in May, reported to you about my stalling problem, which seemed to match the same problem most of the other owners were having. I just wanted to let you know that I took it to the dealer where I bought it, Honda/BMW of Hollywood, and they fixed the problem the first time.
It was happening frequently and I could easily duplicate the problem for them. The mechanic said that the adaptation for the stepper motor was off or out of adjustment.
I don't know what the means, but he said he reset or re-installed the software for it and that fixed the problem. It does not stall any longer.
I tried many times to make it stall and it runs great now.
They also did a software update for the instrument display, which was a recall item.
I thought maybe this information would help some of the others who are having problem getting theirs fixed. Thanks again for all of the great information."
---
UPDATE From "K.P." (July 2013): "My dealer's service manager reported that BMW had not put out a tech memo on the problem.
After reading C.D.'s comments (below), I read the manual and it did call for putting the bike on the center stand while refueling. I'd not done that the first 1,950 miles.
So at 2,185 miles I refueled the bike while on the center stand and continue to do so.
The bike now has 3,540 miles without either a stalling problem or the feeling that the fuel delivery was affected at low speed as it seemed to during the 200+ mile window that I had the stalling issue.
It surprises me that the simple act of putting the bike on the center stand while refueling has apparently solved the problem."
From "J.H." (August 2013): "I just purchased a lightly used C650GT with 992 miles on July 23rd, 2013. Twelve days later with 200 miles on the bike and I encountered a stalling issue.
At first, it stalled in a turn riding out of my neighborhood. Restarted immediately.
Road the bike for 1.7 miles to a friends house with no issue. Riding out from that neighborhood and it stalled again.
Although I had 3/8's of a tank of gas, I rode to the gas station stalling as I turned into the station. Fueled up and started the engine.
Pulling out of the gas station the engine stalled. Circled in a small shopping center adjacent to the gas station stalling twice more.
Decided to try and ride the bike home and on a straight highway at 30 mph it did not stall until I turned into my neighborhood. Once in the neighborhood, it stalled on every turn (3 more times) before gliding into the garage.
I cannot tell if the stalls are due to low RPM's, turns, or what.
I called the BMW dealership I purchased the bike from (60 miles away from home) and told them about the issue.
They checked with their service team and called me back saying they were unaware of any issues and recommended I call the BMW road assistance 800 number.
I called BMW road assistance and spoke with the customer service rep.
They scheduled a pickup to tow the vehicle to the nearest BMW dealership (which is not the dealership I purchased the bike).
I called the dealership where the bike is scheduled for service to give them a heads up regarding the issue. I described the issue over the phone to the technician.
The service guy I spoke with said other customers have had the same complaint and that BMW has them reboot the computer system to possibly solve the issue. The service guy said that this may or may not remedy the issue.
I asked him what other customers did as a work-around for the issue and he said that they just lived with it.
Anyway, the bike is scheduled for towing on Monday, August 5th. I will let you know how this turns out."
---
From "E.E." (July 2013): "I just experienced the stalling problem, too. I have only 180 miles on the bike. It happened with two bars left on the gas gauge.
Fortunately, it happened only a quarter mile from my house, so I pushed it home, stopping several times to try and start it again to no success.
As soon as I got home I put half a gallon of gas in and it started right up.
I can't be sure, but I think I can assume that the gas gauge is woefully inaccurate. I plan to follow J.K.'s advise and gas up more frequently (probably as soon as I see three bars)."
---
From "J.G." (June 2013): "I've reported my stalling issue to the National Highway Traffic Safety Administration (here). I dropped it off at the dealer for three weeks.
I was told that it couldn't be duplicated and I could have been charged because it couldn't be duplicated but they're going to let it slide this time.
It was implied that the stalling could have been rider induced and I was given a speech on the workings of a CVT and how I shouldn't "blip the throttle".
I was given back my bike with 3 weeks of pollen, rain spots and grime. I've had 7 stalls in the past 3 days.
The cherry on top was keeping my trunk on the parts shelf because of the recall, but letting me keep the luggage rack that might fall off. (It's an accessory, so it's really my responsibility).
I wonder if K and GS series owners get this level of service. It's hard being a scooter owner sometimes.
I have a service appointment in 2 1/2 weeks. Hope they don't charge me for 3 weeks of BMW labor when I gripe about the bike being unsafe because its stalling.
Maybe they can fix the TPMS and "oil level check OK" indications that are reading dashes all the time."
UPDATE From "J.G." (July 2013): "My stalling may have subsided, or it's not stalling the past couple of days because its been 10-15 degrees cooler out.
The other thing that might have caused the stalling to subside was a reboot. It wasn't an intentional one though.
The bike was starting softer and slower each crank since my last trip to the dealer.
The Software (Puma update) was the only thing they ended up doing to the bike. Riding home, I never acquired TPMS and oil quantity check indications, and only got dashes for a couple of weeks.
After about 20 starts, I got a no start from the battery being at 9 volts (measured at acc. socket). I think this start attempt dropped the voltage low enough to reset something or unlatch a stuck relay.
I put a 2 amp trickle charge on the bike for 4 hours through the outlet. The bike started up and was reading 14.5 volts-charging.
I took it out for a ride and my TPMS and oil quantity check came back, and I still have them after a few days. No stalls either.
I'm still wondering if it will stall when temps pick up. We will see."
---
From "K.P." (June 2013): "My scooter is having the same problem, it shuts down at low speed mostly when stopping and restarts immediately after stopping.
At times I'll open the throttle while braking and can overcome the problem but doing so seem a safety issue.
The problem first appeared at 1,950 miles and has continued the last 210 miles. I'm on a road trip and in the process of contacting BMW and my home dealer to determine my next step."
---
From "R.M." (May 2013): "I'm writing about the stalling problem with the BMW C650 GT scooter.
Mine has started doing it yesterday it has about 850 miles on it. It had hiccupped a couple of times before, but now it's stalling frequently at low RPM's.
Often when stopping at stop lights, it stalls now. It's always at about the idle speed. It always starts right back up though. I'm afraid it's going to happen in the middle of a turn now.
I had disconnected the battery to install the harness for the battery tender. It seems to have started after that. Do you think removing battery power would start this?
I wanted to let you know so that possibly you could post it on your site . I'll try to remember to report it to the National Highway Traffic Safety Administration (here) as well."
Editor's Note: Disconnecting the battery should have nothing to do with this problem.
---
From "J.J.K." (May 2013): "I've been following these stalling reports but thought what were the chances it would happen to me.
Picked up my bike three weeks ago and I have 250 miles on it.
This morning I the power cut out when I was turning in my driveway at low speed and so couldn't power out of the turn. Bike fell as a result but luckily I managed to jump off safely.
Very sad that this brand new extremely high-end bike would have such a glaring issue. Will contact the dealer but based on all of your reports I'm not confident any solution will be available.
Now I'm left with a three week old scratched up bike that I'm worried will continue to stall.
Any thoughts on possible remedies? Please keep up the good work covering this issue."
Editor's Reply: I suggest that you report this to the National Highway Traffic Safety Administration here, it may be a safety issue. If enough owners report it, something will have to be done. It hasn't happened to me (yet).
Also, be sure to join the BMW Scooter community on Google+, there are many owners who are discussing this and some have reported a resolution.
---
From "S.T." (Mary 2013): "Thought I would add my issues as well. First 200 miles ran without problems. 500 miles now and beginning to experience the stalling issues I've been reading about.
Had one miss-fire and half a dozen stalls at lower speeds. In addition, does not seem as responsive on the throttle in general. Taking it in for first service and trouble shooting, but have heard from those techs that this issues has not been resolved by BMW yet."
---
UPDATE From "C.D." (below) (February 2013): "I hope all is well and your Scooter is performing fantastically. I wanted to report on the stalling issue and give you an update. I haven't seen too many updates lately and I hope this issue is being resolved.
I have gone 1800 miles + since I had it in the shop for the would not start/spontaneous cut off – stalling issue. I had only 1 incident since then that mimicked the previous stalling incidents.
This time I am pretty certain the stall was not related to the vapor recovery system since I had followed all or the protocols of the last email and not had a problem since.
This time it seemed like the idle dropped a little too low and it cut off. Was getting ready to exit a parking lot again as with the previous stalls that happened.
That was about 300 miles ago and no stalling since, had a half tank of fuel as well.
I did have a stumbling problem driving on a straight flat road at a very consistent 45 MPH but it resolved itself with a charge to the throttle a couple of times and hasn't happen since.
Almost like it got out of timing.
Anyway I have really loved this Scooter and use it almost exclusively for getting around now leave the car parked in the driveway when conditions are good.
By the way have the BMW Top Case, A new set of Vendramini Dakar Boots (I love) got them on sale via the Vedramini Website have big feet had to order direct from the factory and the Battery Doc (review)…
Thanks for the reviews all have been spot on. I am thinking about the throttle lock tonight."
UPDATE From "C.D." (March 10, 2013): "Just wanted to let you know my scooter hasn't experienced any stalling issues since I had it in for service back in December 2,800 miles since.
The blog seems to be silent I hope this has been resolved."
---
From "L.B.F." (January 2013): "Same stalling issue as others have reported. 1000 miles. Once the starter engaged and restarted (the) engine!"
---
From "J.K.." (January 11, 2013): "Hi, stalling issue happened here in Singapore. Scooter is 2 weeks old with mileage of 1050 km+.
Fuel gauge shows 2 bars left with "low fuel" light ON. Meter displayed 2.7 km travelled (after fuel down to reserve).
Travelled on highway (80 km/h), exit small road and stalled without any error or warning "triangle" sign appeared. Bike can turn over but engine won't start. Tow back to agent."
UPDATE From "J.K." (January 12, 2013): "Got back my bike this morning, according to the chief mechanic it ran out-of-petrol.
Was told not to rely on the "low fuel" light ON signal and fuel gauge, most important is to pump-up when reaching 280 km to 300 km (my trip metering reading 352 km).
All BMW bikes have this problem is what I heard from him…not sure how true was it. So conclusion, bike OK but on-board electronic not reliable."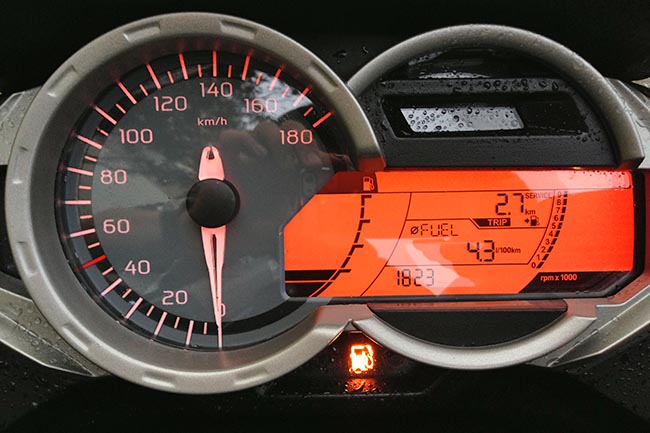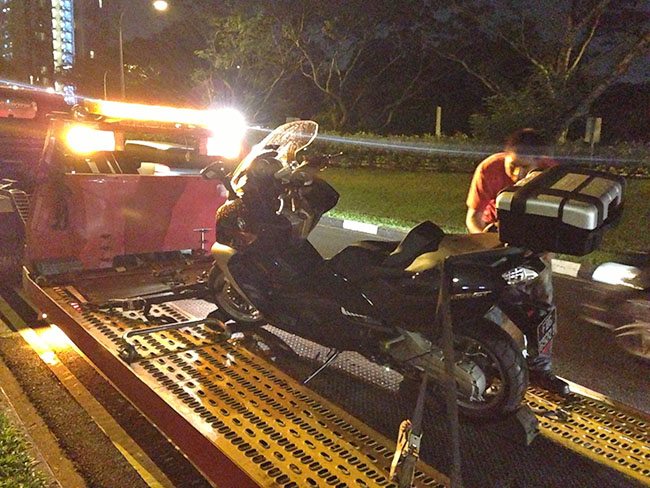 From "J.G." (January 2013): "Hi, I have a new BMW C 650 GT, under 240 miles. It stalls and the dealer can't fix it. Three times at the shop!
December 14, 2012: Bike stalled numerous times at low speeds and was taken by flat bed to shop. Roadside assistance worked perfectly. Some adjustments were made by dealer. @ 141 miles.
December 18, 2012: Bike taken in to shop because tire pressure monitor not working. Fixed and works now. @ 225 miles.
January 5, 2013: Bike stalled numerous times at low speeds and was taken in by flat bed to shop. Roadside assistance worked perfectly. Replacement of Idle control by dealer. @ 263miles.
January 8, 2013: Bike taken for 1st ride since picked up (on my trailer) and stalled numerous times again.
I spoke to BMW customer service and asked for a replacement of the bike or a refund. Roadside assistance is picking up the bike again tomorrow. Customer service is looking into my request.
The dealer is very cooperative and understanding. This is the fourth time its headed back to the shop.
Fuel and weather conditions are not an issue. I am sure many others are having the same problem but have not located your site.
I really love the bike and don't want to part with it, but at the same time, I don't want a constant headache. I will keep you posted with any updates."
UPDATE From "J.G." (January 25, 2013): "Bike still in the shop and cannot be fixed! The dealer tried numerous ways to no avail.
BMW customer service denied my request for a refund or replacement. I am pissed!"
---
From "S.D." (January 2013): "I own a new C650GT. I took delivery about 3 months ago and it has been in for the 600 mile service.
It currently has approx. 1,200 miles and I have noticed it began stalling sometime ago, shortly after the check-up.
Have not yet had the opportunity to return to the dealer for this issue. It seem to occur most frequently when slowing in the 15-30 mph range. Other than that I have been fairly happy with the scooter."
---
Another Update From "C.D." (below) (January 2013): "I wanted to report that since the visit to the shop and countermeasures put in place regarding the fueling levels and putting it up on the center stand, I have not had a single event.
Have ridden roughly 450 miles just filled up for the third time. No misfires, stalls or stumbles."
---
Another Update From "J.W." (Below) (December 27, 2012): "Further update: Whatever they did to my bike, it does not seem to have cured the underlying condition, at least not fully.
The bike has not stalled on me in motion yet since I got it back.
But today, after stopping briefly for lunch (so, again, bike warmed up, stopped for a while, then started again), at 1/4 tank of gas, the bucking and surging happened again.
And shortly thereafter, when coming nearly to a stop, then giving it gas at 15mph or under, then chopping the throttle, the revs dropped below idle to where the engine nearly died, several times. Darn it…"
---
UPDATE From "G.G." (see post below) (December 26, 2012): "During my second ride the bike stalled again, but this time it was followed by a non-specific check engine light.
Problem progressed to another episode of stalling, this time accompanied by incorrect temperature reading on outside temperature gauge and second non-specific solid yellow triangle error, soon followed by EWS!
Despite the dreaded EWS! error I was able to uneventfully ride home without further stall episode (3 times in 45 miles).
After turning off the engine by kill switch but with the key in the on position, the radiator fan ran continuously for about 10 minutes (despite cold outside temperature and cool to touch engine) before it stopped, the EWS! light returned and the bike could not be restarted.
Tried restarting over the next 4 days without change. EWS! error, no way to energize ignition.
Bike returned to dealer via tow truck via very poor experience with Roadside Assistance. More info to follow… Not having a great new owner experience thus far.
Note to the comment from Texas owner, my stall issues all occurred on dry roads with temperature 38-44 F. Bike is stored in heated garage and has not yet been one drop wet…"
---
UPDATE From "C.D." (December 26, 2012): "I got the Scooter back from the dealer and they could not identify any anomalies in the system through the diagnostics they performed.
They kept the bike and rode it several times to try to replicated the issue but to no avail.
In the meantime, I was reading on the BMWMOA site the Scooter thread and one of the posters put up an issue that was common with the Vespa Scoots.
Paraphrasing, he indicated that if the Scooters were fueled and were parked and left out in the sun sometimes fuel would expand into the vent hose for the vapor recovery system and this could lead to stalling or stumbling in these scooters.
I thought about my last issue with the bike turning over but would not firing and remembered that I had fueled it prior to putting in the garage before my trip and drove it roughly 21 miles before it wouldn't start.
I found it interesting that the bike wouldn't fire for me, after 5-6 attempts, but when it arrived at the dealership it fired right up.
Then I thought about this bike going down the highway at 60+ MPH and the vapor recovery system being able to exhaust vapor or fuel trapped in the system.
I also remembered that after several times I have parked it after fueling I would get a strong gas smell in the garage after filling it up.
So what I think might be going on is that I was fueling the bike and driving it home because the gas station is near my house and parking it.
Texas of course has been warm and the fuel tank must pick up heat from the engine compartment possibly causing pressure and expansion of the fuel into the vapor recovery system which might be causing the issue the blogger indicated about the Vespa.
I did speak to the techs and they thought it was an interesting idea and they were going to create a internal ticket within the BMW system about the issue.
I have since made sure that the fuel nozzle is seated all the way in the fuel tank and let the trigger shut off the nozzle (not even draining the fuel hose as I do to get every last cent out of the hose).
I also have the Scooter on the center-stand when fueling as well per the manual.
No problems to report since I got it back have ridden about 125 miles and 50 since refueling with no stalling."
But J.W. responds: "If it's the vapor recovery system, I don't think it's quite the same as C.D. speculates, as some of my malfunctions occurred with a tank that had not been recently filled (and in fact, I had it occur both when full and in low fuel/fuel light on conditions).
That said, the hose routing to my vapor recovery canister was incorrect when my bike was built (it was visibly in the wrong place – you could see it behind the left side glove box), and they had to reroute it to eliminate contact with the glove box hinge when I brought it in.
Stalling an other issues related to the vapor recovery canister are a well known problem on Vespas.
My dealer didn't think this was likely it for the BMW, as the canister is located so high in the fairing, but I wonder if it could be a pinched hose problem…?"
---
From "G.G." (December 18, 2012): "I have a brand spanking new C650GT. On the first ride, with less than 20 miles, the bike stalled once at est. 10-15 mph for no reason, with no warning, no error lights and no loss of dash board lighting of controls.
It immediately restarted and ran for rest of the ride.
Unfortunately the weather here is currently terrible and I suffer from PMS (parked motorscooter syndrome).
I will write back if the issue recurs. I am grateful for this forum as I would have just ignored this single event had I not read the other comments."
---
From "J.P." (December 17, 2012): "J.W. (below) hit the nail on the head when he said it could stall while looking for a parking spot. My scoot stalled 3 times in a row while looking for a place to park.
While moving slowly the bike stopped like someone turned off the key, it starts right up, then 5 feet later, then again and again. this happen 2 weeks ago and has not happen again. I have 2,878 miles on it now.
I just hope this does not happen on the freeway stop & go traffic in SoCal, I'll get rear ended for sure."
---
From "C.D." (December 17, 2012): "First want to say thanks for all of the information you have provided as I am a novice rider and haven't ridden in a long time and wanted to get back into riding and thought this Scooter would be the ideal opportunity for someone who just turned 52.
This Scooter has been so much fun and is so easy to ride I have really loved every moment I have had riding.
I hope this issue can be resolved and I am glad you have this project going on the BMW Scooter. I have been having the stalling issue as well with my Scooter. It seems to be an electrical phantom to me.
My Scooter is in the shop right now as when I came home from a trip out of town and went to start it up for a ride it would not start.
It would turn over but would not fire. I even demonstrated the problem to the wrecker driver before we loaded up to haul it off.
I thought this might have come to a point where the service people could diagnose the problem but of course when it was delivered to the shop it started right up.
(Report to the BMW Dealer: I have reported a spontaneous low speed engine shut off that occurs usually after I have driven the scooter and shut it down for some period of time.
I could be going into a restaurant and eating a meal or filling it up at a gas station or going into a grocery store for just a few minutes. I don't recall this happening on the initial start of the day when I start riding.
It has happened exclusively at low speed usually while working my way through a parking lot or getting ready to get on a road from the parking lot while stopped.)
I am not getting any fault codes when this happens it is like I hit the engine stop button and just dies.
I have attached the letter to the service techs at BMW Motorcycles of Fort Worth and picture of my Scooter on the wrecker that BMW sent to pick it up.
By the way it is really important to let the folks handling the warranty call know that this is a scooter not a motorcycle.
They had to send two wreckers the first wrecker did not want to haul it because of all of the fiberglass and seeming lack of tie down anchor points.
When the first guy turned it down he indicated there was a specially equipped wrecker that could pick it up.
I made sure that I reiterated this when the BMW agent called back about the service. Unfortunately they sent the same style flatbed wrecker back to pick it up.
This time I worked with the guy and pulled out the manual to show him the suggested anchor points.
He seemed to get it secured well and I haven't heard of any problems with the delivery."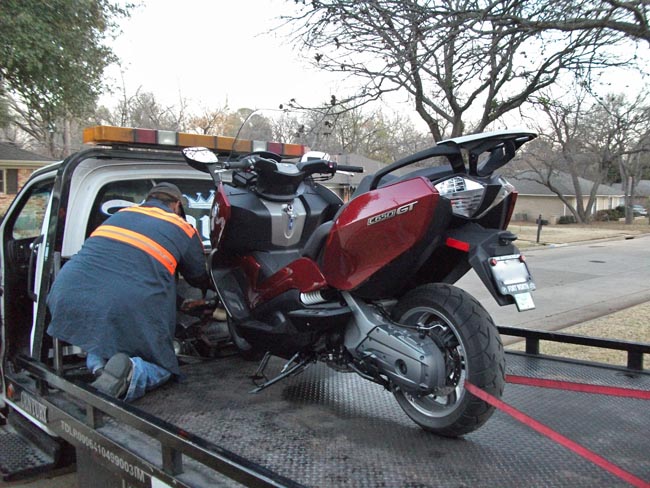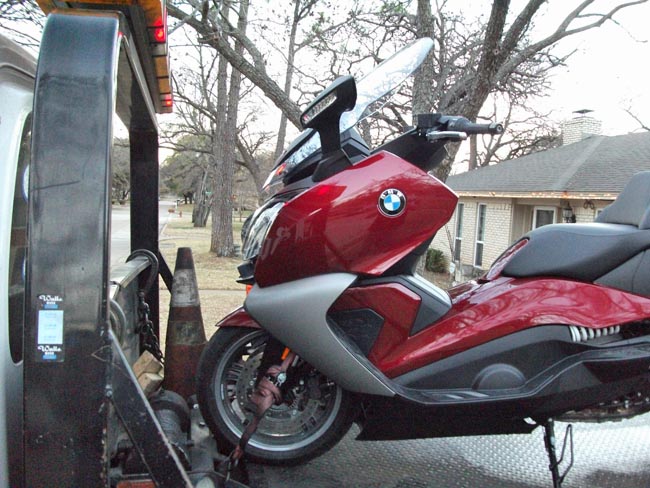 December 15, 2012:  I had an email conversation with owner "J.W." about a stalling problem he has been experiencing with his C 650 GT.
Here's the email thread, I'll update it if anything more is learned. If any readers have more information on this problem, please contact me at [email protected]
From "J.W." (November 29, 2012): "Up to almost 450 miles now, getting 48-49mpg, and the seat heater definitely works and is not on all the time.
It takes a while to heat up but once it's going, even in Auto mode, you can definitely feel the difference.
The engine warms the seat a tad too, but not nearly as much as the heater does once you let it get going. I also managed to refuel the bike without spilling the second time. 🙂
I have had one issue, which is that a couple of times at low speed, it seemed to be surging and bucking under very light part throttle (trying to modulate at 5 mph).
And once, while taking off after just having started it at the grocery store, it died altogether, which was more concerning.
Not sure if this is ignition, fueling, or what – I fear I might have loosened a wire moving that misplaced hose or something, or maybe it just needs the idle adjusted or something?
Either of you guys experience anything similar? They're going to have a look at my initial service.
From "J.W." (December 5, 2012): "Well, I had to go back to the dealer and get my first service (the first one they're doing to a C bike) a hundred miles early at 500 miles yesterday.
That's because the fueling problem suddenly returned and got worse and the bike died on me a dozen times before 1pm, including in their parking lot twice when I got there (once to demonstrate while they watched).
It was happening with some consistency when shutting off the throttle immediately after giving it gas at low speed (like 5-15mph). Will let you guys know what they find."
From "J.W." (December 14, 2012): "I got the bike back Wednesday.
They had re-adapted the FI programming, rerouted the charcoal canister hose, checked the side stand sensor and idle vent hose, etc., but could find no cause for the stalling, and could no longer replicate it.
The bike seemed to be running smoother and maybe even more powerful when I brought it home – fingers crossed it stays that way!
Reply from Rick: "Wow, interesting. Could it have been bad gas, or water in the gas? Maybe a can of gas water remover might be in order."
From "J.W.": "Though this was my first thought too, I now doubt it was bad gas given that other people are experiencing the same – enough that BMW had suggestions and said they'd seen it before to my dealer.
Also in the scooter thread on the BMWMOA forum, another one of the half dozen or so owner posters posted today that his bike had died a few times in a row on him."
Also from "J.W.": "BTW, I read the blog, and my experience was consistent with someone else's too.
The first several times something happened with it, each time, I had ridden it for some distance, then turned it off for a bit, then turned it back on (going to get a cup of coffee, breakfast, or the grocery store), as opposed to the first start-up of the day.
I can't recall if this was the case for the last and most severe occurrence (happened a dozen times or more that morning before I took it to the dealer), but this may be meaningful.
Note:
 For informational use only. All material and photographs are Copyright © webWorld International, LLC since 2000. All rights reserved. See the webBikeWorld® 
Site Info page
. Product specifications, features and details may change or differ from our descriptions. Always check before purchasing. Read the
Terms and Conditions
!
Other WebBikeWorld Articles Posts