BMW Motorrad has been toying with the idea of an electric motorcycle for some time and has now revealed the working E-Power Roadster prototype at a small media event.
For now it's called the E-Power Roadster and it is the first time an electric BMW motorcycle has been ridden by journalists.
However, it's still a long way from production. Thank god! At the moment it looks hideous and heavy!
This hefty 289kg prototype seems to have been built just to show journalists that they can make an electric motorcycle.
The Bavarian company has been making their electric C-Evolution scooter for some years now, but this is their first working electric motorcycle prototype.
This E-Power Roadster is made up of existing BMW models with the front end from an S 1000 R and the rear from a R 1200 RS.
Bulky prototype
The small media event follows the recent release of a patent drawing that has little resemblance to the bulky prototype.
BMW as also unveiled several electric concepts over the past few years:  the boxer-style Vision DC Roadster unveiled in June 2019, the Concept Link electric scooter and the electric S 1000 RR concept called the eRR.
E-Power Roadster
The E-Power Roadster is powered by a 13kW battery and a 101kW/199Nm electric motor from a 7 Series car.
Despite its 289kg of bulk, BMW claims the bike will dart to 100km/h in 2.9 seconds which is 0.1 seconds faster than Harley-Davidson's LiveWire.
They also claim it can be fast charged at 5km of range every minute which means 20 minutes for a 100km charge.
Despite its bulk, maximum range seems to be only about 160km and we're not sure wether that is on the highway or in the city.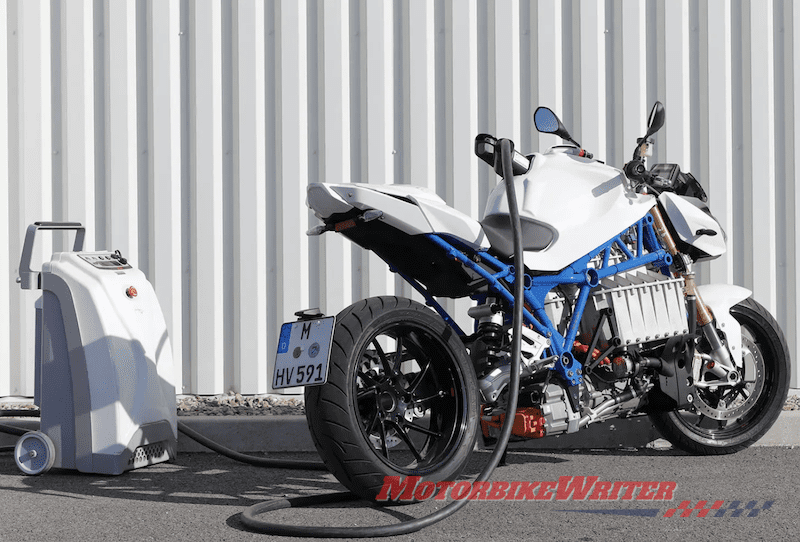 BMW hasn't provided a lot of technical detail, but it compares with Harley's 152km (highway) and 235km (city range).
However, neither is anywhere near Energica's claimed 400km.
BMW Motorrad boss Christoph Lischka says they will only produce the bike if they can get close to 300km of range.
In 2018, BMW Motorrad managing director Stephan Schaller said electric motorcycles were "not in their immediate future".
In 2017, BMW Group Australia boss Marc Werner said Australia was not ready yet for electric motorcycles and scooters.
He said we needed tax incentives, import subsidies and/or charging infrastructure to catch up with the rest of the world on low-emissions vehicles.