The BMW R65 Monoshock "Airhead"
Here are photos (below) of my rare "monoshock". It's a 1986 BMW R65 with the accessory BMW oil cooler. It has all the benefits of a classic "Airhead", but with the amenities of the later bikes.
BMW used the same frame on this bike as the R80, and the modern switches and forks similar to those offered on the same year K-bikes.
I completely went through this bike when I bought it from the second owner, who owned it for 10 years and put about 10k miles on it.
I completed a spline lube (report), installed new front brake pads (the rear shoes were in great condition), new throttle and clutch cables, and a new stainless steel braided brake line.
I had the Bing carbs rebuilt, installed a new air cleaner and spark plugs, adjusted the valves, and installed all new long-life light bulbs. The bike has Run-n-lights also.
I put on a set of Bridgestone BT45 tires, with a 110/80-18 front (more on choosing tire sizes) but have since switched back to the standard recommended size in the classic Metzeler Lasertec tires (review).
I also changed the transmission and drive shaft fluids using Valvoline synthetic 75w90 oil, and I changed the fork oil. I also installed a Westco sealed battery and replaced the coil with a new BMW unit.
The bike also has new steering head bearings and speedo cable installed by Bob's BMW. The bike handles great and revs like a champ — it's a true joy to ride. See my other Airhead, an '84 "Last Edition" BMW R100RS (since sold).
R65 Exhaust Systems
Boxup has Keihan exhausts for the R65 and R80 monoshock and others (Germany)  |  Keihan in England manufacturers exhaust systems for the R65 and other BMWs
wBW BMW R65 – BMW R65LS Articles:  Installing Progressive Fork Springs on a BMW R65  |  Bing carburetor silicone replacement gaskets  |  My BMW R65 "S" page  |  Installing a Harrison Billet Mini-6 front brake caliper on an R65  |  Installing a Progressive Suspension 420 shock on a BMW R65  |  Some useful R65 technical articles are listed above on this page and also on the wBWTechnical Articles Page  |  See the wBW technical article on choosing tire sizes for the R65  |  The R65.org site has good info on the R65; some of the links are broken, but useful all the same; the site includes an R65 related discussion group  |  The R65 registry  |  The R65 info site  |  Noemi Berry's R65 FAQ site is very useful  |  R45 – R65 shop manuals available at Mercian Manuals; search for "BMW"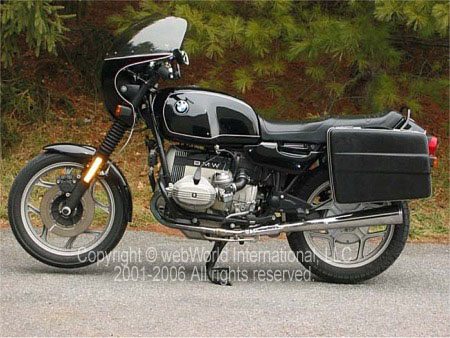 R65 Brake Light Switch
Gerry B.'s tips for a replacement brake light switch for a BMW R65 – "I needed a new hydraulic brake light switch for the front brake on my 79 R65. (I heard that there is a) VW substitution.
I checked the IBMWR substitution page and found a message from Andrew Clark that says: for R100/7 "Front brake switch – identical to the two prong brake switch used on all 12 Volt air-cooled and early water-cooled VW's".
Three prong switches can also be used, just find the two prongs without continuity to connect the two wires to."
I bought a switch a a local Advance Auto. It is for a 1963-1970 VW Part: GP Sorensen 37-5036 It is two prong and identical to the old switch. There was a good large picture of it on the Advance Auto fiche.
At another local parts shop and there were two Bosch switches listed: Bosch 0344004001 VW 70-63 Bosch 0344004003 VW 91-61.
The pictures were very small in his paper catalog. Looked to me like the first one 0344004001 VW 70-63 is the correct part.
Installation was easy once I was able to fit the socket wrench with extension into the limited work space. Old one was in there very tight. I replaced it as soon as I got it out and there were just one or two drops of fluid to clean up. I don't think I will have to bleed the brakes — thank you very much."
Master Listing of All wBW Motorcycle Product Reviews
Note:
 For informational use only. All material and photographs are Copyright © webWorld International, LLC since 2000. All rights reserved. See the webBikeWorld® 
Site Info page
. Product specifications, features and details may change or differ from our descriptions. Always check before purchasing. Read the
Terms and Conditions
!
Owner Comments and Feedback