This wild Japanese custom BMW R18 seems to hint that the normally conservative Bavarian company may be considering a 1.8-litre boxer engine.
BMW has a history of handing over custom builds to outside design houses that eventually turn into production models.
A prominent example is the R nineT which started as the Concept Ninety by Roland Sands Designs in LA.
This time, BMW has handed over an unidentified boxer pushrod engine to Custom Works Zon of Japan who built an entire bike around it.
R18 custom
The fact that it is called an R18 could be a reference to 2018 or could indicate it may be a 1.8-litre boxer unit.
Unlike the new R 1250 ShiftCam models, it doesn't have liquid cooling, but oil and air-cooled heads.
Click here for Aussie pricing on the new R 1250 models.
They are chromed on the outside and have a similar fin design to the 1960s boxer engines from BMW.
BMW says: "Further details about the engine and its possible future use will be communicated at a later point in time."
The custom R18 project is pretty wild and we don't expect BMW to produce a bike with such a small tank to go with a 1.8-litre engine.
Other confronting design elements include 21" and 26" wheels, solid aluminium girder forks, steel pipe swingarm or concealed Softail-style suspension.
Nostalgia
However, the R18 follows the recent equally wild Nmoto Nostalgia based on the R nineT, so maybe BMW is developing some designer mojo.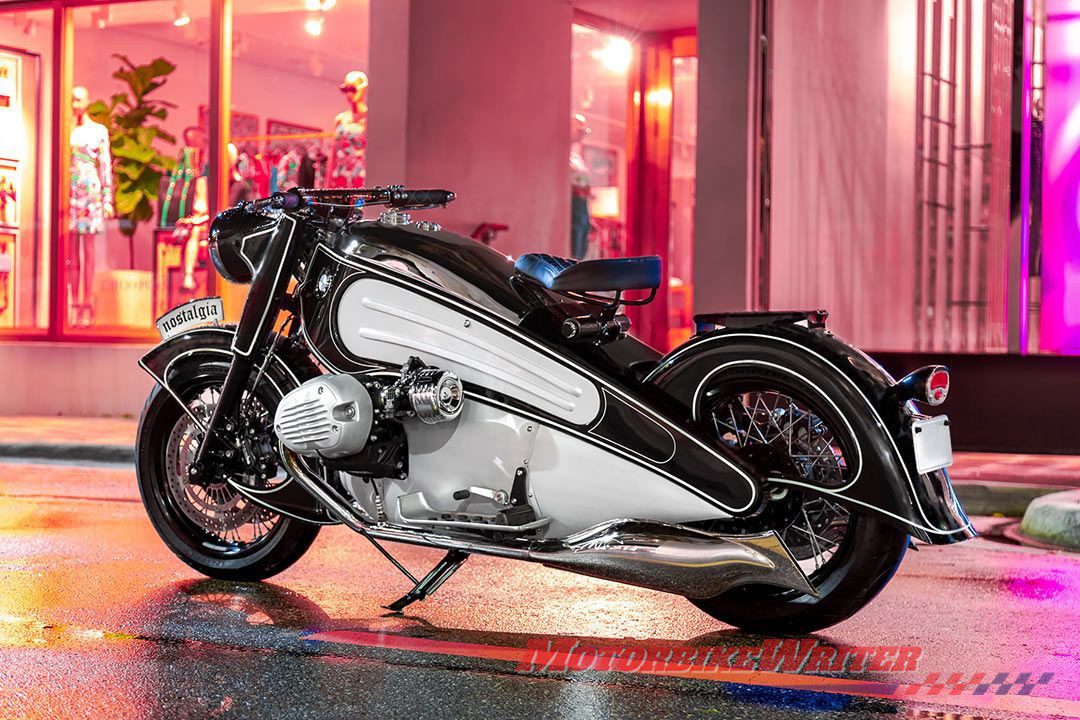 That would be welcome considering BMW tends to lean toward more conservative designs.
Like the Nmoto, the R18 draws heavily on BMW models from early years.
Retro and nostalgia bikes are big business at the moment. Triumph is having enormous success with its Bonneville dozen-model range, Ducati's Scrambler has become their top seller, Kawasaki has won hearts with its Z900RS and BMW has had enormous success with its R nineT.