It appears BMW is reaching out to the custom bike industry with its R nineT roadster.
First, the styling project was handed over to LA's Roland Sands and now the Germans have asked four Japanese custom builders to have a go with the finished product.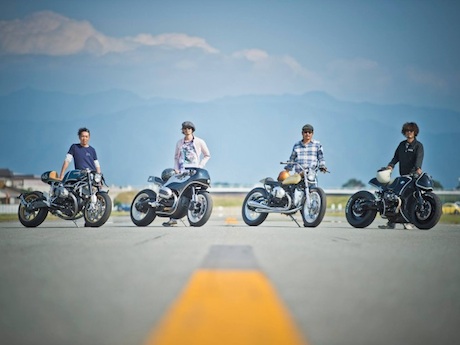 Unfortunately, Roland's beautiful Concept 90 bike was vastly changed for the production model R nineT and I've landed in trouble with BMW Motorrad Australia for daring to suggest that was a mistake.
However, it seems the German designers are fishing around for more inspiration which is a good thing, so long as they don't override the designs with their Germanic ways.
Anyway, the four Japanese designers came up with vastly different designs, based on the production R nineT. Interestingly, all four have eschewed the gold upside down forks, one even going with skinny conventional forks!
The production R nineT was especially made with the notion of owners customising the bike, so they made it easier for them with a pillion subframe that comes off after removing six bolts. Take off a few more and you can remove the back seat. You can also add a cafe racer seat hump and there are factory kits available to change the angle of the exhaust.
But the Japanese went a lot further than that with totally remodelled fuel tanks, different headlights and wheels, highly modified and re-routed exhausts, drum front brakes, and two builders even adding fairings, cowls and bibs.
Check out the bikes below and tell me what's your favourite custom version. Or do you prefer the production R nineT?