BMW continues to toy with customers' hearts and minds with their latest concept, the Paris-Dakar rallye "Lac Rose" (pink lake) for the 2016 Wheels & Waves Festival.
But there is a deal of hope that something like this beautiful retro scrambler/adventurer/rallye bike will go into production.
After all, last year the Bavarian company showcased their Scrambler concept complete with a surfboard rack and later this year they will start producing an R nineT Scrambler.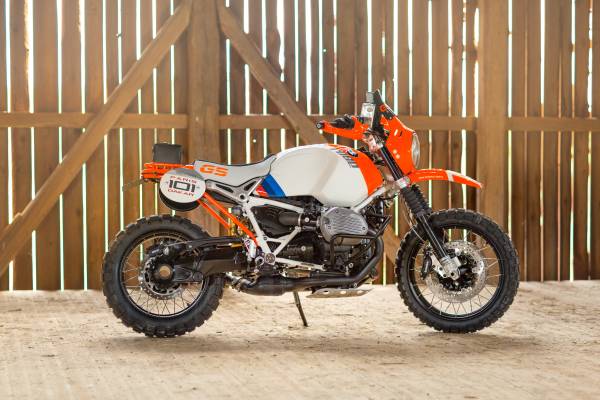 It follows other concepts that have morphed into production bikes, albeit toned-down versions.
Unfortunately, we don't think the recent R5 hommage concept will ever go into production.
The GS version is expected to be one of three retro production bikes based on the R nineT that will be revealed at the EICMA show in Milan in November.
They are expected to be a GS, a half-faired sports bike like the R 90 RS and the Roland Sands Concept Ninety and a more basic model with more modification options.
The GS may look very much like this Paris-Dakar rallye Lac Rose custom which is based on the air-cooled R nineT.
It features the BMW motorsport colour scheme, conventional gatored forks, longer-travel suspension with Ohlins rear shock, knobby off-road tyres, upswept single exhaust pipe, shorty Dakar screen, solo seat, retro-painted tank, side-mounted race plate, high front fender, bash plate, and engine and handlebar protection.
They've turned the ultra modern R nineT into a retro rally bike similar to the original 1980 R 80 GS that won the Paris-Dakar Rally four times between 1981 and '85.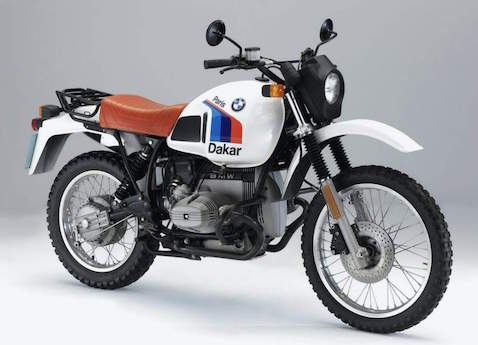 Edgard Heinrich, Head of Design at BMW Motorrad says the R nineT has become a popular bike for customisers.
"The BMW Motorrad Concept Lac Rose is our laid-back and very individual interpretation of the bike that won the Paris-Dakar Rallye in 1985 – fully in line with the spirit of Wheels & Waves and its visitors. It puts the BMW R nineT into an exciting new context and shows what passion for our brand heritage, imagination and a few modifications can achieve."
It will be displayed at the fifth annual Wheels & Waves Festival in Biarritz on the French Atlantic coast which has become a showcase for Europe's – and the world's – finest custom bike builders.
"Inspired by the past Paris-Dakar Rallye heroes and their victorious BMW machines, BMW Motorrad is showing a completely new interpretation of the BMW R nineT perfectly in line with the spirit of the Wheels & Waves Festival. Its name: the BMW Motorrad Concept Lac Rose."
Just build it!
What do you think? Leave your comments in the "leave a reply" section at the bottom of this page.