BMW Motorrad is unabashedly chasing the American cruiser/touring market with its feet-forward Grand America full-dresser version of the K 12600 B.
The lowered bagger was unveiled tonight at the EICMA motorcycle show in Milan and it's more than just the K 1600 B with a top box.
Features include all-LED lighting including a brake light in the top box integrated with the panniers, big floorboards, reverse assist and Dynamic Electronic Suspension Adjustment.
The ESA is adjusted for American cruising with a special Cruise mode for softer damper settings and "pronounced comfort".
It comes in Austin Yellow metallic and Blackstorm metallic and there is plenty of chrome accents to satisfy the Yanks.
Like all K 1600 models, the Grand America is powered by the compact six-cylinder engine with 118kW/160hp at 7750rpm and 175Nm of torque at 5250rpm.
However, BMW says the top speed is limited.
Based on the principle of "The American Way of Riding", the top speed is limited to 162 km/h or 101 mph. This takes into account the fact that customisation with additional fittings in the rear section – as is popular in this vehicle segment – can impact significantly on wheel load distribution, so in terms of riding dynamics, stability and safety are guaranteed in all situations.
Standard equipment on the Grand America includes engine protection bars, heated grips, seat heating, cruise control and quick shifter.
Touring capabilities are ensured with a high windshield and integrated air ducting to supply the rider with fresh air.
It's just the tool BMW needs to crack the Goldwing market in America. It arrives at the right time as Honda has stepped up its act with the more lithe 2018 Goldwing.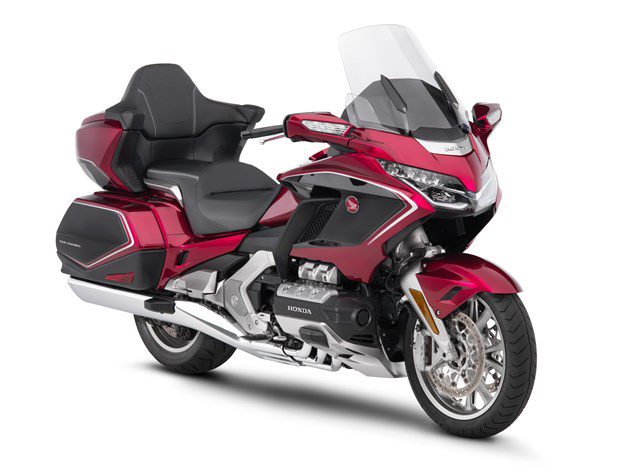 Options include Shift Assistant Pro, the eCall system Intelligent Emergency Call available in European markets with ConnectedDrive capability, the Comfort Package, the Safety Package, various seat heights and forged handlebars. There are also plenty of BMW Motorrad Accessories available for customisation.
There is no word yet from BMW Motorrad Australia on arrival dates or pricing.
Financial result
The Grand America unveiling comes as BMW Motorrad has announced more than 10.1% growth in sales to 127,818 in the first nine months of the year.
BMW Group also says they are on course this year to deliver 100,000 electric vehicles including their C-evolution scooters and will offer 25 electrified models by 2025.