On This Page:  New for 2005  |  BMW F650GS Dakar  |  F650GS Accessories
More:  F650GS motorcycle parts at Eurotech Motorsports  |  Photos courtesy BMW AG – BMW North America
Narrowly focused sportbikes to the left, massively overwrought tourers to the right…is there any place left for the simple, do-it-all motorcycle?
Sure there is, and far from becoming an endangered species, the lightweight enduro – a kind of motorcycle that embodies off-road capabilities alongside roadworthy manners tailored to please experienced and beginning riders alike – has become immensely popular around the world.
Between 1995 and 2003, BMW has sold more than 110,000 F 650s, with 32 percent of the latest versions going to female riders worldwide). What's more, some 21 percent of F 650 buyers were new riders. And now, for the 2005 model year, BMW's entry in the amazing category returns refined, refreshed and ready to do business. Crossing continents, crossing boundaries
No motorcycle can do everything, but the BMW F 650 GS and the F 650 GS Dakar come close. Based on the fundamentally flexible "enduro" concept, the F 650 line has been carefully developed to meet a broad range of requirements, to enable cross-country travel in comfort as well as jaunts across town with consummate ease.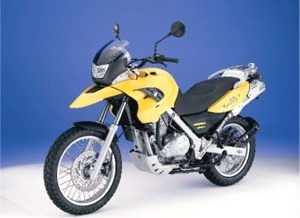 For example, the Dakar, with dirt-spec tire sizes and long-travel suspension, can truly be taken off road (unlike many similarly concepted but differently equipped enduros on the market) and yet sacrifices nothing in terms of on-road civility.
Central to this multi-role versatility is the F 650's relaxed, upright riding position that is the ideal compromise between on-road comfort and off-road control. For the new F 650 GS and F 650 GS Dakar, BMW has focused on improving the bike's ergonomic profile and making it even kinder to beginning and returning riders.
To this end, a new clutch lever featuring incremental span adjustments that provide riders with smaller hands improved control and comfort (an adjustable brake lever continues as standard.)
New this year are myriad seating options for both the F 650 GS and the F 650 GS Dakar.
The GS comes with a standard low seat, and yet there is the option for an even lower seat height – as a no-cost option, the GS can be modified by the dealer with a different rear suspension link that, working in concert with repositioned fork tubes, reduces seat height to 29.5 in. (750mm).
In addition, a taller seat is available for the GS that provides taller riders with extra legroom. A lower dual seat is available for the Dakar that reduces seat height 0.8 in. (20mm).
The GS's overall compact dimensions are made possible by a slender engine and a fuel tank located under the seat. Not only does this placement improve chassis packaging, it dramatically reduces the bike's overall center of gravity, making the GS feel smaller and lighter – considerations critical to the beginning rider.
New for 2005
This year, the F 650 GS and F 650 GS Dakar have new bodywork placed upon the strong and durable steel frame. A new clear-lens headlight puts more illumination on the road and works with entirely new windscreens to improve weather and wind protection. (Both screens may be removed for off-road use. In addition, a clear version of the taller screen fitted to the Dakar is available for the standard GS.)
Revised inserts alongside what would normally be the fuel tank distinguish the new model and improve cooling by allowing more air past the oil cooler (the fuel cell is located under the rider's seat for lowered center of gravity and improved handling.) Finally, the rear luggage rack has been redesigned to accept an optional top case without an adapter plate, as required in the past.
F Series- 2 Spark ignition for 2005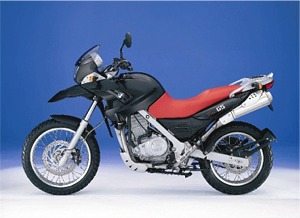 The F 650 is powered by a BMW-designed, single-cylinder engine embodying technologies not seen on other "thumpers." For 2005, the engine's technological resume stretches to include 2 Spark ignition for the four-valve cylinder head and a new and advanced BMS-C II computerized engine-control unit that dynamically manages spark and fuel delivery to suit any riding condition.
With these improvements, the liquid-cooled, 652cc engine produces fewer harmful exhaust emissions, is more fuel efficient, and has a torque peak at 4800 rpm instead of the previous model's 5000 rpm.
In addition, the 2 Spark ignition system offers increased drivability, stronger mid-throttle response and greater engine flexibility.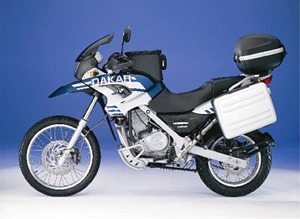 As before, the GS uses a three-way catalyst in the updated, stainless-steel exhaust system to meet the stringent Euro2 exhaust emissions requirements
F 650 GS Dakar – True Off-Road Intentions
In addition to the standard F 650 GS – a model intended for mainly on-road escapades yet still more than capable of trips off the tarmac – BMW offers the F 650 GS Dakar.
More than special paint, the Dakar embraces true off-the-beaten-path adventures with longer-travel suspension and special wheels sized to carry traditional dirt-oriented tires. Owing to the higher natural riding position, the GS Dakar sports a taller tinted windscreen that can be easily removed for off-highway treks.
Although the GS and GS Dakar may see different missions, they are both available with BMW's advanced ABS system, the only such single-cylinder bikes in this category for which this is true. To optimize the system for off-road use, the ABS may be switched off via a cockpit-mounted switch.
BMW Accessories
BMW owners, even those new to the fold, are staunch individualists, which is why there are so many options and accessories available for the new F 650 GS and F 650 GS Dakar. These include:
ABS II with rider-selectable defeat – This system is available on both the F 650 GS and GS Dakar.

Multiple seats – For the F 650 GS, there is a taller dual seat as well as a lowered-suspension option using the standard seat. For the Dakar, there is a lowered seat. Either the GS or the Dakar can be fitted with a special black single seat with luggage rack that provides the same seat height as the standard saddle.

Luggage – Several soft- and hard-luggage options, including variable-thickness hard saddlebags (Vario), soft bags for passenger seat and luggage rack, a hard top case, as well as liners for the hard bags.

Windscreen – A taller windscreen for the F 650 GS, similar to the F 650 GS Dakar's.

New hand guards

Heated hand grips

Anti-theft alarm

Engine protection kit

On-board computer installation kit.