2014 will be an epic year for the BMW Safari which celebrates its 20th anniversary.
There will be three Australian safaris highlighted by the challenging eight-day GS Safari-Enduro from Darwin to Cairns from July 13 to 21.
While it is called an Enduro, that refers to the length, not the degree of difficulty.
Organisers say it will not be as tough as this year's Enduro, or the Flinders Ranges or Cape York safaris of recent years, although it will have a small amount of sand.
The 2014 TS Safari in Tasmania runs from November 2 to 8 with a special anniversary dinner on the Saturday evening combined with the GS riders who start their Safari in Tassie on November 8 and finish on November 14.
Bookings for both Tasmanian events will open in the first half of 2014.
Meanwhile, the International GS Trophy, held every two years since 2008,  will be held in the northern hemisphere for the first time in 2014.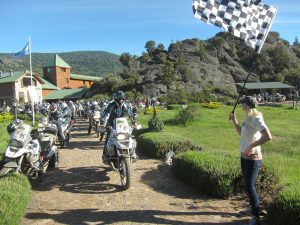 It allows BMW GS riders from around the world to compete on motorcycles and in other disciplines.It has been held in Africa and South America, but in September, it will be held in Canada.
Sixteen teams with riders from at least 18 nations will spend nine days battling it out at the "GS riders' Olympics" in western Canada.
The Trophy started with five teams in Tunisia in 2008, doubled in southern Africa in 2010 and grew to 15 teams in Chile and Argentina in 2012.
Confirmed teams come from Germany, France, Italy, the UK, Russia, Austria/Switzerland, Central Eastern Europe, the USA, Mexico, Latin America, Argentina, Brazil, South Africa, Japan and Canada. None has yet nominated from Australia.
While the BMW Motorrad GS Trophy was previously always held using the BMW F 800 GS, participants in Canada will ride the new R 1200 GS – the first time for a boxer GS.
Further information on the GS Trophy 2014 will be available shortly here.  www.gstrophy.com
For highlights of the GS Trophy 2012, watch this.