BMW Adventure Bags Review Summary
BMW Adventure Bags Image Gallery
The BMW Adventure Saddlebag Liner dry bags are big, bold and meant to go the distance, just like the BMW R1200GS Adventure machine that they are designed for.
They also fit perfectly in or on the BMW Adventure pannier system.
As a soft compressible dry bag, their uses on or off a motorcycle are almost endless.
As we head towards the end of the year, the weather changes — sometimes dramatically.
Here in Canada, what was a damp summer seems to be evolving into a very wet fall, interspersed with spells of the hoped-for autumn weather with cool sunny days and brilliant but falling foliage.
The cool weather and autumn scenery seems to urge motorcyclists to hit the road, even if for short trips of a few days or over a weekend.
But being prepared, especially in an environment that is too often wet, raises the issue of how to carry essential pieces of gear.
This includes personal clothing and the various and sundry toys and tools we all carry around, with the aim of keeping it all dry.
Lacking infinite storage capacity within a hard case container of some sort, or just simply doing without the bulk and weight of hard luggage, many of us prefer to pack our stuff in soft luggage — an option that can reduce weight and bulk and, add versatility in loading and carrying cargo and, be very cost effective.
Most good soft luggage (using a generic term) is or can be multi-purpose. It can be loaded in saddlebags or panniers, strapped securely to a back-rack or seat or worn on the back and when a destination is via some mode other than a motorcycle the right soft luggage can fulfill those cargo carrying duties as well.
I own and use a lot of bags; hard and soft and most specific to motorcycling. Thus, in addition to the hard-style saddlebags and aluminum panniers, an abundance of soft bags in various shapes and sizes reside downstairs or on the "ready" shelves in my garage. And all of them possess a common feature: they are either water-resistant or fully water-proof.
In producing a piece of soft luggage that can see a multitude of applications, the designer has multiple requirements to address. And of these requirements, I view durability and integrity as two of the most critical.
Durability or resistance to failure is something that we often take for granted in motorcycle-oriented soft luggage, but we don't always get it, no matter the expense. And we don't always get the integrity we seek, particularly when it comes to keeping moisture out. Again, cost is no guarantee.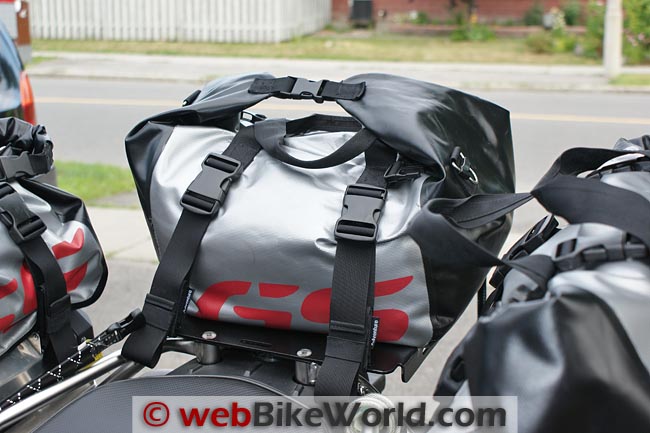 BMW Saddlebag Liners: "Adventure Dry Bags"
And that brings us to the point of the matter: dry bags. Glenn's review of the Giant Loop Dry Bags (review) provided excellent insight into what a "dry bag" should be and as importantly, how to use it correctly.
I own several dry bags, including the Kriega Drypack Luggage (review) that is absolutely waterproof and also a Giant Loop Coyote Saddlebag (review). But I have to admit that the dry bags I purchased early this summer are my (current) favourites for so many applications.
They are variously known as the BMW "Inside Bag (Watertight) for R1200GS Adventure" (per the product sheet that came with the bags); the "Functional Inner Bag for Aluminum Pannier"; the "Functional Inner Bag for Aluminum Top Box"; the "BMW Adventure Saddlebag Liner"; or by their street name, the "BMW Adventure Bags".
I had to smile when first reading the enclosed product sheet that comes in each of the BMW Adventure bags. It was the "Inside Bag (Watertight)" statement that set me off. Yes, the bags can be used inside the BMW Adventure panniers, but these large quality bags actually seem better suited for life in the outside world.
The BMW Adventure bag liners are a relatively new product offering, at least for us up here north of the Canada/U.S. border. Our local BMW Motorrad dealer had ordered a set, which consists of three bags (left and right aluminum panniers and the top box bag) for an owner of a BMW R1200GS Adventure that is equipped with all three pieces of the BMW Adventure aluminum pannier luggage system.
I was lucky enough to get an early viewing while they were being unpacked, and believe me, they provide an outstanding first impression — their size, the great colour scheme and the obviously robust build are very much in keeping with the premium BMW Adventure series of equipment.
While the BMW Adventure bag liners can be purchased separately for right, left and topcase luggage duties, it is slightly more cost effective (albeit still expensive) to purchase all three in the set. In subsequently debating (for a few milliseconds) whether to get one or three, my mantra "One is good but more is better" kicked in. A week later, a big package holding all three bags was being handed to me over the counter…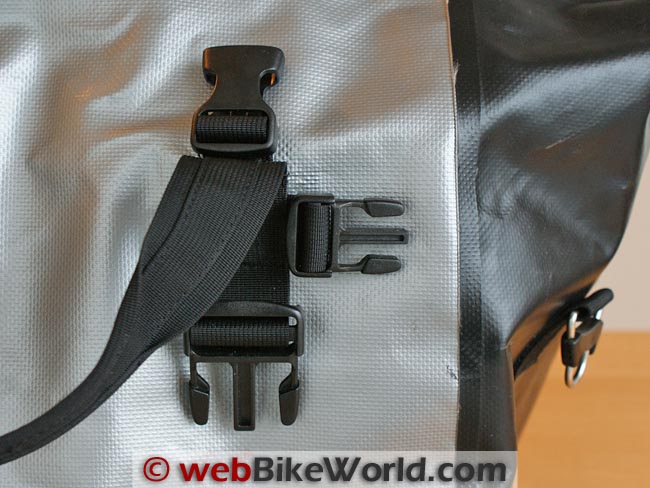 Top vs. Side Loading Dry Bags
The BMW Adventure bags are of the "valise" style and they are also "dry bags". The valise style means they have enough shape and substance to almost stand on their own, and they also have luggage-type openings, different from "normal" dry bags, like the Giant Loop Dry Bags (review)reviewed previously.
The valise style gives these rectangular or rounder-shaped bags a full or near full-length opening. This means that wide-mouth throats of the BMW Adventure bags provide easy access to contents, as opposed to the more restricted access provided by tube-style dry bags that open at one end only.
Immersible dry bags provide an air-tight seal using different techniques; one of these is to use a pressure seal similar to that seen on freezer bags, providing a very positive seal if used correctly. Another technique combines the use of a self-sealing zipper and a minimum number of "rolls" of the dry bag. This is the approach taken with the BMW Adventure Dry Bags.
There are many different dry bags on the market and several different techniques to satisfy the water-resistant or water-proof objectives. While tube-style bags are simpler, some planning will be required to ensure access to the gear you'll need, and thus layering is needed when filling them.
On the other hand, a bag with a large zippered opening on top provides easy access but typically requires a bit more complexity to get the necessary seal.
The BMW Adventure Dry Bags do not have a pressure seal, but they do have a full length heavy-duty self-sealing water-resistant zipper that by itself creates a near air-tight environment. And when combined with the roll-top and clip features, the bag is totally waterproof…and a viable flotation device (tested by moi!).
BMW Adventure Dry Bags: Details
Made of thick PVC, the BMW Adventure bags have heavy stitching with every seam or reinforcement point "welded" to provide the necessary waterproof integrity for a dry bag. Wherever there is an attachment point of some sort, additional reinforcement material and another "welded" patch is used.
As stated previously, these bags will almost stand up on their own due to the heavy material used, the strong welded seams and the multi-part nylon stiffeners around the opening of each bag. Close the zipper and trap a bit of air inside and the bag maintains its shape — a characteristic that really facilitates packing.
The two pannier bags and the bag for the top box appear to be nearly the same size. But one top inner rim of each bag is clearly marked with "Left", "Right" or "Topcase" for identification purposes (the BMW panniers are different sizes due to the muffler).
But no matter whether which bag you're looking at, there is no denying the capacity; each bag can hold a lot of stuff, especially if used as a standard zipped carry bag. The capacity of each bag is tempered by how much space must be left at the top (and sides) to allow two or three "rolls" to be created for sealing purposes and the small fasteners that hold it tight.
Reflecting their design for use with the R1200 GS/GS Adventure aluminum pannier system, the dimensions of the three dry bags are sized for internal fitment with the BMW Adventure panniers that hold 38L (left), 44L (right) and 32L (topcase).
The right side bag is the largest at 46 cm (18″) high x 65 cm (26″) wide, with a 57 cm (22.5″) long zipper. The left bag is the same length but it is narrower, at 59 cm (23″) wide. It has a 51 cm (20″) long zipper. The topcase bag has a square shape. It measures 38 cm (15″) high x 63 cm (25″) wide, with a 55 cm (21.5″) long zipper.
If the dry bags are sized up for external use, like mine typically are, the following approximate footprint measurements might help: Right: 40 cm x 26 cm (15.7″ x 10.2″). Left: 40 cm x 20 cm (15.7″ x 7.8″). Topcase: 33 cm x 30 cm (12.9″ x 11.8″).
Mounting the BMW Adventure Bags
One of the best features of the BMW Adventure bags is their ability to "mount up". Like other good large storage or dry bags, these bags have their own mounting system; in this case it is four heavy duty attachment points with matching adjustable mounting straps.
The straps reflect typical BMW (over) design and functionality. Each is 43.5 cm long by 3.7 cm (17.1″ x 1.45″) wide with strong 45 mm Fastex-style connectors.
One end of the strap features a three panel hook-and-loop over-flap for looping over or around whatever, with the other end sporting a male or female connector for use with its counterpart on the bag. The loop portion of the strap is stiff, but it's pliable enough to loop around frame tubes, pannier brackets or accessory components.
Once mounted, the other end is snapped into its partner on the bag and the adjustable straps cinched up to provide tension. Elastic keepers stitched on the over-flap section provide the means to keep excess strap secured.
Smaller 30 mm (1.2″) Fastex-style connectors are stitched into the top end of each bag with two more, at 90 degrees to each other (one horizontal and one vertical), stitched into the common harness of the four primary mounting points. These smaller connectors are an essential part of the overall approach to sealing the bag. Once the bag is properly rolled (at least twice), the fasteners (buckles) need to be connected to complete the overall sealing process.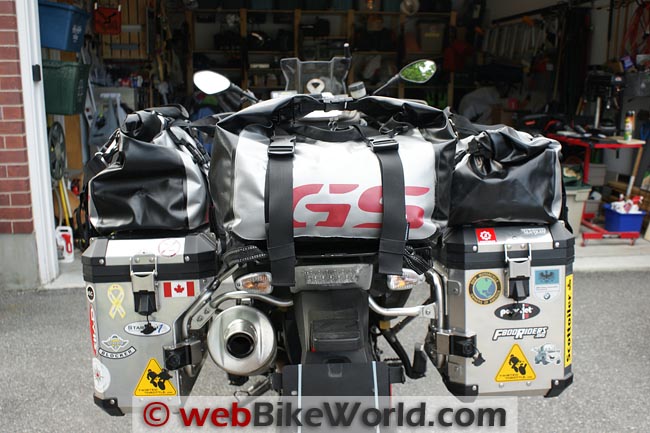 Closing and Loading the BMW Adventure Dry Bags
I always use the vertically oriented fasteners to secure the roll across the top and pull the upper side walls together. This is followed by either snapping the horizontal connectors to their counterparts on the ends which creates a pressure edge (seal) at the end.
Alternatively, the two end connectors can be snapped together forming a somewhat crab-like arrangement. The "best" configuration may seem somewhat elusive, so it pays to spend some time in varying the load, doing the rolls and using the connectors in all of their possible configurations — some experimentation will pay off.
And finally, when loading or unloading these bags, in addition to the comfortable carry handles, heavy-duty clip rings on each end wall of the bags come into play along with the provided shoulder straps. I usually leave the shoulder straps mounted and secured under or between the bags so they don't flap around. These shoulder strap attachment points also make suitable heavy duty mounting points if additional strapping is needed to secure the bag or bags.
The bags can also be connected together using the large fasteners. Admittedly the bags do not have any additional strap connections or loop points other than those identified, but I'm not sure, given how easy the bags secure to almost anything now, how useful additional points would be.
I actually did one test load with all three bags (Left, Top and Right), interconnected and laid across the rear portion of a BMW F 800 GS seat and panniers. The two outside bags were strapped to the outside luggage fasteners on the lids of the Adventure panniers, as designed. A set of ROK straps provided additional security for the combination, mounted in a cross-over layout.
The result? Close to 100 litres of storage space and with all three bags packed with light highly compressible items the result was a well-balanced, secure and safe load.
Don't forget, however, that any of these bags can hold a lot of gear and if used externally the potential to overload them and thus create an unsafe luggage environment exists, no matter how well mounted and secured the bags are.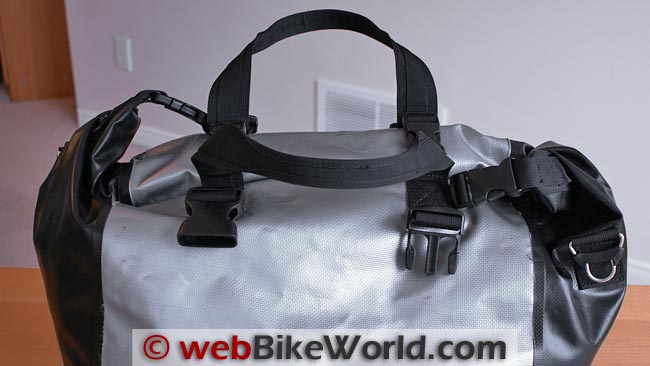 Conclusion
I prefer soft luggage — especially the dry bag variety — be it large or small, round, square or valise style. There is nothing wimpy about the BMW Adventure bags, and whether used as inner or outer bags they do the job and they are easily on par with any other large dry bag I have seen or used.
I use the Topcase bag daily to carry, secure and keep dry all the riding gear used at work, while the two larger bags are continually cycled between motorcycles, functioning as the primary bag or augmenting panniers or top-cases. With the straps mounted on a motorcycle it takes seconds to snap the bag in place and tighten it down.
As Glenn succinctly stated, "A good dry bag isn't cheap" and while there may be some exceptions to the rule, it is a good guideline, for the reason stated. The BMW Adventure dry bags are a perfect example of this; they aren't cheap, but then neither are some competitive products and against one or two of them the BMW bags are actually more cost effective.
w

BW

 Review: BMW Adventure Dry Bags
List Price (2012): $161.50 CAD
Made In: China
Colors: Black/silver/red combination.
Sizes:  Left: 38L; Right: 44L; Top Case: 32L
Review Date: January 2012
Note:
 For informational use only. All material and photographs are Copyright © webWorld International, LLC since 2000. All rights reserved. See the webBikeWorld® 
Site Info page
. Product specifications, features and details may change or differ from our descriptions. Always check before purchasing. Read the
Terms and Conditions
!
Owner Comments and Feedback
---
From "M.D." (February 2012):  "I can attest to the comments of "J" (below) that for a plainer look to avoid feeling like a riding billboard, the Ortlieb bags are super. They come in yellow (not sure if it's hi-viz) and black.
The Ortlieb site that "J" points to has a "where to buy" link (Note: Ortlieb products can be purchased through this webBikeWorld Amazon.com affiliate link and many different types/brands of waterproof motorcycle luggage are also available).
I wouldn't be the least bit surprised if it were found they manufactured the BMW bags.
I've also picked up some of their dri-bags at REI for camping, and they work just as well. I did purchase the BMW tail bag for my RT (not the ones reviewed here, but the same materials), and it's so much easier to mount/unmount and carry that I rarely bother with the hard case at all.
That was a bargain compared to other BMW-branded gear at $170; buying at a New Hampshire dealer also saves the sales tax. Regarding the branding — I'd probably go for the "GS" bag if it didn't have it in huge red letters. But it does, so I won't."
---
From "D.S.C." (January 2012): "They look to be of good build quality with all the bells and whistles we have come to expect from BMW but I wonder how long they can keep over branding their products until most riders are turned off by the "Costume" that we BMW riders are forced to accept if we want some good quality BMW gear.
I am in the marketing business and it seems like they might be alienating their audience with these kind of things — they are me.
You don't see a BMW car guy walking around with BMW pants, jacket with huge logo or BMW luggage written in big red letters. Its disappointing as the gear is pretty darn good and industry leading.
Don't make me look like a chump by plastering a billboard on everything that you sell. These bags are a very good (or should I say poor) example of how to make us all look like geeks.
I like their products – In fact many of their suits are some of the best – notwithstanding the new Rally suit I have that leaks… 😉
However, they seem to be getting more and more overzealous about branding and given I have been creating brands for 20 something years now think they might have stretched it a bit much…
When I saw the bags and the huge red logo my first thought was "If I saw a guy riding an adventure with a BMW suit on and those bags, I would think geek…not rugged technical quality or Adventure".
And I have a BMW suit and an Adventure, so I am not too far off am I?
One never ever wants to forget the core values of their brand. Even though we might be weekend adventurers that feel more comfortable in a set of loafers than sitting on top of Mt Rainer, we still want to think that is who we are when we hop on for a ride to the Starbucks.
By the way, awesome site and have been visiting almost daily for years now – keep up the good work."
---
From "J" (January 2012):  "Take a look at this (similar) bag at Louis (Europe). I have one of those in grey (now discounted, still in black) and I am very happy with it. Waterproof and under 20€.
I don't know if they serve to where you live (ok if you live in New Zealand or Niger but not to USA or Canada??) And the rest of products of Ortlieb seems very good also.
I would say that the "sponsored" (BMW bag) is also made by them, or the design is very close to the "Rack-Pack" one."