The annual Black Dog Ride is on in August with riders leaving from all around Australia and converging on Alice Springs.
Since 2009 the ride has raised awareness of depression and more than $900,000 in funds for mental health support programs.
It was started by Steve Andrews as one man's ride to raise awareness of depression but has evolved into a national movement of thousands of Australian riders.
One of those who will participate in this year's ride from August 17-23 is Michael Young (Youngie) of Brisbane who put together this little tribute to the ride: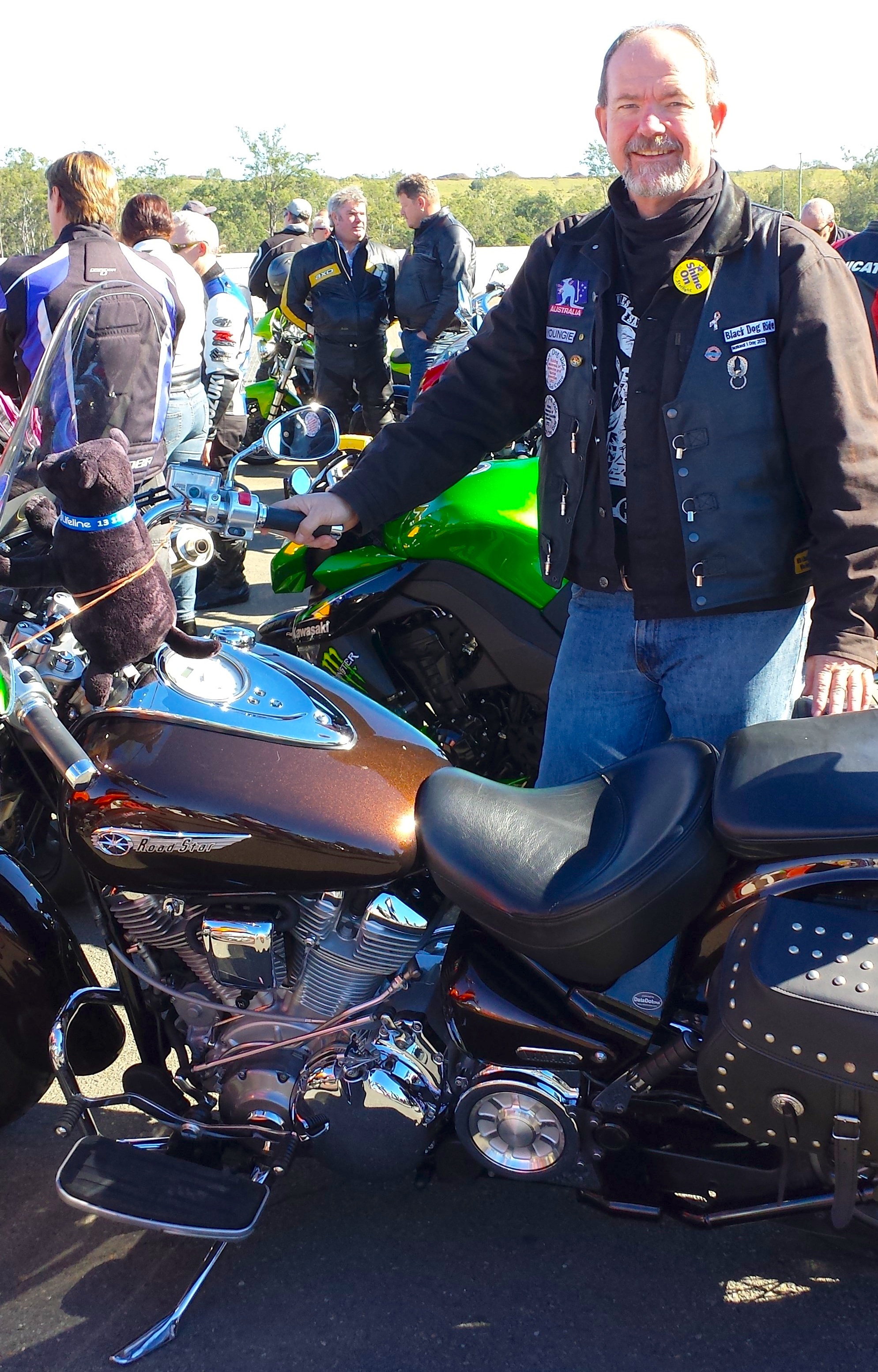 I joined the Black Dog one-day national ride in March 2012 at Sharks Leather, Helensvale. Initially I thought this was a great day for a ride and a way of supporting a charity as lot of bike riders do.
I then looked a bit deeper into the Black Dog Ride and the reasons behind why Steve Andrews was inspired to do what he has done and this struck a chord with me and it felt right to get on board with this cause.
I then signed up for the Red Centre Ride in August 2012. I think what impressed me the most about the ride was that there were over 300 bikes on the road and I did not see any fools, idiots or yahoos and everyone rode with distinction and made everyone feel welcome regardless of what you rode or where you came from. We were all there for the same cause a lot of friendships were formed which are still maintained today.
I first came became aware of depression and anxiety working within the emergency services including the ambulance service in the NT and state emergency services volunteers. I have seen the direct effect of depression and unfortunately was a responder to many that had committed suicide. Like everyone I knew it was there but did not know too much about it. A lot of research and support was going to illnesses and diseases that had more of a profile which are devastating themselves. Society and medical science has managed to move forward in leaps and bounds over the years, however mental health was still left in the background.
I have been a supporter of medical advancements all my life and have seen and received the benefits many times over, however one thing that appeared to be common in all diseases and illness is the mental health of those affected and the family and friends around them.
This struck home with me when my father was seriously injured which required him to give up work. He was in consistent pain for the rest of his life. He spiraled into depression for many years before he passed away. I saw the effects this had on him and my mother who now suffers from depression and anxiety, not only from this but has struggled with cancer and heart disease for the past several years. As a son, it is heart-breaking to watch your family struggle with this illness and not be able to do anything. I looked around for services to help them out but struggled at times to get people to understand it was not just the injuries/disease that needed treatment but also their mental health.
So when I came across the Black Dog Ride I found this as the perfect opportunity to give back and provide some support and spread the awareness of depression and anxiety in the community.
In 2013 I took on the role of state ride coordinator to help lead the Queensland team this year. There will be more than 55 riders departing Brisbane on August 17 from Rockers Classic Motorcycles, 130 Ryans Rd, Nundah, at 09.30am and heading to Bundaberg for the first leg. On the first night there will be a presentation from a member of Mental Health First Aid which are a recipient of funds raised this year in partnership with Lifeline.
From Bundaberg we will head north to Mackay, Charters Towers, Cloncurry, and Tennant Creek, joining up there with the NT. We finish in Alice Springs on Thursday, August 22, when we meet up with about 320 riders from around Australia. Nn the Friday we get together for a gala night to celebrate what we have achieved. This completes the official part of the ride. Riders then start the trip home in various ways and directions.
Registered Riders have been raising money through word and mouth within their friends, family and work colleagues also using social media. Many have had donation tins around different business running raffles and generally seeking community support.
Click here for my supporter page.
Mental Health First Aid Australia and Lifeline Australia are to be the co-beneficiaries of our fundraising efforts on this year's Ride to the Red Centre.
MHFA Australia will use their share of the funds raised by the Black Dog Ride to the Red Centre to train Mental Health First Aid instructors so that communities Australia wide benefit from enhanced awareness of mental health problems.
Lifeline will use money raised to develop and build the Online Crisis Support Chat, a free and confidential support service available to anyone in crisis right across the nation.
The ride to Alice Springs is booked out, however there is still time to join in. Spots are still open for what we call nightriders who can join in for one to three nights from anywhere in the state except Cloncurry, or day riders who may want to just do a couple of hours or so to be part of the cause.