Riders will return to the Red Centre in 2020 to celebrate 10 years since the establishment of the first Black Dog Ride in 2010.
This year's Around Australia Ride celebrated founder Steve Andrew's solo ride around Australia in 2009 to raise awareness for mental health issues.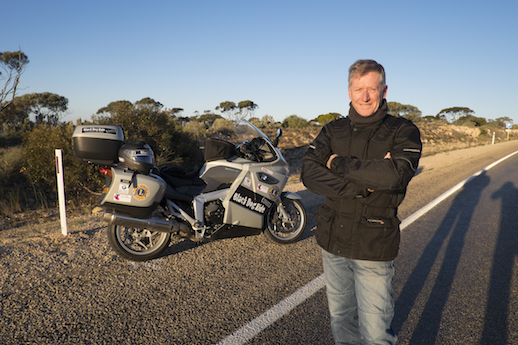 His epic ride was followed in 2010 by the first Black Dog Ride to the Red Centre.
Limited registrations are now open for the 10th Red Centre ride.
Richard Brown of Black Dog Ride Australia says they are "focussing heavily on making sure that people who come on the ride feel very welcomed, and that they have fun".
"Positive social connection/social relationships are very important when it comes to maintaining our mental health," he says.
"We want this experience to be a good example of the spirit of mateship for all who participate."
10 years on
Brian says the 10-year celebration dinner in Alice Springs should be "a real hoot".
He says they don't have the money for a "lavish" dinner, but participants will feel "a great sense of accomplishment for having made the journey", formed "some really nice relationships" and "feel part of something really special".
The following ride groups will join the Red Centre Ride:
The NSW/ACT ride group will travel through inland New South Wales, south through South Australia, and up the centre to Alice Springs. 

WA and SA ride groups will both travel through their respective states, then meet up in Port Augusta to travel the rest of the way to Alice Springs as a combined group.

The Vic/Tas ride group will be travelling north through inland New South Wales and Queensland, then across to the Northern Territory and south to Alice Springs.

The Qld/NT ride group will travel through inland Queensland, then across to the Northern Territory, picking up Territorians before heading south to Alice Springs.
To register, go to the Black Dog Ride Red Centre 2020 page and click on the state or territory group you'd like to join.
Primary focus
"Our primary purpose is raising awareness of depression and suicide prevention, so we plan to focus heavily on this," Richard says.
"That means riding into towns and either attending a pre-organised community events, or simply parking down a main street and talking with community. Often people wandering by will ask 'what's this all about?' or 'what's with the stuffed dogs?'
"So our participants literally get talking about mental health. Between all our state groups there will be just over 160 different town stops along the way."
There is no fundraising target and participants are not required to raise extra funds.
Over the past 10 years, more than $3million has been raised by Black Dog Ride with finds passed on to organisations such as Lifeline, Mental Health First Aid Australia and the Black Dog Institute, as well as many many small community based volunteer groups and not-for-profits.
Richard says they have new destinations in mind for future years, so 2020 could be the last opportunity to ride to the Red Centre for several years.