A bizarre court battle is looming between a Taiwan company that owns Italian motorcycle brand FB Mondial and a Brit who changed his name to his Italian roots and is developing a V5 MondialMoto (pictured).
The bizarre legal battle is titled "MondialMoto 2007 SRL v. FB Mondial".
Mondial history
Italian company FB Mondial produced bikes from 1948 to 1979, won 10 World Championships in the 1940s and '50s.
In 1979, Mondial stopped production and was temporarily revived in 1999 when it was bought by newspaper tycoon Roberto Ziletti. He spent €11m on the company which went broke in 2004.
It was revived again in 2015 by Aeon Motors Taiwan.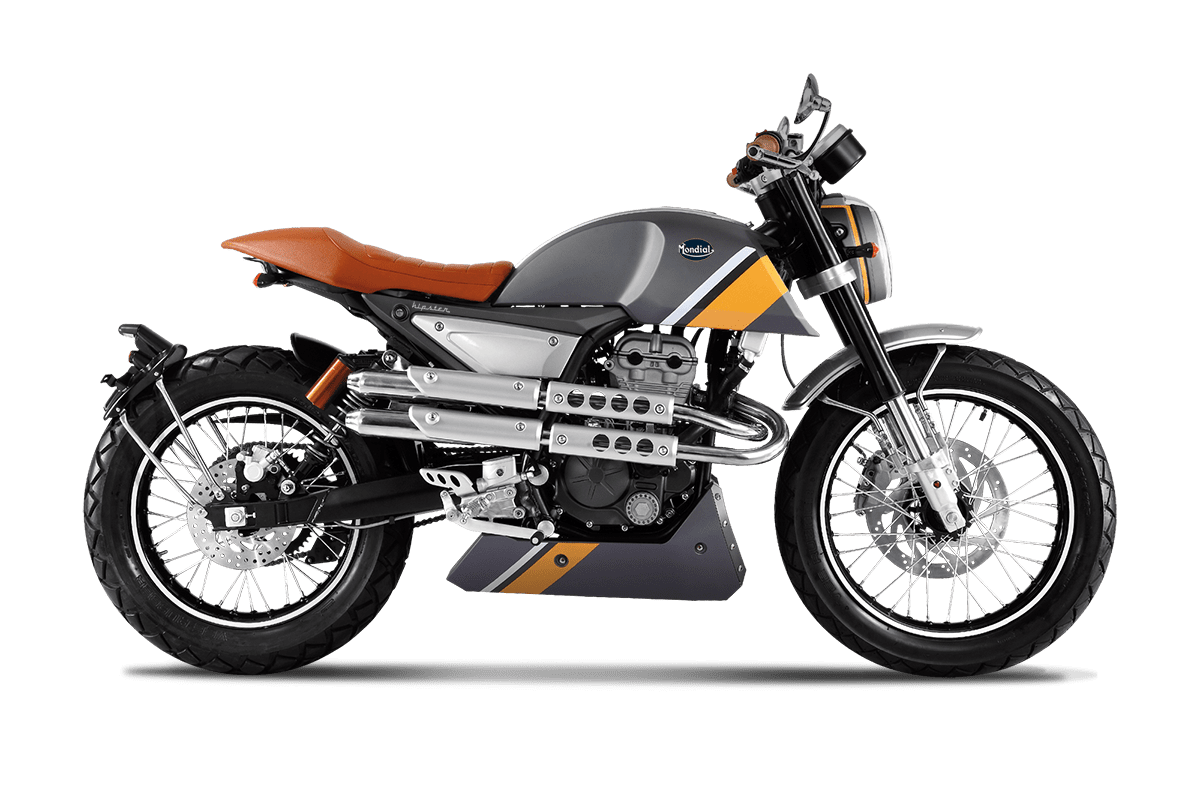 Mondial is one of many former brands now owned by companies in non-original countries. For example, British BSA and Czech Jawa are now owned by Indian Eicher Motors and Bimota and Benelli are owned by a Chinese company.
Bizarre battle
In 2009, while there was no activity with the Mondial brand, lawyer Matteo Tiezzi in Modena, Italy, registered MondialMoto 2007 SRL and listed the new corporate logo online.
Last year, MondialMoto announced it would manufacture the first road-going V5 Superbike.
In January 2019, the lawyers of FB Mondial accused MondialMoto 2007 SRL of copying their logo and brand.
They demanded MondialMoto relinquish the intellectual property rights to the V5 and pay "3% of all monies that MondialMoto 2007 SRL holds in its bank account". 
FB Mondial also called for MondialMoto director Antonio Matarollo to be arrested for using a fictitious name.
He had changed his name by deed poll last year, taking his grandfather's Christian name and his Italian mother's maiden surname. He claims he qualifies to become an Italian citizen.
Antonio also says that in all their media and website they "clearly state that we are not associated with FB Mondial".
"We do not want to be associated with this company and our company logo has no similarity to the FB Mondial logo," Antonio says.
We contacted FB Mondial for comment but they said their lawyers instructed them that, "due to pending judicial reviews, we are not able to answer your very specific questions".
"On the other hand we can confirm you what has been already assessed and recognised in court, which is: The only companies who have title to use the Mondial brand name are Mondial Moto SRL, owner of the brand, and Pelpi International, as exclusive licensee."
Their website includes this disclaimer at the bottom of their homepage:
This is the only official site of F.B Mondial / Mondial Moto. We are not responsible for what else can be found on the internet.  We take legal action to combat and prevent any illegal use of our brand. F.B Mondial / Mondial Moto has never asked for money via the Internet and / or e-mail to visitors and users of its site. Be wary of any such request coming from self-styled representatives of our famous brand.
Mondial name
Antonio says "mondial" means worldwide in French and is "widespread in the motorcycling world".
"For example, in France, there is a manufacturer called Mondial Scooters and in Turkey there is a company called Mondial Motorcycles who have been in business for over 35 years.
"And like FB Mondial these are all very low volume companies compared to those of Mass production motorcycles like Honda.
"To my knowledge these companies have not been served with similar legal papers."
Antonio says a search with Companies House reveals that their UK company is legal. 
V5 development
The bizarre legal challenge has "stunted" the production of two MondialMoto V5 motorcycle prototypes for the EICMA Motorcycle Show in Milan this November.
However, Antonio says they are still committed to producing the world's first road-going 1000cc V5 superbike.
"We will defend this action with a counterclaim against FB Mondial and we have retained legal representation in Italy," he says.