American motorcycle helmet manufacturer Biltwell has released its retro Lane Splitter helmet in Australia with other models coming in the next couple of years.
It's one of many previously unavailable helmets now on our market after the changes in certification allowed European ECE22.05 helmets to be worn in Australia.
Biltwell has been making helmets in Temecula, California, since 2005 for the midrange market. Their range includes trendy models such as the Bonanza open-face helmet and the Gringo full-face.
Mike 'Otto' Deutsch says he expects these models to also have Euro certification in the next couple of years.
Lane Splitter
Meanwhile, the Lane Splitter arrives at $459 which puts it in the midrange category.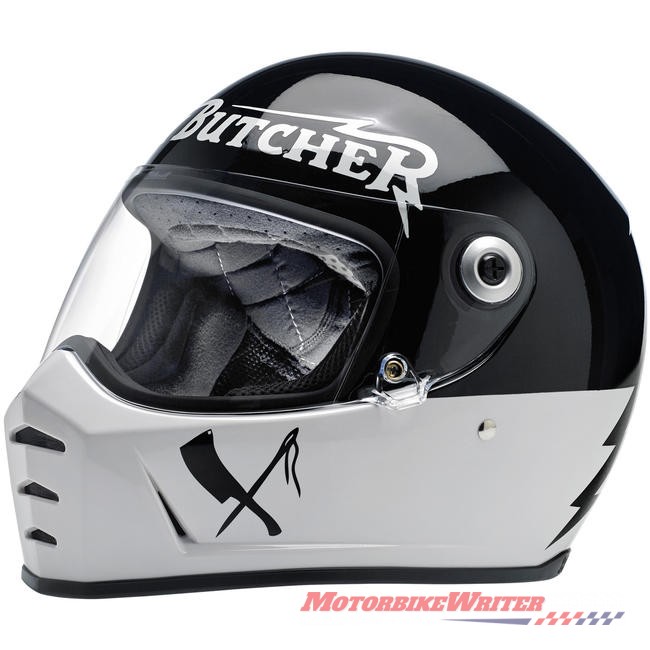 Yet, at first touch, it feels like a quality helmet costing much more.
It has a glossy and thick hand-painted surface, feels sturdy, has quality fittings and even a brass stud for a secure visor closure.
Lane Splitter is a term used in the USA for lane filtering, usually at higher speeds than allowed here. It is legal in California, but no other American states.
Lane Splitter also sounds hipper than Lane Filterer!
With a name like that you would think it would be suitable for urban riding only. However, this is a comfortable helmet for all-day touring.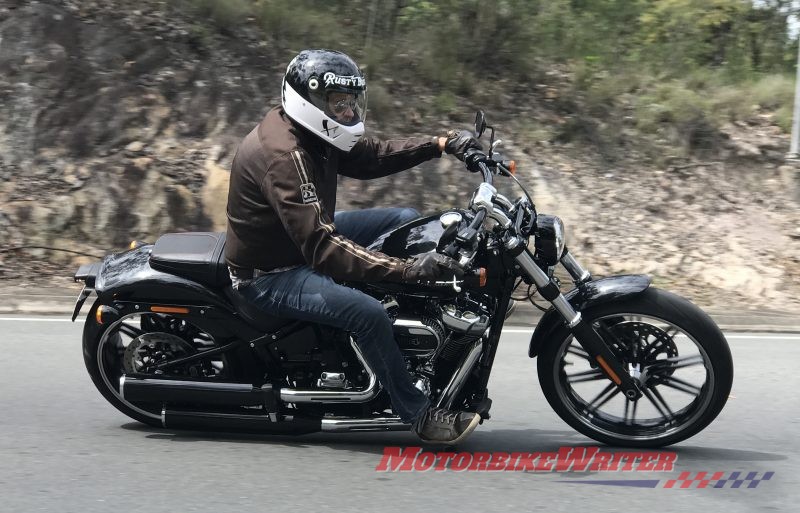 Plenty of air
It looks like a retro enduro helmet, but without a peak.
That pronounced muzzle area has permanently opened vents to provide plenty of airflow. However, that may not make it suitable for winter riding.
The air is drawn in through the jaw area and even though there are no upper inlet vents, the extraction vent is at the top back so it draws air up and over your head to keep you cool.
There is a lot of fresh air in front of your face, but a chin spoiler prevents this becoming turbulent.
The helmet also has good aero and doesn't lift at high speeds, although those front vents make it a little noisy.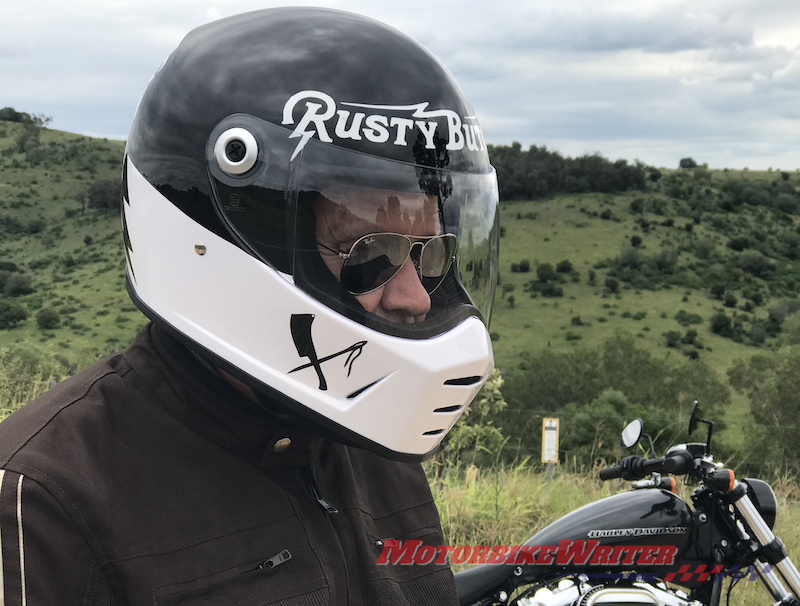 Biltwell Rusty Butcher
Lane Splitter comes in several shades of solid white, black and grey, plus gloss red.
The only graphics model is the Rusty Butcher named after a motorcycle clothing and leather goods manufacturer.

It certainly gets a lot of attention from other riders interested in the name.
Rusty Butcher was started by Mark Butcher a motocrosser, flat track racer and stunter with a passion for Harley flat trackers.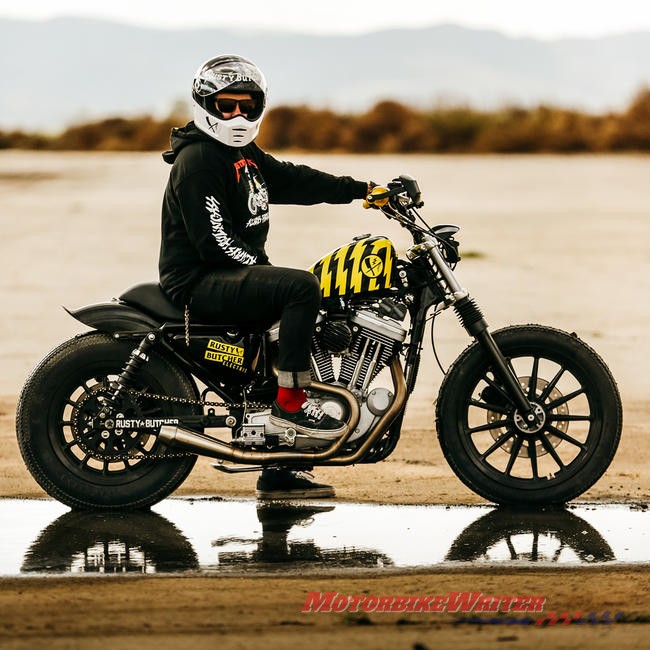 I also love the motto on the back of the helmet: "Work less ride more."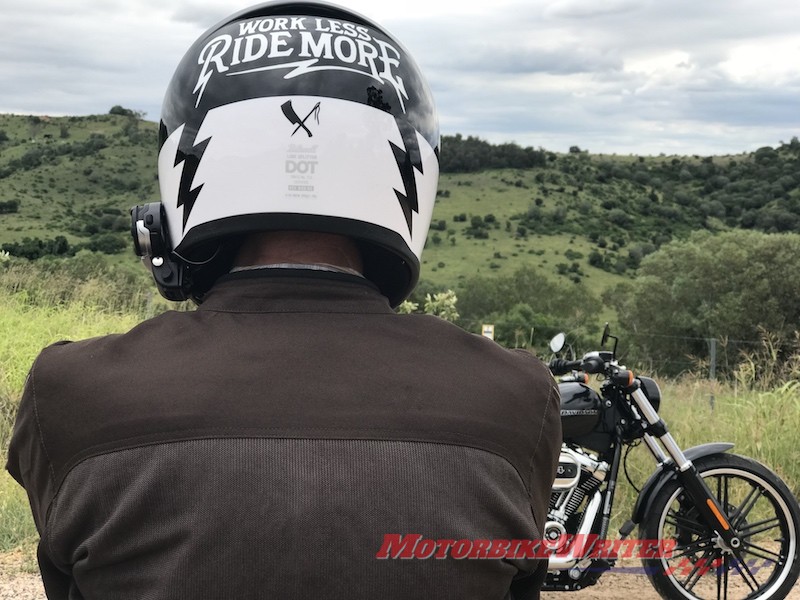 Safety shell
The shell is Biltwell's proprietary Acrylonitrile Butadiene Styrene plastic which has no true melting point and is the strongest of all plastics.
Its impact resistance doesn't vary with temperature and it ages well. It can also be recycled.
Biltwell hasn't been assessed by the UK's SHARP helmet rating system, so we can't vouch for its safety level.
The inner hand-sewn brushed lycra liner and quilted open-cell foam padding is plush. It unclips from the shock-absorbing EPS liner so it can be removed for washing.
There is plenty of peripheral vision through the injection-moulded anti-scratch polycarbonate visor. It doesn't say it is anti-fog, but there is so much ventilation it doesn't fog up, anyway.
Biltwell says the visor has "extremely accurate optics" and it has a very tight closure against a rubber gasket on the helmet aperture to isolate noise and dampen whistles.
There are mesh pockets to accommodate Bluetooth intercom speakers. However, I found they are about 25mm too far back.
It has double-D ring fasteners on a generously long chin strap with a press-stud fastener to tidy the end of the strap so it doesn't flap in the wind.