Bilt Trackstar Leather Pants Review Summary
Leather Pants Image Gallery
A very good pair of leather sport pants for the price point.
Let me state first that I've never considered myself a leather pants kind of guy.
Certainly leather is a great material for motorcycle apparel and I have always owned a leather motorcycle jacket, gloves and boots, but pants were never something I considered.
Perhaps my avoidance has been because I'm often commuting to work or heading somewhere where I will be getting off the bike for a while where leather pants might be inappropriate.
This, plus the cost factor, continued to keep me away from seriously considering a pair of leather pants.
That all changed this summer, when I decided to get rid of my mesh pants that were just too long for my 30″ inseam.
I put up with them last summer but this year I was getting concerned that their loose fit might allow the built-in armor to move around too much in the event of a get-off.
The length of the legs made me feel somewhat like a child wearing his father's clothes, so I wanted something that fit properly.
So the pants were sold and I started looking for an alternative, which led me to my local Cycle Gear store. Unfortunately, their on-hand selection of mesh pants weren't much different from the ones I just sold.
The size I needed (large) came with a 34″ inseam, which was no better than what I had started with. Being sure to exhaust all possibilities, I started looking at the Bilt leather pants they had on hand.
At first, I wasn't very serious but then I stopped at a rack of the Bilt leather pants with sport/track style and perforated sections. What really caught my attention was the $129.99 price.
They might be a cost-effective way to replace my mesh pants, but I had doubts that they would vent as well. Maybe, though, the superior protection offered by leather over mesh might be worth a decrease in ventilation? Would the sacrifice be worth it? Let's find out…
Who is Bilt?
Bilt is one of two new "house" brands available at Cycle Gear. Frank Thomas was for a long time exclusively available in the U.S.A. at Cycle Gear, but Frank Thomas fell on hard financial times last year and disappeared from the Cycle Gear stock.
Since that time, the Bilt line of motorcycle products was introduced as a budget-conscience choice for Cycle Gear customers. The line includes helmets, gloves, jackets and yes — pants.
There is some speculation that the Bilt leather products may actually be coming from the same factory that made Frank Thomas apparel. I have not been able to verify this, but a close look at the Bilt Trackstar pants does show some design similarities to the Frank Thomas XTi2 pants However, they do not appear to be a re-badging of the old Frank Thomas product.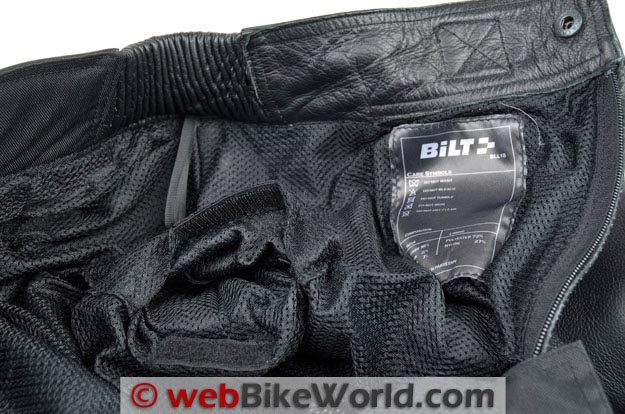 Construction and Features
The Bilt Trackstar Leather pants are made from a combination of leather, nylon, and a bit of Lycra. The type of leather I must assume is cowhide, judging from the look and feel, but it isn't actually specified anywhere on the garment.
The nylon and Lycra no doubt make up the stretch panels found on the Trackstar pants. The leather is not as buttery soft as some of the up-market offerings from Dainese and the like, but it has a surprisingly good feel for the price.
It wasn't very stiff when new and it broke in quite well after only a few rides. The leather is stated as being 1.1 mm to 1.3 mm thick which, although not as thick as high end racing leathers, is still substantial and gives the pants a good heft.
The front leather panels from the waist to the top of the knee are perforated for ventilation. The rest of the leather used in the Trackstar pants is made up of non-perforated panels.
The crotch is constructed of Lycra stretch panels that continue down the back of the pants behind the knee and calf to the end of the legs. Above the knees on the front are sections of accordion stretch leather where the leather is sewn into narrow bunches and then backed with elastic. This allows the leather in areas that will have a lot of movement to expand as needed without bunching up when relaxed.
A similar stretch panel is used at the back just above the waist as well two smaller areas of the waist itself on each side. Just below each knee to the outside is a large patch of hook-and-loop fastener for attaching the included knee pucks.
While these sliders are somewhat thinner than what I've seen on other track style pants, the fact that they are included at this price point is a surprise. I've seen other pants costing $200.00 or more that did not include even a basic knee puck.
Up front there are two waist pockets that are more than large enough to swallow a wallet, cell phone or keys. However, it's doubtful you'll want to make use of all the space offered. Sport leather pants tend to fit snugly and can be uncomfortable when carrying items in the pockets.
The pockets use YKK zippers on the front main zipper as well as the zippers at the end of the legs; a good quality zipper at this price point is another welcome surprise.
Also a surprise is that the Trackstar pants include both a full circumference zipper as well as a six inch zipper for attachment to a jacket. This is important as most track day organizations require that two-piece pants and jacket outfits attach to each other with a full-circumference zipper for safety.
The fact that there is also a shorter zipper for more casual riding is a nice bonus and it will attach to the short zipper on other Bilt jackets and some other brands.
On the inside of the Trackstar pants is a polyester/nylon mesh lining which aids in comfort and makes them easier to put on. Keeping the leather from direct contact with one's skin allows the perforations up front to breathe better and also keeps the leather from sticking to you when moisture from sweat occurs.
The waist has a good sized snap just above the zipper. This is then augmented by a 1.5 inch wide leather strap that connects via a large section of hook-and-loop fastener to keep the pants snug on your waist. The strap seems sturdy and is definitely needed as the snap itself is rather easy to undo.
Armor and Padding
Bilt claims the armor in the knees is CE rated but I am unable to verify this because the armor is not removable. The odd thing here is that I can tell that the knee armor is held into place at least partially with hook-and-loop fastener.
I found this when trying to access the armor and heard the distinct sound of hook and loop separating as I tried to turn the legs inside out, which by the way, is difficult to do with leather pants.
After looking around the inside of the legs, I could not find an opening for removing the armor. This is where some of the "value" aspect of the Bilt Trackstar pants makes itself known. It would be nice to be able to get in there and not only replace the armor if needed, but also to be able to adjust the positioning.
The knee armor itself seems reasonable in quality from what I can tell and it's made from a hard rubber that seems thick enough to meet the CE rating in my admittedly un-scientific estimation.
During my interior inspection of the Trackstar pants I did find pockets in the lining of the hip area for adding additional armor. Though the armor is not included, the provision for its placement is welcome enough.
Fit and Comfort
Fit was a bit of an issue when I was first tried on the Trackstar pants, but that's not entirely Bilt's fault.
Up until this summer I have been wearing 38″ waist pants and although I noticed my other pants had been getting looser, I was still buying 38's.
So I first grabbed a pair of the Bilt Trackstar pants with a 38″ waist and headed for the changing room. They were swimming! The size 38 was just plain huge on me.
I then tried a size 36, only to find that there was no way that these were going to stay up on my waist either.
Next came a size 34 waist and once again I trudged across the store to try them on. This time it was just right. Not just a passable fit but a good one. These felt like they were custom made just for me.
In the past I have tried on pants that were my correct size from makers like Joe Rocket, Frank Thomas, and even Cycle Gear's other new brand, Sedici.
All of these were the correct size when I tried them on but the cut never suited me. If they fit my waist they were too loose around the legs or if they fit my legs they were not going to zip up.
The Bilt Trackstar pants are just right for someone like me who is a little too large around the middle, but has legs of average circumference. The leg length also matched up well with my 30 inch inseam, stopping right around my ankle.
The Trackstar pants do run a little large in the waist but that's only part of the story when it comes to fit. Time to break out the measuring tape and see what is and what isn't.
Starting with the waist, the size 34 Trackstar pants measure right at 35 inches before engaging any of the stretch panels on the waistband.
The inseam is just under 29 inches (about 28.75″) which is still a little long for track style pants for my legs but still acceptable for tucking into my boots.
Let me digress for a second about the inseam measurements.
If you have not previously considered buying track or sport style leather pants it is important to keep in mind that these pants are designed to be tucked into — not over — your boots.
As such, you don't want to buy your normal inseam length, but rather an inch or two shorter so they will tuck properly into boots without bunching up.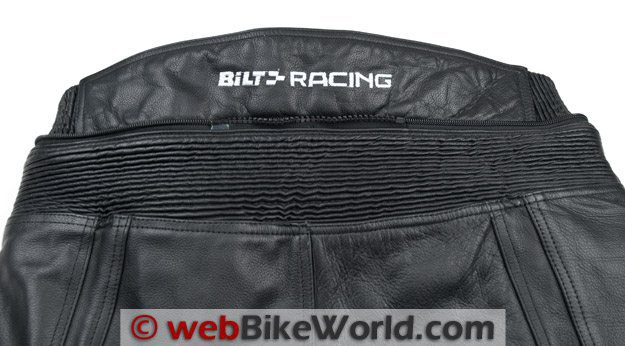 Riding With the Bilt Trackstar Leather Pants
I purchased the Trackstar pants and went home to change and get them on the road. The weather has been particularly hot this summer in Tennessee, with temperatures in the 90's and up this season. That morning it was already into the high 80's and climbing.
Thinking "now is as good a time as any", I donned the Trackstar pants and the rest of my hot-weather riding gear and hit the road for a shakedown ride.
Riding in the Trackstar pants is actually rather comfortable but I had a couple of initial issues. The leg zippers were at first a bit of a problem, as the zipper pull rests on the inside of the ankle, which can be uncomfortable underneath the boots. A little twisting to move the zipper around before fastening up the boots helps to eliminate this problem.
Another issue I found during that first ride was the position of the armor in the left knee, which causes some pressure just to the left of the kneecap. Moving the pants leg around unfortunately doesn't seem to help, as it seems to find its way back to the same spot a few minutes later.
I was a bit concerned that this would be a deal-breaker, but as it turns out, the problem will go away as the pants break in — more on that shortly.
Other than these two issues, I felt good in the Trackstar pants as I headed out for my test ride.
It was already well into the 90's as I exited the highway and proceeded to my favorite back road route. For the amount of perforation in these pants I was very impressed with the amount of air flow — I could definitely feel a cooling breeze across the tops of my legs. My SV650s has a rather small fairing, so this experience could be different on a bike with more wind protection.
After about 45 minutes, I made my first stop at a roadside market to get some water and collect my thoughts. I was standing around in the sun drinking my water and noticed that I was feeling hot, but only up under the shoulders of my hybrid mesh/leather jacket.
I believe the Lycra panels in the crotch and on the back of the lower legs of the Trackstar pants do a lot more than just stretch to help the fit; they also help with air flow. Hot days don't seem to be a problem so far.
After a couple more hours in the saddle, I found the comfort to be very good save for the nagging left knee armor issue. Overall the comfort and fit were much better than expected given the low price. There was one other test the Trackstar pants needed, however, and that was to see how they performed at a track day.
Track Day With the Bilt Trackstar Leather Pants
This past July I attended my first track day — the perfect opportunity to see how the Bilt Trackstar leather pants would perform. It was going to be hot on the track, hot in the pits, and as I would have 40 minutes between sessions, I would need to stay suited up most of the time.
This would be a serious test for any pair of leathers (or at least as serious as I can provide). I won't go into all the specifics of the events of the day (that's for another article), but I will say that as focused as I tried to be about evaluating the Trackstar pants in what is their designed-for environment, I didn't give them a lot of thought.
Actually, that is a very good thing. It wasn't that I forgot to think about them — it was that they didn't do anything to make me notice them.
Our track day was an afternoon and night event, so we were on the track from about 3:00 pm until 10:30 pm that night. When I first got on the bike at the track, I noticed the knee armor issue again, although it wasn't as bad as when I first had tried the pants weeks earlier.
By the time we had our break after four sessions on the track, I began to realize that it was no longer an issue. I had the opportunity at the break to change out of the pants for a while before we started up again, but I didn't really feel the need. I even ended up wearing the pants while driving the truck home that night, which was loaded with the bike and gear.
Sitting in our folding chairs in the pits or walking to and from the classroom and other spaces, the Trackstar pants were just fine. Again I was surprised that I didn't feel too hot in them, despite the high temperatures and lack of air conditioning in the pits. A small box fan was all we had and I never got the feeling I needed to get out of the pants for relief.
I had only ridden about a eight or so times in the Trackstar pants before the track day and perhaps the combination of those rides plus the long day of wearing them in the heat at the track was just they needed to break in.
Luckily, I didn't have any get-offs that day so I can't speak to how they hold up in a crash. But I can say that when I am wearing them I feel better protected than I do in any of my other textile riding pants.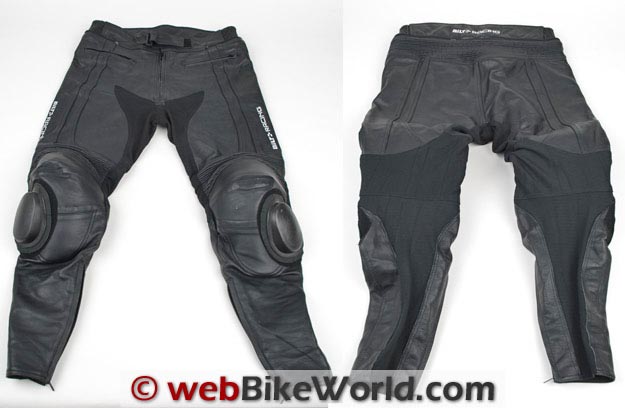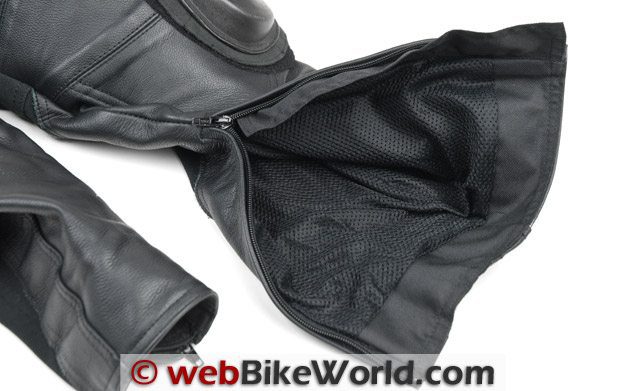 Conclusion
The Bilt Trackstar leather pants are touted as being a value item and they indeed do represent an excellent value for the price point.
Typically "value" means low quality for a low price, but in this case the quality is reminiscent of pants priced $70.00 or more higher. The overall construction is very good and they feel sturdy.
The sizing worked very well for me and was much better than more expensive offerings from other brands. The level of comfort in both feel and hot weather comfort was very good and again better than expected at this price.
The "value" aspect only shows in the non-removable armor and the bit of initial discomfort of said armor. The fact that this discomfort fades as they break in (at least it did for me) makes them quite a bargain.
Factor in the five-year warranty and the Bilt Trackstar leather pants are definitely an excellent choice for the aggressive street rider or those wanting to dip their toe in the waters of a track day event.
w

BW

 Review: Bilt Trackstar Leather Pants

Manufacturer: Bilt Racing
Suggested Retail Price:  $129.99
Colors: Black with black, red, white or gunmetal.
Made In: Pakistan
Sizes: 28 to 44 waist.
Review Date: September 2011
Note:
 For informational use only. All material and photographs are Copyright © webWorld International, LLC since 2000. All rights reserved. See the webBikeWorld® 
Site Info page
. Product specifications, features and details may change or differ from our descriptions. Always check before purchasing. Read the
Terms and Conditions
!
Owner Comments and Feedback