BikeVis Blue Bullets LED Lights Image Gallery
Blue version of the BikeVis Bullets, small LED accent lights that that are amazingly bright for their size and can help improve motorcycle visibility.
We installed a pair of the original white-colored BikeVis Bullets (review) on a Ducati Multistrada 620 a couple of years ago and they've been going strong ever since without fault.
That was followed up the installing the BikeVis PodMod Modulator (review) about a month later.
The PodMod is a small modulator that fits in-line with the BikeVis Bullets and gives them a sort of sparkle or twinkle, which improves the visibility even more.
If you're buying a set of the BikeVis Bullets, you may as well get the PodMod at the same time and be done with it; I can highly recommend both.
In fact, these tiny LED lights are now SOP (standard operating procedure) for any new bike that comes in the garage…along with a horn relay and upgrade (reviews) and improvements to thebrake and tail lights (articles).
So when the Suzuki DR650 (blog) entered the stable for the "Budget Adventure Touring" series, it was time to place an order for a new batch of Bullets.
Poking around on their site, I discovered the blue-colored BikeVis Bullets and figured I'd give them a try.
I remember reading an article in one of the British motorcycle magazines some time ago about research that had been conducted on vehicle lighting which said that the human eye responds more quickly to blue light than other hues.
Putting two plus two together, I figured that perhaps this may be why modern police cars use blue emergency lights, so why not me?
While that may or may not be true, there's no getting around the fact that one of the most important issues here is for a motorcycle to become more visible and stand out from the background blur.
Studies have also indicated that the width of a motorcycle is a factor in depth perception for other traffic.
Perhaps that is one of the reasons why there are so many car/bike accidents with cars turning left right in front of an oncoming motorcycle (see the webBikeWorld News article about the new BMW Left Turn Assistant device).
Anyway, I'm game to try anything new so a set of Blue BikeVis Bullets were ordered, along with a PodMod modulator, of course. If blue was good, then twinkling blue would be even better!
Fifty-five quid later (ouch!), the blue Bullets arrived.
The design and layout is identical to the original white-colored Bullets we installed on the Multistrada, including the wires that come out of the bottom rather than the rear, which make it a bit trickier than it could be to install the lights flush on a fairing if you don't want to drill.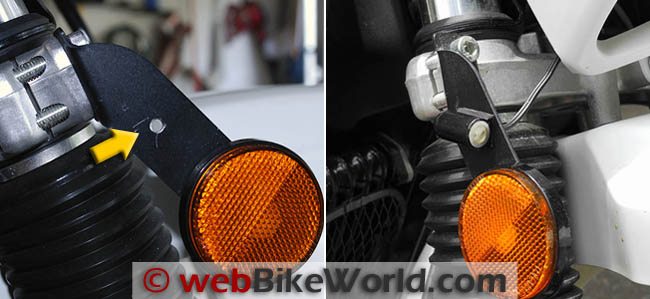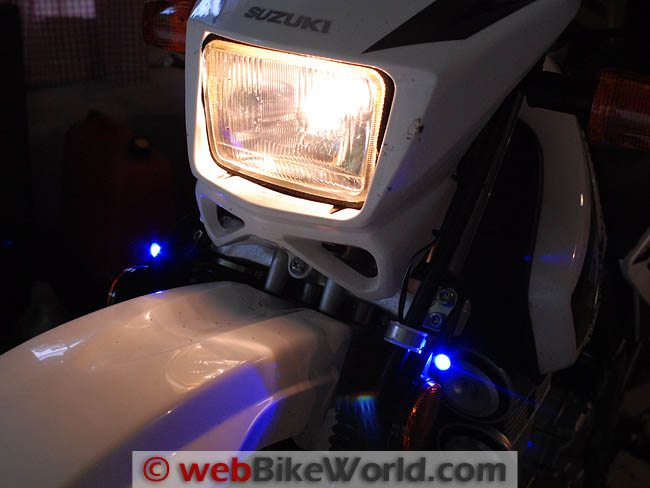 BikeVis Bullets and the Suzuki DR650
The DR650 is a lean machine, so there isn't much room in front for lights (or horns, as I discoveredin this article). But, the DR650 has one very neat feature, courtesy of the Suzuki designers.
The front reflector brackets — which may be on the North American bikes only — are pretty hefty units and perfect, as it turns out, for flush-mounting the Bullets (and the monster Clearwater Krista LED driving lights we'll be installing soon).
I was able to drill a hole in the side of each bracket and thread the wiring for the BikeVis Bullets through and up to the headlight module on the Suzuki. The holes and the mounting are shown in the photos above.
A helper lined up the lights as I stood about 20 feet away, but there doesn't seem to be much difference because the lights are designed with a broad pattern as marker or visibility lights only. We lined them up horizontally over the top of the reflectors and that was that.
The Bullets come with double-sided tape on the back, which makes it easy to simply press the light module on to the bracket for mounting.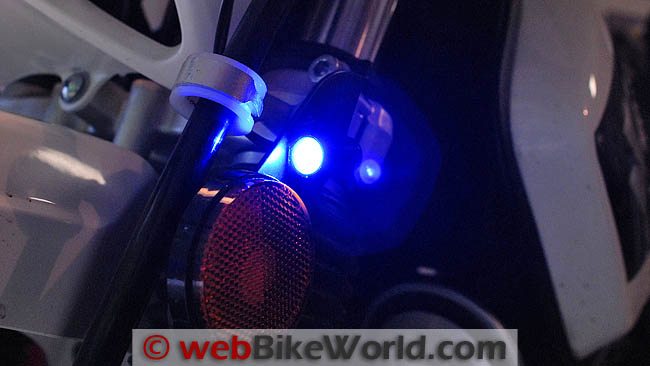 Wiring the BikeVis Bullets
As described in the original BikeVis Bullets review, there's not much to wiring these puppies; a positive and a negative wire is plumbed into the same on a wire that gets its power when the ignition is on.
It gets a little tricky when installing the PodMod modulator, but I usually get the Bullets going first and then plumb in the PodMod for extra sparkle. Seriously, anyone with very modest wire cutting and splicing skills should have no problem at all.
One of the great things about a simple bike like the DR650 is that everything is right out in the open — it's super-easy to work on this bike and lighting is no exception.
Fold down the plastic fairing and you'll expose all the wiring up front. It's wrapped in a plastic pouch with a reusable zip-tie.
I followed the leads from the light bulb and snipped them apart and then used a pair of Posi-Twist connectors (buy 'em here!) to do the deed, illustrated in the photo below.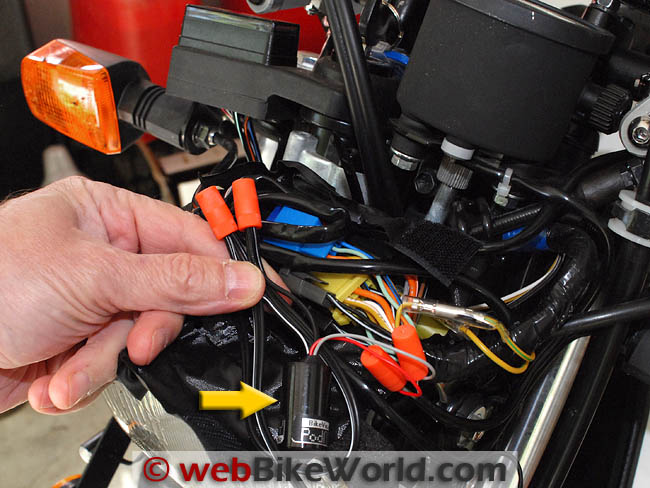 Blue BikeVis Bullets in Action
The blue color of the blue BikeVis lights is very intense and, I think, an unusual color for the front of the motorcycle. I believe this helps make the bike stand out from the background — especially important on a narrow motorcycle like the DR650.
The twinkling effect provided by the PodMod helps here.
The only concern I have is the possibility that the police may take a dim view, if you'll pardon the pun, of blue twinkling lights on the front of a motorcycle. We'll see what happens…
Here's a short video to illustrate the color difference between the blue and white versions of the BikeVis Bullets:
w

BW

 Video: Blue vs. White BikeVis Bullets and the PodMod Modulator
Conclusion
Nothing has changed from our original conclusion: the BikeVis Bullet LED lights are a really nice way to improve a motorcycle's visibility to oncoming traffic. And the blue color is even more unusual-looking, so the theory is that it will help that much more.
The BikeVis Bullets are small and easy to install just about anywhere. Other than the expense and the shipping costs, this is an easy way to (theoretically) improve the visibility of your motorcycle.
BikeVis Bullets are also available in red as a rear-facing version.
More information about motorcycle lighting and LED lights can be found on the webBikeWorldMotorcycle Lights page and the LED Motorcycle Lights page.
UPDATE
Some webBikeWorld visitors have written to say that these lights are a sure ticket to…a ticket. But so far, we've had no problems with them.
I'm kind of surprised at how law-abiding all of a sudden everyone is! Hehe…people do many illegal things with motorcycles; too-loud pipes, HID headlights, LED replacement bulbs and even wearing ear plugs or earbuds is illegal in many states.
If we always obeyed the law, life would be pretty boring!
It's not like there's a big blue light on the bike, and the video and photos make them look more intensely blue and bigger than they really are.
When seen from 20+ feet away, they get drowned in the headlight and although they get the bike noticed, they look more like those blue/white xenon light bulbs than anything else.
Don't forget, each Bullet is only about 1/4″ across, which looks like a pinprick at any distance. We've been using them for weeks and several police cars have passed in the opposite direction and nobody said a thing (so far!). I'll report back on any problems and next time I come across a friendly cop, I'll ask for an opinion.
See Also: BikeVis Bullets V2  |  BikeVis Bullets Review  |  BikeVis PodMod Modulator Review
w

BW

 Review: Blue BikeVis Bullets
List Price (2011): £16.95 + £3.25 shipping in UK. £12.95 + £8.95 International shipping.
Made In: UK
Colors: White or Blue light. Black housing.
Sizes: N/A
Review Date: June 2011
Note:
 For informational use only. All material and photographs are Copyright © webWorld International, LLC since 2000. All rights reserved. See the webBikeWorld® 
Site Info page
. Product specifications, features and details may change or differ from our descriptions. Always check before purchasing. Read the
Terms and Conditions
!
Owner Comments and Feedback
---
From "C.P." (August 2011):  "Legality of any color varies by state. In Florida for example, you can have no more than 2 red lights in the rear and they can only flash upon initial activation of the brake light.
Yellow markers are not required on the side of the vehicle, but you can have as many as you want although only two visible flashers on each side and flashers must be yellow or red.
From the front only the original headlight configuration is allowed and only 2 yellow flashers are allowed.
Headlights must be aimed to not interfere with other drivers. Blue is not allowed on any vehicle other than a police car. Red is only allowed to be used for brake lights. Any other lights, flashing or not are fine.
Now, usually cops will leave bikers alone unless you're being an idiot."
---
From "T.G." (06/2011):  One thing I would like to point out, here in the USA blue lighting on any vehicle is illegal, twinkling blue even more so. Installing and running these on public street will result in either a nice police officer who will give you a ticket and a citation to remove them, to the officer that had a bad day will will arrest you for impersonating a police vehicle.
The ONLY safe color for a motorcycle that will not land you into hot water with the police over color is Yellow/Amber.
Just a FYI and legal heads up, check with local laws in your area as to what colors are legal visible from the front and back of your bike. Some states have further restrictions."
Rick's Reply: The BikeVis lights are pretty small and I'm not sure what the difference is between their blue and the blue in some of the blue tinted headlights I see, so we'll see what happens…