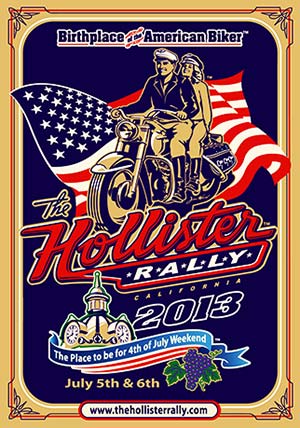 Have bikers gone soft and has the world gone soft on bikers?
Rather than the tough image of born-be-wild bikers roaring through the countryside like Vikings on a bender, many bikers today are a born-to-be-mild gentrified bunch of professionals and self-made business people spreading joy and cash around  provincial communities.
And rather than shuttering up their houses, locking up their daughters and calling the state police, many small towns welcome them with open arms and cash registers.
One example here in Australia is the small border town of Texas which has declared it's biker friendly.
I've just come back from Milwaukee where the city celebrated with more than 100,000 "Wild Hogs" and the local business people wanted to rename the state highway that runs through town in honour of the local Harley-Davidson company.
But the great divide between mayhem and mildness that has occurred over the past half century or more is perhaps expressed best in Hollister.
The small Californian town was the scene of the 1947 July 4 holiday riots where bikers from the outlaw Boozefighters gang were alleged to have scared the boots off the local citizenry. It caused a national outcry and towns wanted all bikers banned.
Despite later learning that it was a media beat-up and that only a few bikers were arrested for drunken behaviour, the riots were depicted in the 1953 film The Wild One, starring Marlon Brando.
The 50th anniversary of the Boozefighter "riots" were celebrated in 1997 with an annual rally but it shut down five years ago because of financial problems in Hollister.
After a five-year hiatus, the town staged a successful two-day rally in July 2013.
It was such a ciommercial hit that Hollister officials now want to invite the bikers back and have declared there will be an annual Hollister Motorcycle Rally for the next 10 years.
And the rallies will be extended to three days of motorcycling mayhem … or mildness.