Here is a simple answer to the age-old problem of protecting your boots while riding.
Rubber gear shifters leave black marks on your boot and metal shifters can scuff, scratch and eventually ruin your boot.
This Shifter Boot Protector is a simple leather protector on an elastic strap that easily fits over any size boot and protects the toes from being ruined by the gear shifter.
The boot protector is designed by Canadian company Town Moto which is a hipster motorcycle accessories company with gear for city riders and hipsters.
Not everyone wants to wear motorcycle boots that often look like something a storm trooper would wear and have ugly protectors on the toes.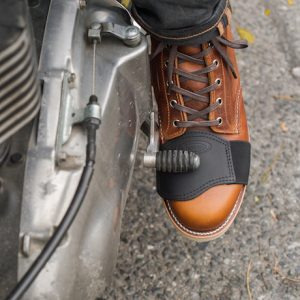 Urban riders and commuters, in particular, may want to wear a standard boot.
Now you can wear your designer boots or even work shoes by just adding this protector.
It's also a cheap solution at just $7.95 plus postage.
Be aware that normal boots won't offer the same protection as a dedicated motorcycle boot.
If you do wear standard boots, make sure they have non-slip soles, are sturdy, cover your ankles and won't pull off easily. Laced boots are ok, but tuck the laces away from getting caught in the footegs, brake lever and gear shifter.