"Motorbikes and heavy metal just go together," says Adam Tovell-Soundy who makes guitars as art pieces out of old motorcycle spares.
"I've always made small scrap metal art from anything as a hobby," says Adam, a carpenter by trade, who also has an Instagram account as @ATZY_Metalart.
"Guitars were something I had seen as a new challenge. l figured that if I could get my hands on motorbike parts the rest would be easy. 
"That's when I started calling into motorbike shops like Brisbane Motorcycles.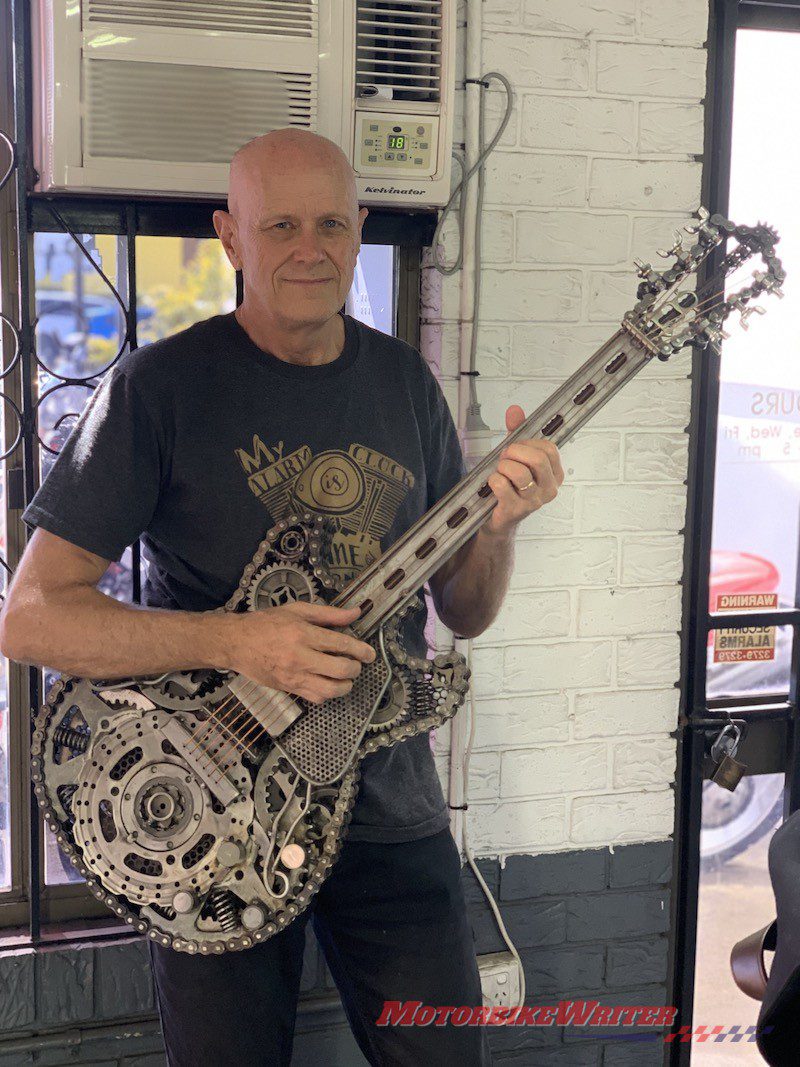 "l spoke with Shaun there and got a good milk crate full of chains, discs and sprockets." 
Adam works out of a small shed in Brisbane which restricts the size of his projects.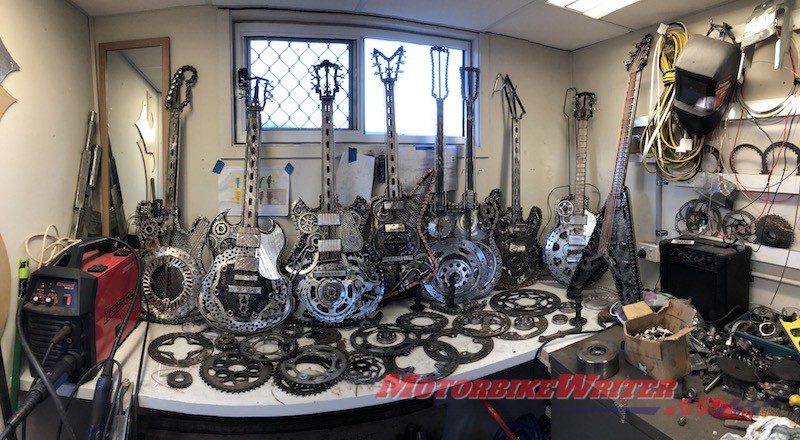 "So motorbike parts are a good size; smaller than car parts," he says.
"The cog and chain have a lot of detail.
"So I started making guitars fit right into the size of the parts."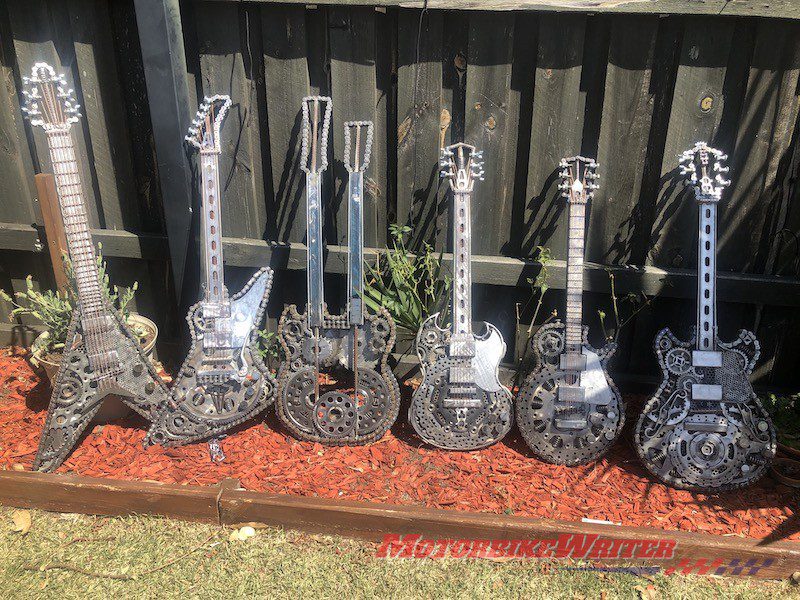 Motorbike guitars
Adam is not the first to make guitar art from motorbike parts.
We published an article last year about Brisbane artist and motorcycle racing fan Paul Tinson who makes guitar sculptures from bike parts.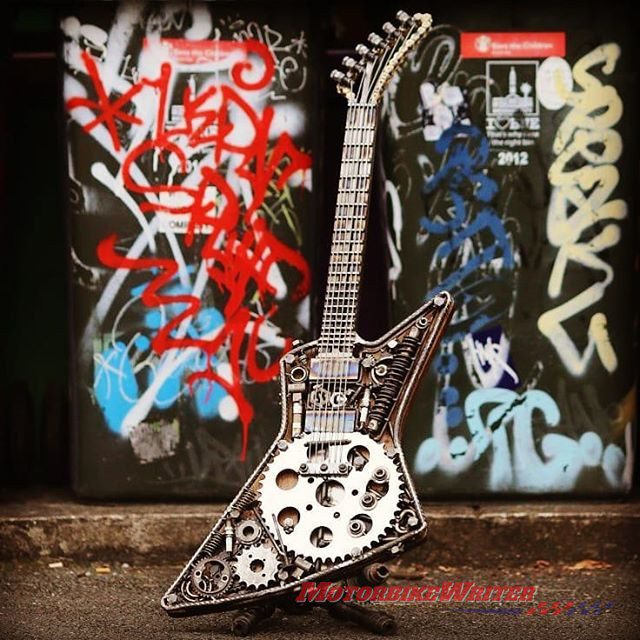 Then there's Terry "Mojo" Johnson from the band The Swamp Drivers who used an old Harley rear sprocket, 100th anniversary-badged clutch cover, Sportster 1200 airbox, brake lever, slash-cut exhausts and other parts to make an electric guitar he plays.
He calls it the Hogocaster, referring to Fender's famous Telecaster and Stratocaster.
Watch and listen to it here in action!
Adam has made 12 motorbike axes, mainly Gibsons: Les Paul, SG, Double SG, Explorers, Flying Vs and ES335s. He has also made a Fender Stratocaster. Each weighs about 10kg.
"The Gibson ES335s are definitely my favourite to build," he says.
"The body has a lot of space to place a lot of detail in it. I definitely concentrate on the symmetry of them.
"People who play guitars straight away start naming them. Then they ask if they play, so I must be doing a good enough job if that's the case!"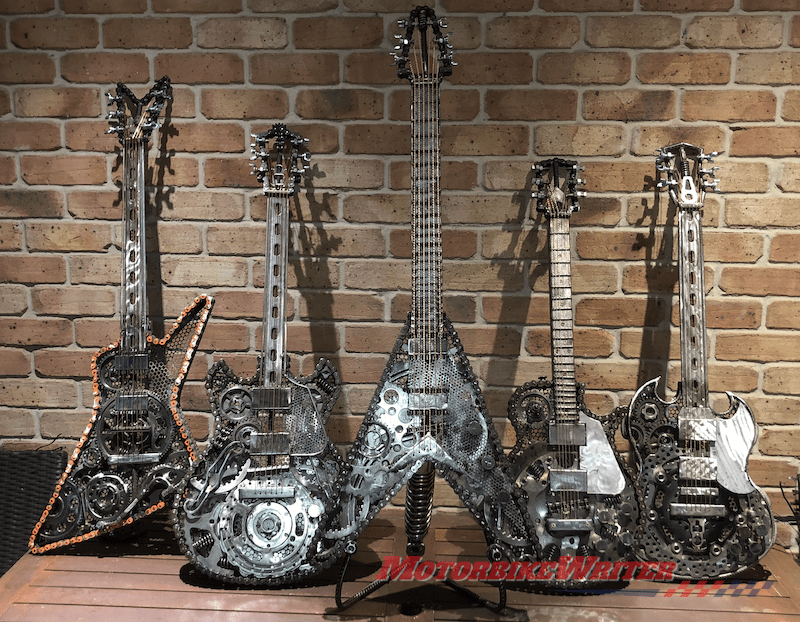 Adam has sold four motorbike guitar sculptures for about $800 each which he says doesn't really cover the two days he takes to make them.
He has also gifted four to family, two for fundraising and two as birthday presents.
Incidentally, Adam doesn't ride motorbikes and doesn't play guitars! 
"However, I definitely learnt a lot about bike parts and what artists play which guitars," he says. 
You can contact Adam by email by clicking here.