Australian tour operators Compass Expeditions have launched their biggest tour yet. Their 128 Day Motorcycle Tour will take riders on a 33,000km lap of the whole South American continent.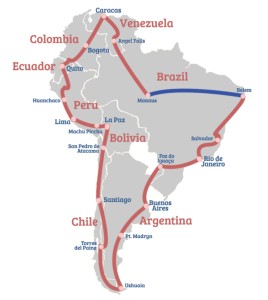 Compass Expeditions' tour departs Santiago, Chile, on February 21, 2o15, and returns to Santiago on June 28. "This is one of the biggest rides on earth and covers an impossible diversity of landscapes, cultures and riding experiences" say Jerry Cook, founder of Compass Expeditions.
The Compass Expeditions South American tour will take riders through Patagonia to the world's southernmost city of Ushuaia before turning northwards through Argentina to Iguazu Falls. From there it follows the coast of Brazil to the Amazon River for a boat trip to the former rubber export capital of Manaus. Riders then head north through Venezuela to the world's tallest waterfall in Angel Falls.
Heading south riders pass through Colombia, Ecuador, Peru, the Uyuni Salt Flats of Bolivia and the Atacama Desert which is the driest desert in the world.
Riders can rent a bike or take their own with prices varying accordingly.
For further details contact Jerry Cook on jerry@compassexpeditions.com