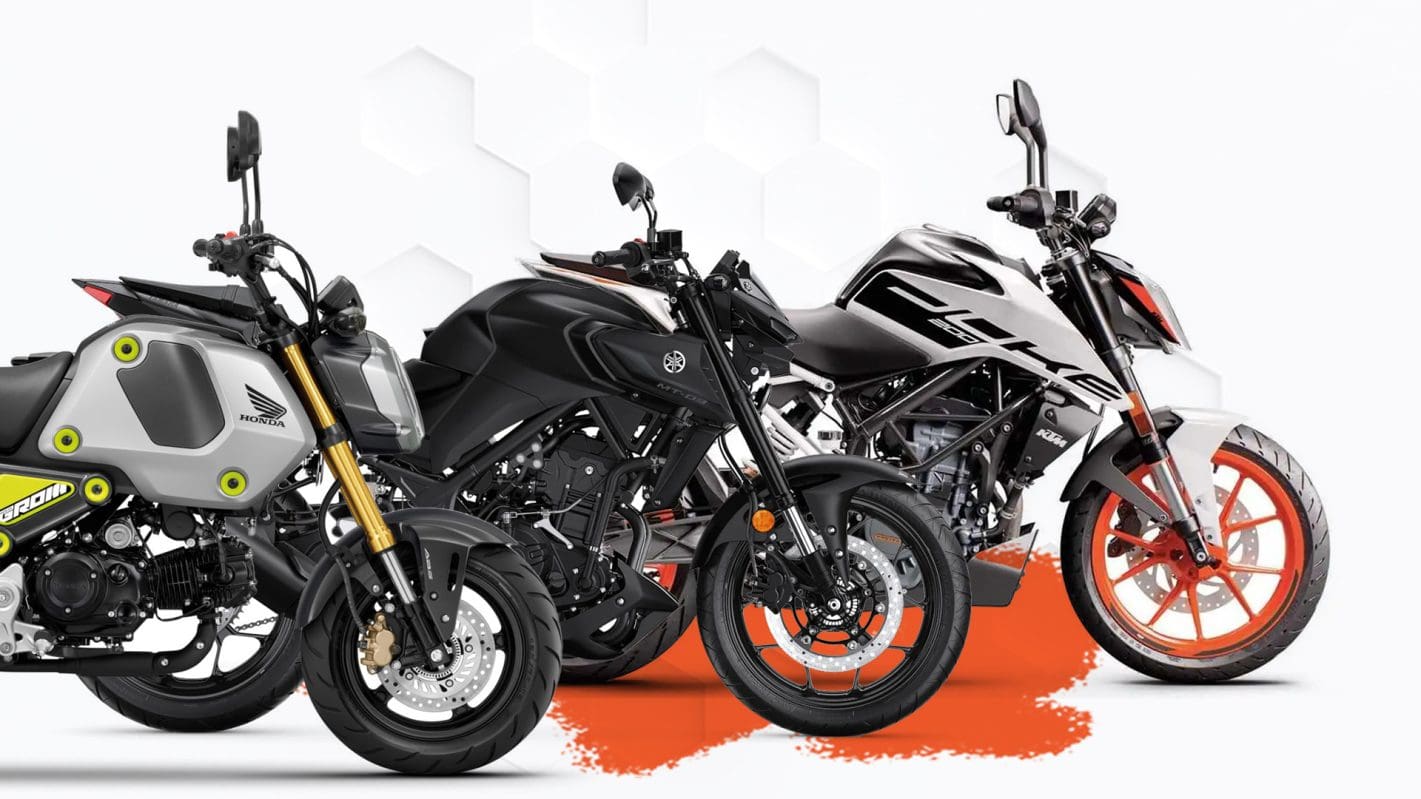 Small Does Not Mean It Is Not Fun!
Article Quick Nav
These are the best small displacement motorcycles for 2023:
Small-bore bikes are, in a word, necessary.
While you might use your 2021 Yamaha Star Venture to eat up the miles on the trans-country expressways (or perhaps dig into the nearest anthill on your new 2023 KTM 1290 Super Adventure R), there's something to be said for a cheap, wee-sized rolling ripper that can pack a punch and still dart through traffic without having to suck it in.
There's a more politically-minded reason why we're going for smaller bikes for this list, too. We'll just leave the wise words of Happy Gilmore from YouMotorcycle here:
"The brand Hummer is dead, Lincoln doesn't offer the Mark LT, and Range Rover is moving towards a more car-like vehicle for their flagship 'SUV.' Just as car buyers are beginning to sacrifice vehicle size for better mpg, bike riders are looking to smaller bikes to handle their two-wheel fix… [and] with the release of KTM's all-new RC390, Honda's new CB500X, CB500F and CBR500R, and Kawasaki's Ninja 300R, the winds of change are clearly in motion."
Besides, whoever said bigger bikes were better is fibbing—at least for urban shiftwork. That's like saying you should get a tiger if you like cats. But would you rather stay in the lower two gears on a Suzuki GSX-R1000R for the next hour or rip around on something a little easier to slap through the gearbox?
With that being said, let's dive into it—who knows, maybe I'll have converted a few of you before the end of the list.
About Our Selections
These selections considered ease of use, rideability, price, and how effective each motorcycle was in helping the beginner or newer rider learn the intricacies of riding. We are confident that any of these bikes will be superb starter or second bikes for most riders.
To further define what we are meaning by "small displacement," we are attempting to find the best bikes that have 200cc or less in terms of displacement. Due to there not being many bikes left in that range, we raised the maximum displacement to 300cc, with flex room of about 25cc as some bikes advertise as 300cc but are actually slightly over.
The perfect Smile-Per-Mile runabout
Why We Picked It:
Meet the Honda GROM—also called the MSX125, though a lawnmower already took that name in America, so Honda had to get creative. The result? A bike that was nicknamed after the British slang term for hooligan—and it's grown a hell of a reputation to match that term since.
The Honda Grom has a massive cult following in the motorcycle community, and with good reason. With its high maneuverability and pea-shooting power for days, the Grom's vibe is pure, slap-your-grandma sun-silly FUN—and you'll find it on every pertinent motorcycle list we have, thanks to its versatility as a bike, combined with the heaps of stupid grins it's caused with most of the motorcycle community proper.
The sweet spot of this stylin' scoot comes mainly from Honda's clever play with weight, balance, and power. An air-cooled 124.9cc SOHC single-cylinder engine thumps out 9.7hp @ 7,250rpm, with 7.7 lb-ft of torque @ 5,500rpm (10.5Nm), capable of a punchy start and a top speed of 62mph.
A small chainsaw produces three times as much power, but we guarantee the Grom will take you farther and make you grin wider than almost any other motorcycle out there today.
Specifications:
Price: $3,499

Engine: 123.9cc four stroke single

Power: 9.7 HP




Torque: 7.7 lbs-ft

Transmission: 5 Speed Manual

Curb Weight: 227 lbs
Strengths:
It's one of those motorcycles that really shouldn't work, but it just does. Brilliantly, at that.

Small, agile, hilariously fun... It's the perfect urban runabout
Learn More:
A shrunken down, miniature streetfighter that has a ton of character
Why We Picked It:
The Kawasaki Z125 Pro was created in response to Honda's wild success with the GROM—and many think Kawasaki hit the nail on the head when it comes to competition in the mini-moto racing category.
If we're comparing the Z125 to the GROM, it's a bit lighter, a bit narrower, and a bit taller—but the lighter weight and adjusted power ratios settle everything up to make the Z125 a mean addition to Team Green's fleet.
Smaller even than the GROM, the Z125 boasts an air-cooled fuel-injected 125cc SOHC single-cylinder engine, with its wee heart pumping out a strong 9.25 hp @ 7800 RPM and capable of 7.1 lbs-ft of torque @ 6,000 RPM.
Given it's been blessed with a one-size-fits-anywhere aesthetic and cheap-to-fuel, cheap-to-insure qualities (not to mention the bargain-basement price of $3,399), this sturdy mini-streetfighter is a great option, whether you're riding for the fun of it or as a city commuter in need of a more nimble creature to tackle the city streets.
Specifications:
Price: $3,399

Engine: 125cc four stroke single

Power: 9.25 HP




Torque: 7.1 lbs-ft

Transmission: 4 Speed Manual

Curb Weight: 224 lbs
Strengths:
Very light and nimble, with gear ratios set to give it good mid-range torque for urban riding

A mini-streetfighter mean to make your smile wider with each ride
Learn More:
A mini-hooning machine in the way that only KTM seems to be able to build them
Why We Picked It:
The KTM 200 Duke might not yet be a common sight on the streets, but based on the intoxicating acceleration and unbeatable rideability, we're betting it'll be up there with the Z125 Pro and GROM when it comes to making your choice of which mini-bike to buy.
Since it has been blessed with the proper-sized 390 Duke-based trellis frame, this 6-speed bit of joy straddles the bridge between the mini-moto category and the lightweight beginner motorcycle class.
For power, the 200 also has a 199.5 cc liquid-cooled, four-stroke, 4 valve, single-cylinder engine capable of a claimed 26hp and 14 lbs-ft of torque..
KTM has been rather silent about seat height on their website, though we can guess by the Duke 390 frame (and identical 17 inch tire size) that the seat height will be somewhere around 32 in (820 mm). Keep in mind the Duke 200 is a tad bigger and heavier than the Z125 Pro and the GROM, so low-end torque might feel a bit thin by comparison.
The long and short of it? It's solid, it's decently priced, and it's fun, that's why it's on this list. Throw the Duke 200 around, and you'll instantly feel the great combination of suspension and ergonomics—and with a pocket-friendly price of $4,199 USD, you're basically guaranteed the very best of budget-hooning capabilities.
Specifications:
Price: $4,199

Engine: 199.5cc four stroke single

Power: 26 HP




Torque: 14 lbs-ft

Transmission: 6 Speed Manual

Curb Weight: 340 lbs
Strengths:
Shares its frame with the 390 Duke, meaning it has same agility and aggressiveness of its older brother, just with a little less power

A viable beginner bike for the shorter and lighter rider that wants to learn on a communicative and responsive machine
Learn More:
If you want the looks of a classic with the technology of today in a capable mini-moto
Why We Picked It:
The real reason for the GROM's original hype was this little banana-thrower, which has been around for nearly 60 years while still keeping the name Monkey throughout it all. The Honda Monkey started out a small runabout motorcycle for the civilized suburbanite, but then evolved into a public mini motorcycle for the masses with a huge following—and given that Honda's good at solid bikes with fun reputations at a good price, we think this little chimp will be sticking around for a while yet.
The Honda Monkey is a solid bike, sporting the GROM's 124.9cc air-cooled SOHC single-cylinder engine capable of 9.7 HP @ 7,250 RPM and 7.7 lb-ft of torque @ 5,500 RPM.
While the current-day tire size is now 12 inches, a far cry from the original 5-inch ones, the 30.6-inch seat height still keeps the Monkey in fine working order for the mini-moto category; and at a below-the-belt bargain of $4,249 USD, you really can't go wrong.
Specifications:
Price: $4,249

Engine: 123.9cc four-stroke single

Power: 9.7 HP




Torque: 7.7 lbs-ft

Transmission: 5 Speed Manual

Curb Weight: 231 lbs
Strengths:
The original mini-moto, meant to be less serious than the Super Cub and more of a bike to take riding around the suburbs.

Constantly evolving, the 2023 Monkey uses the solid engine from the GROM, but takes a more scrambler-style approach to the overall looks
Learn More:
A junior hyper naked that is one of the best beginner bikes available today
Why We Picked It:
We could have put any of a number of Yamaha bikes here, and it was a close choice between the YZF-R3 and the MT-03, but the naked bike won out for one simple reason. That reason is that while it shares its super 321cc two-banger with the supersport, it is much less aggressive, and much more forgiving, for the newer rider.
Even for experienced riders, the MT-03's 41.4 HP and 24 lbs-ft of torque is more than enough to flick it about in the canyons or commute through the concrete jungle. It also helps that it looks like it's ready to bite the head off of any other bike that approaches it, despite the fact it's a gentle beast that works more on growing your smile than anything else.
It also counts that it's $4,999, and for a bike as feature packed, with as much tech and rider aids as the MT-03 has, and that is as communicative and responsive as it is, that's a downright bargain.
Specifications:
Price: $4,999

Engine: 321cc parallel twin

Power: 41.4 HP




Torque: 24 lbs-ft

Transmission: 6 Speed Manual

Curb Weight: 373 lbs
Strengths:
One of the best beginner motorcycles, especially for those wanting to go down the sportbike path. as it is agile and communicates everything the bike is doing

Shares its engine with the YZF-R3, but has a more friendly and linear power curve to it, making it incredibly forgiving
Learn More:
The best dual-sport in a generation
Why We Picked It:
What can we say about Honda's ability to make small displacement engines work wonders? This prowess with tiny amounts of cc's is exemplified in the 2023 Honda CRF300L Rally, a dual-sport that is robust, nigh-unbreakable, and is ready to take on everything from pavement to the sands dunes of a desert.
Powered by a 286cc four stroke single, it produces 27 HP and 19 lbs-ft of torque. That sounds pitiful, you might say, and on paper it does look rather low, but once you swing a leg over and take the CRF300L Rally for a ride, everything changes. It's not designed to set world speed records, but almost all of that grunt is way down in the low and mid-range, exactly where you want it for riding off road or doing some adventure touring.
It can also haul an immense amount of weight. The bike itself is a mere 331 lbs, yet you can sling saddlebags and a top case across the back, put a bag on top of the 3.4 gallon tank, and mount a GPS unit on the handy cross bar above the dash, and it will still be able to pull you and all of that weight across even the roughest terrain. It just keeps chugging along like a little tractor as you ride the dirt road off into the sunset, the dust from your passing hanging in the air to show that another legendary Honda dual-sport has passed through...
Specifications:
Price: $6,149

Engine: 286cc four stroke single

Power: 27 HP




Torque: 19 lbs-ft

Transmission: 6 Speed Manual

Curb Weight: 331 lbs
Strengths:
Perhaps the most capable and dependable dual-sport adventure touring motorcycle of the current generation

The chosen motorcycle of many adventure tourers, as it can almost literally be fixed with a hammer and some curse words, and can take an unbelievable amount of punishment with only cosmetic scars as the result
Learn More: